It's been said before, and we'll say it again: Goodbye and good riddance 2020! We'll be glad to omit you from the end of our datelines.
This year has been challenging; it's been exhausting; it's stripped us bare and shown us how vulnerable we are. There have been some highs amongst many lows; some very big learnings. And, above all else, we've seen how important it is we turn up for and support each other.
Although the turbulence and despair of the year won't magically disappear as the clock strikes 12, the dawn of the New Year, January 1, 2021, will bring hope-- Hope in the vaccine against this devastating virus; hope in the fresh start we'll get with a new president and vice-president. And hope of a world awakened to systemic racial and social injustices we are ready to address toward a place of equality.
And like everything else that's happened during 2020, New Year's Eve will look different this year.
With large gatherings still prohibited, there will be no big parties in Brooklyn or across the city. There will be no large-scale fireworks displays. And crowds won't be able to flock to Times Square -- although there will still be a ball drop live-streamed on television.
Instead, we'll largely be where we've been all year when the clock strikes midnight -- in our living rooms. That fact makes the biggest decision of the day easy: Ae we rocking sweats or a black tie?
Whatever your outfit choice for the night, BK Reader has put together some New Year's Eve events to tune into so you can raise a glass of whatever it may be, as we say goodbye to this hot mess of a year once and for all!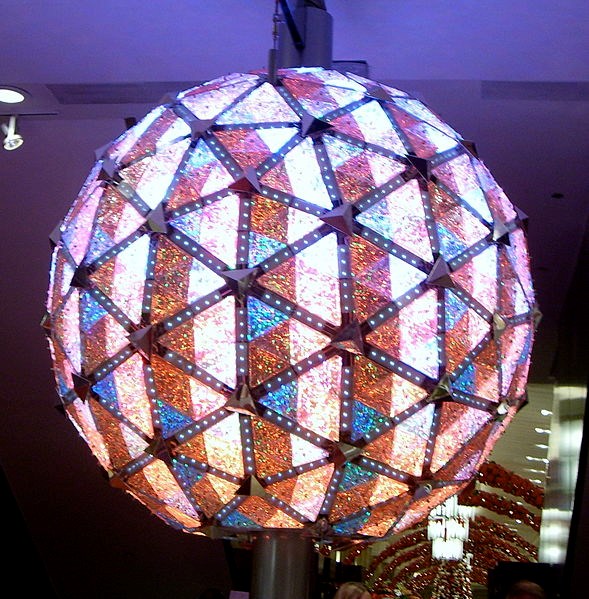 40th Times Square Ball Drop Livestream
Although Times Square will be closed to the public for the first time in decades, the ball drop is still going ahead. And instead of the typical large crowds crammed together, 40 frontline workers will be given their own areas near the stage to celebrate with their families.
For those wanting to tune in from the comfort of their living rooms, the show, which will include performances form Gloria Gaynor, J. Lo, Cyndi Lauper and Billy Porter, will be on ABC, CNN, NBC and Fox News at 8:00 p.m. and can be viewed here online.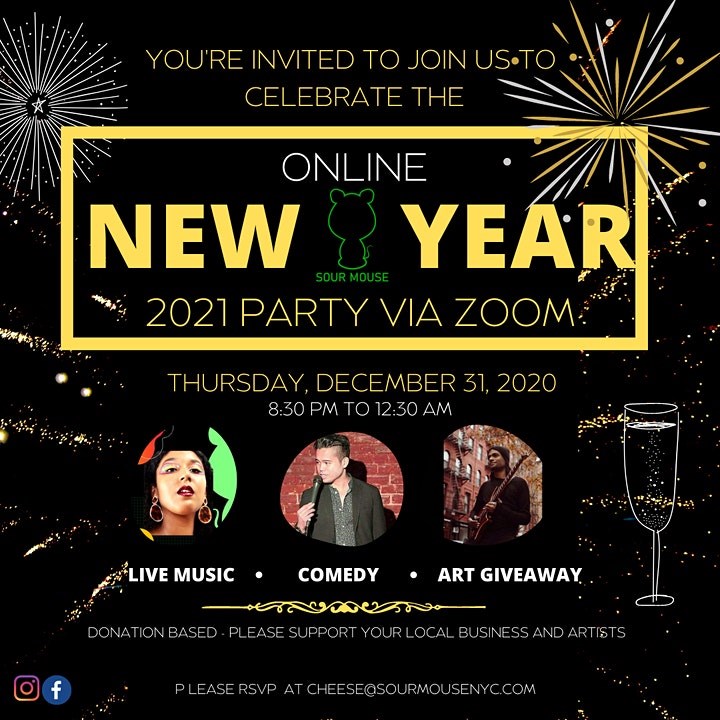 Live Music and Comedy with Sour Mouse NYC
New York City bar Sour Mouse is putting on an evening of live music and comedy with giveaway prizes to see everyone through into the new year. The livestream will go from 8:30 p.m.-12:30 a.m. and will be on Zoom. You can sign up here for the free event, where donations are encouraged.
Open Mic with Nuyorican Poets Cafe
Caridad de la Luz (aka La Bruja) and Advocate of Wordz will host this special New Year's Eve online open mic being held by
Nuyorican Poets Cafe
. All art forms are welcome. If you're feeling up for one last jolt of adreline before the end of the year, sign up for a five-minute slot by claiming one of the 35 available performer's tickets. Make a Zoom sign with your IG handle and Venmo / Paypal link, in case fans want to tip you. The open mic is non-competitive, and there's no cover charge.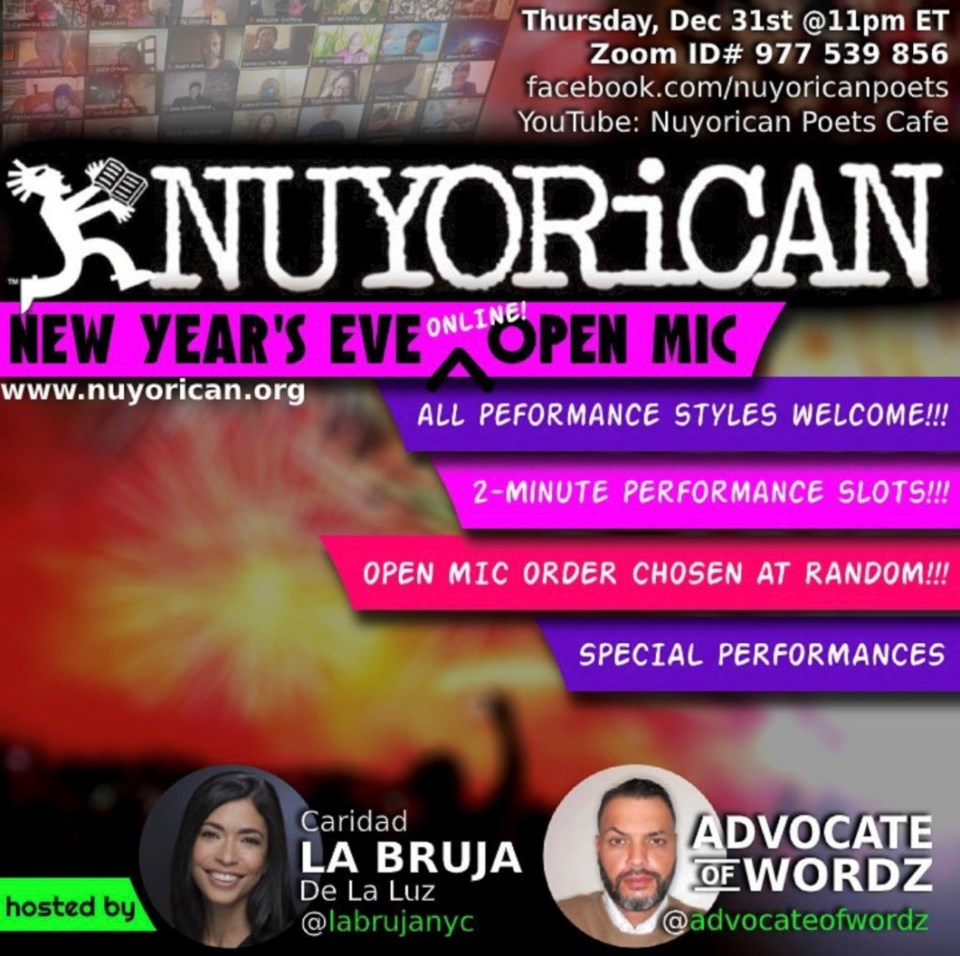 A House Party with Comedian Robyn Schall
New York comedian Robyn Schall went viral earlier this year with her hilarious goal's for 2020 and how they turned up to troll her. She has continued to give us much-needed laughs through our almost ten months in quarantine, and she's not taking a break for New Year's Eve. Schall is hosting a live New Year's Eve party on her Instagram where everyone is invited, and she's already documented how she's picked up some flavored vodka, Snapple ice tea and pigs in blankets to get the party started. You can tune in here from 10:30 p.m.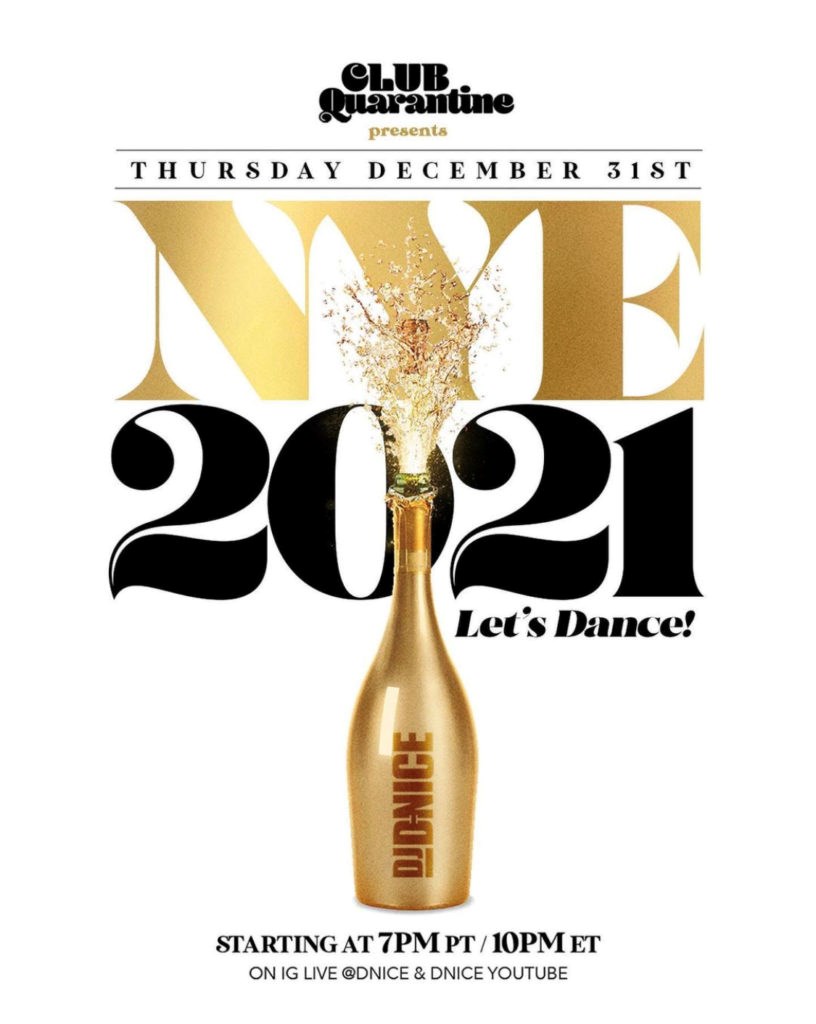 Dancing into 2021 with DJ D-Nice
One man who has truly helped thousands through this pandemic induced quarantine has inarguably been DJ D-Nice. Since March, D-Nice has relieved stress and softened those nerves by welcoming us to his Instagram-housed Club Quarantine, which has seen folks from all walks of life from all over the globe stop by online (including Michelle and Barack Obama), for his up to nine hours long GREAT DJ sets. And he is turning it all the way up for New Year's Eve. On his Instagram post he says: "Let's safely ring in the New Year together. Put on your festive attire, chill the champagne, and let's celebrate in the comforts of our own homes! Allow me to bring the party to you. I can't wait to unveil the new CQ that night." You can tune here.
And with that Brooklyn, cheers. We got through this together.