Long lines. No carts. Empty shelves. This is an all-too-familiar scene at grocery stores in Brooklyn and, presumably, across the country in recent months.
After the COVID-19 pandemic struck the U.S. in February 2020, media outlets reported on the huge rush of Americans stockpiling groceries, cleaning supplies, toilet paper and other essential products.
And by March that year, businesses that sold groceries and household products found themselves in a unique situation: While restaurants, cafes, clothing stores and other local businesses struggled to keep their doors open, supermarkets, corner bodegas and dollar stores could hardly keep up with the demand.
That trend continued through the pandemic. Now, in 2023, three years later, those same businesses that struggled with demand in 2020 continue to struggle now.
The pandemic boom of overanxious shoppers stockpiling dried and canned foods is over. Why, then, is there a lingering shortage in products? Even more problematic, the cost to buy groceries has become more than some can bear. Why, after three long pandemic years, are grocery shoppers paying so much now for so little?
The local grocery stores residents depend upon to feed themselves and their families are charging astronomical prices for the basic staples. For example, at a Bravo Supermarket on Bedford Avenue in Bed-Stuy, three items-- a jar of peanut butter, 2 ounces of vanilla extract and four bars of butter came to $26. Pre-pandemic, the same purchase would have cost around $14.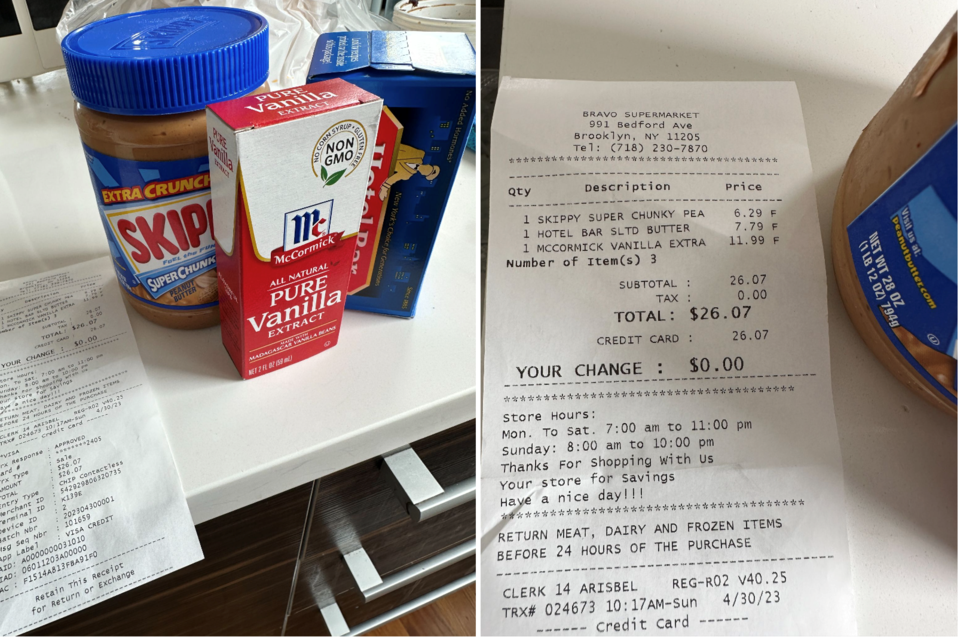 Are grocery stores still taking advantage of COVID-pricing? And what– if anything– is city government doing to address this issue?
After surveying grocers and shoppers in Central Brooklyn, home to the lowest-income groups in New York City, BK Reader found a myriad of problems facing smaller stores post-COVID, with consequences for store owners and the surrounding community.
Too Good Too Quick
According to the Supermarket News Financial Analysts Roundtable, a discussion panel where experts give their opinion on the latest food retail industry changes and trends in late 2020, safety concerns during the pandemic turned neighborhood grocery stores into one-stop-shop destinations for consumers.
Reports on the industry depicted a consistent trend nationwide. Dollars spent pre-pandemic at restaurants and take-outs were reallocated to grocery stores, so much so that sales at grocery stores and supermarkets in most states were up by 20% to 50% after the pandemic began. The New York Times reported a 79% increase in grocery sales in a 7-day period that ended on March 18, 2020.
Big chains and giants in the industry saw the largest revenue increases. But local grocery stores also saw significant revenue growth and an influx of consumers. Concerns about the virus drove customers to neighborhood grocers, a phenomenon Scott McKenzie, global intelligence leader at Nielsen Data, called "buying milk from cows you can see."
"My business was doing very good," store manager Belal Al Keswani at CTown Supermarket in Crown Heights recalled about the start of COVID. Similarly, Nagib Ali, manager of Halsey Traders Market in Bedford-Stuyvesant, said that business was busy during the first quarter of 2020.
They also experienced the "out-of-stock" situation more often, as demand eclipsed supply: "Most of the stuff I ordered through wholesalers, they'll send me only a third of what I order, sometimes they don't send [anything]. There was a shortage in everything, so sometimes we had to go out and buy from discount retailers like Sam's Club and Costco just to keep our customers coming."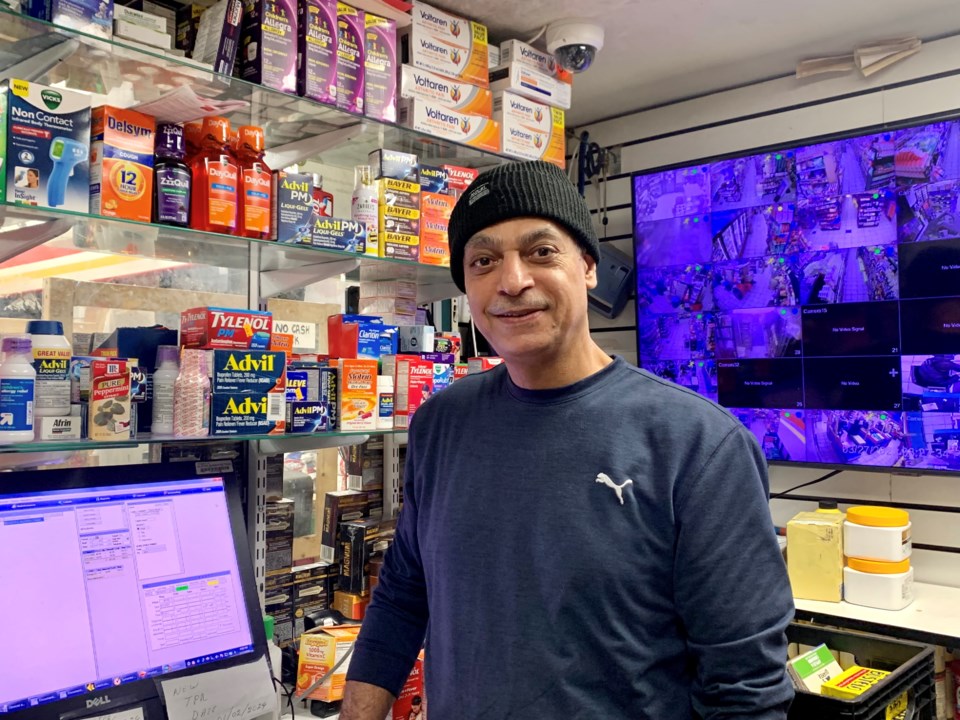 United Food & Commercial Workers International Union (UFCW) Local 1500 President Robert Newell told BK Reader that supply chain issues changed the way shoppers look at products. "In the past, they looked mainly at well-known brands," he said. "But when the pandemic hit and they had no options but to buy unfamiliar brands at a cheaper price, they found that the quality was good enough for the price offset."
That, Newell suggests, is a win-win situation for both the consumers and retailers. Not surprisingly private-label brands now see a larger marketplace share.
Changes in consumers' eating habits contributed to increased grocery spending, regardless of the return to normalcy in 2022. "Eating more meals from home has shifted from a necessity of the pandemic to a consumer preference," Matt Kramer, national sector leader on Consumer & Retail, said in a KPMG report. The rapid pandemic growth was dubbed by Supermarket News as the start of a "supermarket renaissance."
And so, many expected that grocery stores would come out of the pandemic in a much better position than they were before.
Yet, small and independent grocery store owners nationwide find themselves worse off, as they face a multitude of challenges. "People stopped shopping, my business dropped around 50%, and everything went up," Keswani said. "Electric[ity] went up, gas went up, employee salary went up…I'm working for the landlord and the employees at this point."
Harder to Get, Harder to Afford
While it's harder for grocers to get supply in their stores, shoppers are now also struggling to shop for food post-pandemic.
A U.S. Government Accountability Office (GAO) survey published in late March 2023 saw in between 2021 and 2022 the "largest annual percentage increase in food prices since the 1980s." The Consumer Price Index (CPI) report on economy-wide inflation found this year that the overall food-at-home index rose over 10.2% in the last 12 months, with cereal and bakery goods rising over 14.6%. released in February 2023, found that the overall food-at-home index rose over 10.2% in the last 12 months, with cereal and bakery goods rising over 14.6%.
In Brooklyn, BK Reader interviewed a dozen shoppers at a Stop & Shop on Atlantic Ave., and over half said they feel they're overpaying for groceries.
Joseph Mazzei, who goes to the store once a week, said he is paying "way more for less." He said he now resorts to shopping at the store because of coupons. "If [the item] is not on sale, I'm not interested."
Other shoppers also said coupons really help their experience, and their pocket. "Meats, vegetables, fruits, pretty much everything is more expensive now," said Juliet Quintyne, a twice-a-week shopper. The increase in price, according to her, makes eating healthy at home a more challenging feat.
And as a direct response to this pricing trend, customers are buying less. Al Keswani, owner of CTown Supermarket, estimates that the amount of money a typical shopper spends at his store today is about half of what it was during the height of the pandemic, a drop from $200–300 per trip to $100–150. Individual grocery spending at Halsey Traders, according to Ali, is even lower, ranging from $30–40 per trip. Shoppers interviewed at Stop & Shop typically spend around $70 with coupons added.
According to Ali, business owners are trying to sell their inventories to get out of the business before their revenues sink even further. "It's not going to get better any time soon. For me, with providing for a family of six, it's getting harder to shop for food here in the city." Indeed, with food expenditure comprising over 30% of one's income, increased food pricing is taking a significant toll on many.
What's Driving Up Prices?
What contributes to the staggering inflation? GAO's analysis of the Department of Agriculture and interviews with experts narrow down the following: the Russia-Ukraine crisis, effects of the COVID pandemic, animal and plant diseases, and weather.
The Russia-Ukraine war caused disruption in supply of wheat, corn, sunflower oil, as the two countries are the largest supplier and exporters of these products. Experts predicted the increase in wheat prices within the days of the invasion.
The COVID pandemic reduced the availability of truckers, disrupting the supply chain. Plus, workers were unable to work due to illness; this led to overall price increase, but especially meat prices as over 60,000 meat packers at the nation's largest plants were infected by the virus.
And most notably, the avian flu earlier this year resulted in a skyrocketing 200% increase in egg prices compared to 2021. The high prices even prompted many to consider raising their own chickens.
And finally, with extreme weather, like droughts in the Midwest and flooding in California, fruits, nuts, vegetables, and berries will undoubtedly cost more.
Each factor affects different products, and oftentimes, they occur simultaneously. Thus, consumers feel pinched from all fronts as all products seemingly have a price increase.
These high prices have a negative impact not only the consumers but also the grocers. Regardless of the negative impact it poses, "once prices go up, they never go back down," Ali from Halsey Traders told BK Reader. "People cannot afford these new prices, and so I'm losing business."
So, apparently, grocers are not taking advantage of food prices. And the reasons can get even more complicated when you take into account the competition from big food retailers like Walmart, Kroger or Cosco. Although part of the reason for the rise in food prices can be attributed to a confluence of environmental factors related to COVID and climate, these reasons still do not account for market competition from big food retailers like Walmart, Kroger or Cosco, which have in recent years leveraged deep discounts from suppliers, making it impossible for independent local stores to come close to matching the chains' prices.
Even Stop & Shop, a smaller local chain, struggles to compete in the supply chain.
Linda L., who goes to Stop & Shop "for just five cents less," stressed that the city government needs to step in and address this issue. "They better do something, because that's what we put them in office to do."
---
Part two of this series will highlight the possible solutions to the high food prices, including what the federal and city government is doing, how Brooklynites take the matter into their own hands, and how small grocers are fighting this cost battle.
---
This story was produced as part of the Small Business Reporting Fellowship, organized by the Center for Community Media and funded by the NYC Mayor's Office of Media and Entertainment.