What better way to give back to your local community than to uplift the next generation of great minds?
Kevin Benoit, the founder of the Brooklyn-based organization Parle Endeavors, is doing just that by creating supportive spaces for young adults to explore creative writing, media, journalism, entrepreneurship and more right here in Brooklyn.
Founded in 2022, Parle Endeavors offers youth mentorship, academic scholarships, business grants and arts programs.
This is the first year that Parle will be awarding grants and scholarships. This month, the new organization will announce the recipients of the eight winners, who will each receive $2,500.
As a part of the organization's arts programming, Benoit produces and hosts poetry slam competitions. These competitions bring together young people from across New York City to fall in love with poetry and put their skills to the test. From each borough, teens are picked to go through preliminary rounds to showcase their skills in hopes of making it to the finals.
The poetry slam circuit is currently underway. The youth poetry slam semifinals will take place in Brooklyn on July 15, at the Bedford Stuyvesant Restoration Corporation. Contestants will be competing to win a grand cash prize during the finals at the historic Nuyorican Poets Cafe in Manhattan on July 29.
"I put on my first poetry slam back in 2005, and I used to do them annually," said Benoit. "I'm an advocate of poetry, and I am someone who can help push it and get it out there."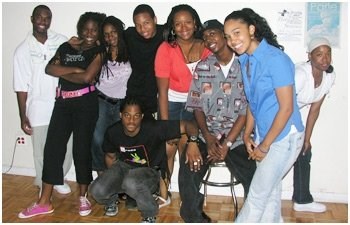 Benoit's got his start writing and reporting at George W. Wingate High School in Flatbush, where he poured his love of news and storytelling into his school newspaper.
"I really don't know where I would be if I didn't flex my media muscle," Benoit told BK Reader. "About 70% of schools in New York City don't have any sort of school newspaper. And, there's a whole group of young people who have no idea what media is or what it looks like."
Benoit and his peers brought fresh, new voices to the school paper in an effort to diversify topics and appeal to the crowd of young adults, he said. But, after the school paper was shut down by the school's principal, Benoit decided he wasn't going to let anything stop his passion and started his own paper.
Benoit spent his early adult years producing his own magazine and online publication surrounding youth interests, celebrity news and pop culture called Parle Teen. He also spent much of this time in the education sphere, teaching students about the intricacies of media and journalism.
"I started off doing group leader work and working with nonprofits," said Benoit. "That quickly became [who] I was: The person going into schools, trying to help them start a school newspaper or blog or whatever. You know, it looks different everywhere. But I was doing it in so many different places."
Benoit's mission is to expose youth to media opportunities and help them build creative careers, he said. His scholarship programs offer students financial support to study media-related fields. He also has a grant available for young adults looking to start a business.
"If we don't create opportunities, then these young people will grow up not even realizing these are potential career paths and potential avenues which they can take."
To learn more about Parle Endeavors, click here here.