More than 8 million of us call New York City home, and there's one truth we all know: This city isn't cheap!
The cost of living is going up each year. And while the number of luxury high-rises continues to grow, so does the number of homeless residents. There are increasing reports of homelessness and displacement, not just among those out of work, but also among those employed in traditionally stable, full-time jobs.
Making ends meet has become a daily challenge spanning age and ethnicity; from long-time residents to new arrivals. Yet, for every New York City expatriate, a new one arrives. So what does it take to afford just a basic lifestyle in today's New York City? In this three-part investigation, BK Reader is illuminating the facts, asking the questions and getting answers around what it takes to survive in the increasingly expensive "Concrete Jungle."
---
As a New York City resident, at some point, we ask ourselves: Is New York City worth it?
Rents are astronomical; food is more expensive than anywhere else in the country; and too many families are one paycheck away from being homeless. Around 277 New Yorkers are choosing to leave the city each day, because the city has become so unaffordable. Others, however, are choosing to tough it out and fight for change in their communities.
In this second of our three-part series on New York City's Affordability Crisis, we talk to former and current residents of Brooklyn to find out why they left or why they are deciding to stay-- and for those that do stay, how they are getting by day-to-day.
"Bed-Stuy is losing its flavor."
Kim Hill lived in Bed-Stuy for nine years before she called it quits in 2019 and moved to New Jersey. As the rents went up and new folks moved in, Hill noticed the changing culture of her neighborhood. Where there was once a respect for the community's longtime residents and during a time when her son could play without code-switching at his favorite playground, she said she began to notice a sense of entitlement and prejudice slowly taking hold.
And there was also the rent.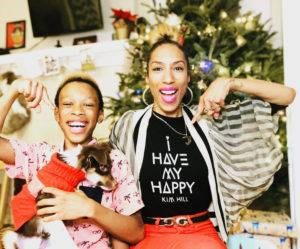 From the time since Hill had moved to Brooklyn, the average rent in Bed-Stuy increased 31 percent between 2010 and 2016, jumping from $891 to $1165 a month. From 2016 to 2019, the average rent jumped again to $2,659-- more than double in three years-- according to the real estate listing site StreetEasy.
She cut back on her expenses by eliminating her cable TV and watching everything online; she stopped eating out and started cooking at home; and then reached out to her creditors to cut her debt in half and began paying it off.
One day after circling for parking for twenty minutes, she said she had an epiphany: "I was like, this isn't living … This is crazy. What I'm paying [here] is a mortgage somewhere [else]. There has to be a better way."
After looking at the numbers with her cousin, who lives in New Jersey, Hill figured out she could afford to buy there and within three weeks had a contract on a four-story house with an art studio, a yard, and plenty of space for her son to skateboard. By summer 2019, Hill moved.
Hill still runs her business Radical Women in Bed-Stuy and is passionate about developing community programming for young women, but warns against romanticizing Brooklyn as the only cool place to be.
"You can move somewhere else and make that the hot thing, like you be the thing that brings the flavor and the vibe to the community...there's a whole world out there waiting for you to show up."
"It might not be the easiest, but it's the best city in the world"
Khadijah Diouf is a born and bred New Yorker. She said, although she's feeling the pressures of the changing city, she still thinks it's the best in the world and has no plans of leaving.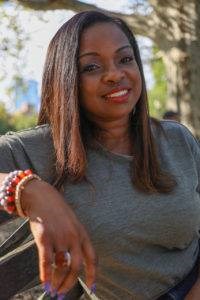 Diouf moved from Queens and bought a home in Clinton Hill, Brooklyn, 25 years ago in search of a sense of community for her and her children. She says the free community programming and sense of neighborliness have always been things she loved most about the neighborhood. But as the demographic began to change from gentrification, those things starting to fray.
Another issue for her is feeling invisible, particularly when it comes to the needs of longtime residents around basic staples. For example, food prices:
"It's apparent when you go into places like the supermarket and you can't afford the basic necessities that just increased in price overnight," said Diouf. "Because if I go into another community that is predominantly Black or predominantly Latino, I can find the same products at regular prices."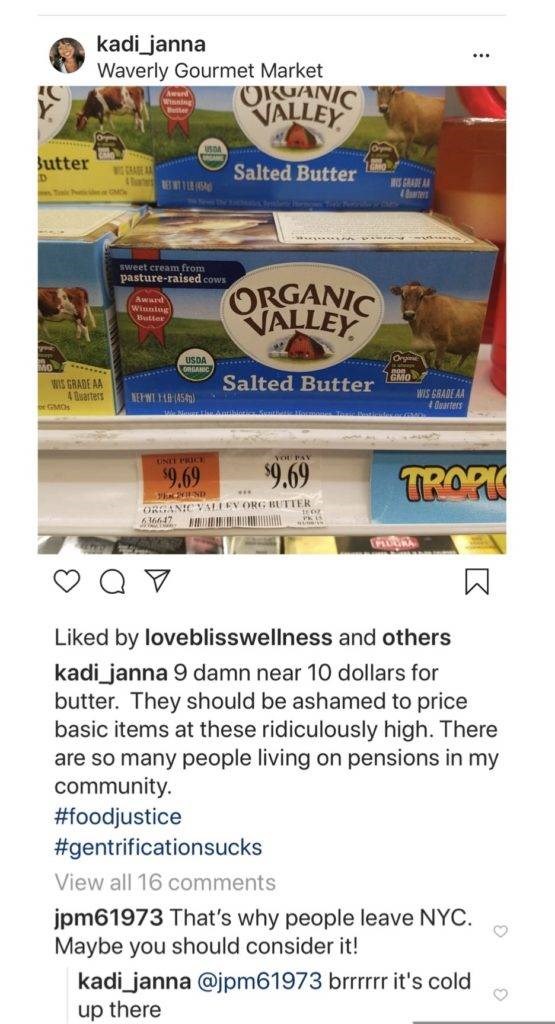 A New York City resident spends an average of $471.34 on groceries each month, $150 more than the US as a whole, according to research by Numbeo.com.
Diouf says, to make her money stretch further, she shops on an as-need basis and always goes for what's on sale. Eating healthy is important for Diouf. But, she says, organic is expensive, so she's found Trader Joe's and online shopping have been instrumental in helping her stick to a budget. She freezes her meals, makes her own juices and packs school lunches with leftovers from the night before. She doesn't waste anything.
"It's a choice," said Diouf. "Life could probably be a lot easier somewhere else, I'll be honest with you.
"But am I going to have a great school system? You know, am I going to have a great healthcare situation working part time in another state?"
"Exit the Apple: Creativity over credit cards"
For Pierre and Jamyla Bennu, the decision to leave Brooklyn came down to choosing a creative lifestyle with financial freedom over fighting to make ends meet.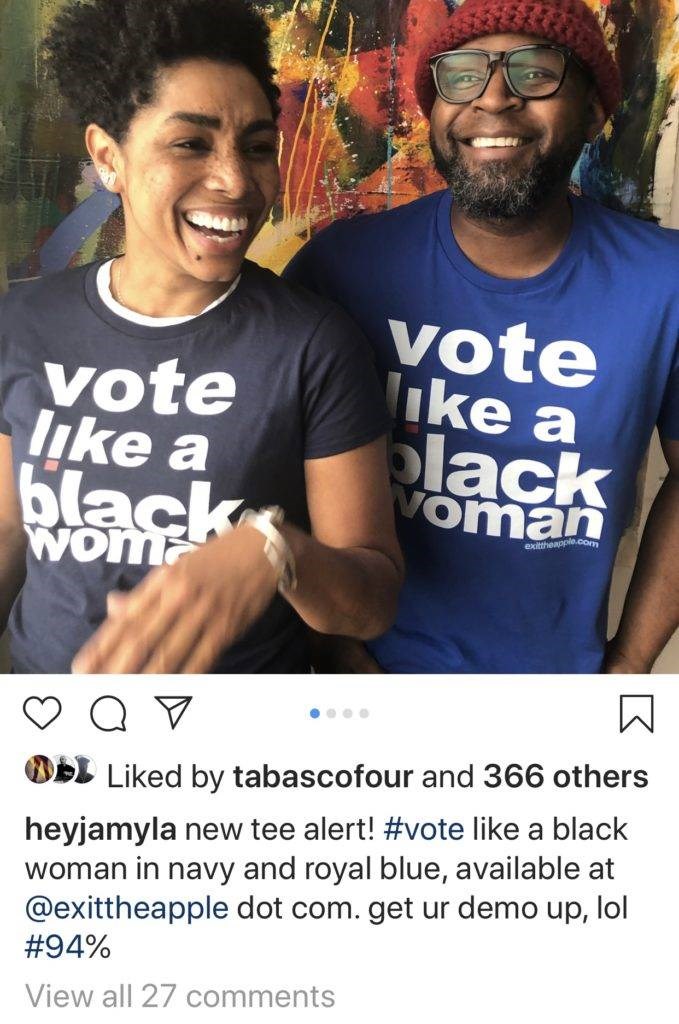 In 2001 the couple's lease on their St. Marks Avenue apartment was up. (And so was the rent!) So they decided to shop around for a new location where they could keep up their creative lifestyles. They settled on Baltimore where they launched their business, Exit the Apple.
"We wouldn't have changed a single thing about our experience in Brooklyn," said Jamyla. "It was perfect while it was perfect. When it stopped being perfect for us, we left."
The Bennus bought a house in Baltimore in 2005. The mortgage was less than their monthly rent in New York in 1997. Jamyla said, if you are struggling in Brooklyn, don't. The city can be amazing, but other places are too.
"I feel like it's important to recognize that you are part of what makes it amazing - you can take your amazingness anywhere," she said.
"Grassroots activism is what we need"
Since Imani Henry set foot in Flatbush almost twenty years ago, he knew it was where he wanted to live. And now, as he approaches 50, not one thing has changed about his desire to stay.
"I love how we're predominantly migrants. There's a huge Asian community, LatinX community, some old school people from Puerto Rico and [the Dominican Republic], and newer migrants who are Mexican and Guatemalan," Henry said.
"I love the food and culture; I love that we are the hairdressing and nail salon capital of Brooklyn."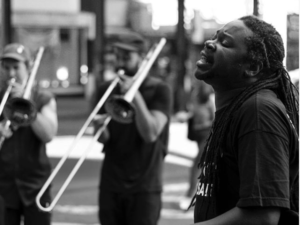 Since moving to Flatbush, Henry has become a community leader, and in 2013, he formed Equality for Flatbush as a direct response to the increase in tenant and police harassment due to gentrification. Between 2000 and 2010, Flatbush lost between 10 and 14 percent of its black population.
"I feel like we have to fight because, why should we lose something so beautiful and precious because some rich developer wants to take it from us or because some cop wants to shoot and murder us?" Henry said.
"I love this neighborhood, and I love this community. I fight for it because there is nothing like it."
Henry says through the years, the sense of community in Flatbush has not only continued, but has grown stronger. Residents form tenants associations and organize to defend their neighbors; they protest and demonstrate together and support those who have a stake in the community.
Henry said there are a number of ways for people to get involved in preserving the culture of their neighborhoods and fighting for low- to middle-income earners, starting with signing petitions, making calls, handing out fliers and going to community meetings. He says joining the grassroots activism groups "who will actually do something" is the most effective way to make change.
He urges people moving to a new apartment to analyze its rent history and make sure it hasn't jumped up three times the price, because the idea of market rent is "not based on anything real or factual, it's all about profit, and it's about capitalism."
And above everything else, he says, go to meetings! Whether you own a home or not, if you want to have a stake in your community and fight for it, you have to show up.
"I moved halfway around the world to be in NYC"
My personal outlook: I moved to Brooklyn from New Zealand in 2016, knowing it was the cultural capital of the world and wanting to experience that and grow in it.
Getting an apartment was the first major hurdle. Without much money or anyone to be our guarantor, my best friend and I managed to scrape together (literally at the last minute and borrowing from anyone we knew could lend to us) enough for a broker's fee, three months rent, and letters testifying to our character, to get a house on Howard Avenue in Bed-Stuy at $1750 a month. By 2017 it had gone up to $1950.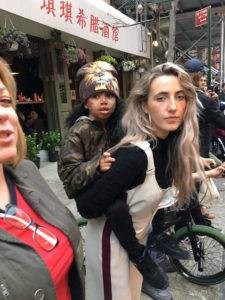 I've cooked pies at Chelsea Market, hosted at a restaurant in the Lower East Side, served pho in Bushwick, waited tables in Williamsburg, and nannied children, while I continue to push myself as a writer. It's the story of so many others in the city. And there are definitely hacks I've learned along the way to stretch a small income.
Supermarkets and local stores vary so much in price where I am now in Bushwick, you'll find butter in one store for $14 and fifteen minutes up the street you can get it for $6. So I do my research with food shopping and get different produce from different stores. I try to avoid going out for meals, or ordering online because no matter how cheap you try to go, it always adds up.
The thrift stores in my neighborhood are amazing. Every winter I've found cashmere sweaters, wool jumpers, and down jackets for less than $10. The only things I buy new now are undies and socks. I watch everything online and am part of a Spotify family plan with four other people. And the same goes with Netflix, meaning I only pay once every four months. The subway is definitely the cheapest way for me to get around and I get a weekly ticket for $33, because I take the J train on average at least twice a day. And during the summer, I ride a bike.
Whether New Yorkers choose to stay in the city or leave in search of a more affordable, less stressful life, all would agree that the extremely high cost to live in the Big Apple is a major issue. It's growing worse each year, and something needs to be done.
New Yorkers across the five boroughs are sticking to budgets, working tirelessly, making sacrifices and living in instability, just to survive in the city. Now, the bigger question is, what-- if anything-- is the city doing to address the situation?
---
In part-three of our series we'll report on what the City and local leaders are doing to combat the housing and affordability crisis in Brooklyn and New York City as a whole.
To read part-one of this series, go here.