In the midst of reading the endlessly fascinating THE GREAT BRIDGE by David McCullough (originally published in 1972) about the history and construction of the Brooklyn Bridge, I had to wrestle down my desire to run down Flatbush Ave. shouting out to everyone I saw, "Read it!"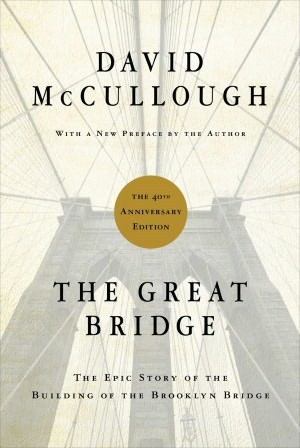 Manhattan may have the Empire State Building and Grand Central Station, but just take a gander at that BRIDGE! Believe me, if someone can make the art of engineering interesting and even almost understandable to a mechanical dunderhead like myself, there has GOT to be something great about this book.
The truth is, I had never before paid a whole lot of attention to the Brooklyn Bridge. Yes, I've walked across it on a very hot and windless evening. I sweated through my favorite white linen shirt and couldn't wait to get home and take a cool shower. Sadly, the charms of that majestic, magically suspended span from Manhattan to Brooklyn were lost on me that night. Doubly sad, was that back in the 1990s, I sort of knew the late Paul Roebling, who, as I later found out, was the great, great, great grandson of the Roeblings of bridge building fame, not that I would have understood the significance of Paul's lineage then. Then it was just a bridge, you know? And an old one, at that. And 'Roebling' was just another last name. As I recall, my callow salad days were all about wanting something newer, taller, fancier, faster. If I was in Paris, it will be prettier in Prague. If I was in Pompeii, the ruins will be better in Greece.
I'm reminded of what L. Frank Baum says, via his heroine Dorothy in THE WIZARD OF OZ, "If I ever go looking for my heart's desire again, I won't look any further than my own backyard, because if it isn't there, I never really lost it to begin with. There's no place like home."
And if Brooklyn is your home, I beg you, go no further!
In the pages of McCullough's book, the Brooklyn Bridge comes startlingly alive. He paints a vivid picture of daily life back in the mid 19th century of America, before there was a bridge and when hundreds of ferries ran between lower Manhattan and Brooklyn, carrying millions of people, goods, carriages, crops and animals back and forth each year until the bridge was finally opened in 1883.
The bridge IS art, from the colossal gothic arches at either end--worthy of 13th century European cathedrals—down to the endless spider web of triangulating thick-wound steel wires crisscrossing from end to end maintaining support and balance. It is 'art' as surely as the Rodin bronzes at the Brooklyn Museum are, or the Byzantine-Romanesque inspired Williamsburg Saving Bank Tower. The bridge is a magnificent set design against which the drama of life in Brooklyn has been played out for over a century.
The Brooklyn Bridge is considered one of the Seven Wonders of the Industrial Age. Look at it. Read about it. And I'm sure I'll hear more than a few say, "Oh, my. There truly is no place like home."
(click of Ruby Slippers and fade to black…)