At a time in America when unemployment, inflation and the pandemic disproportionately are affecting communities of color; when voting rights have been rolled back; when books about the Black experience have been banned in some schools; and when white supremacists are occupying all levels of government offices; how do its Black citizens find the energy to fight the same old battles for social justice and civil rights?
More importantly, does the fight ever end?
The answer to that question may never be answered in our lifetime. But what we do know for sure is that, as long as true racial equality remains in the balance, there will always be people, campaigns, coalitions and organizations that will fight on behalf of those who cannot.
That includes the oldest civil rights organization, The National Association for the Advancement of Colored People, founded in 1909 by W. E. B. Du Bois, Mary White Ovington, Moorfield Storey and Ida B. Wells.
The NAACP is a non-profit organization that has been advancing the cause for equality for Black people for over a century in America. And on Dec. 15, The NAACP's Brooklyn Chapter will celebrate exactly 100 years of advocacy in the borough.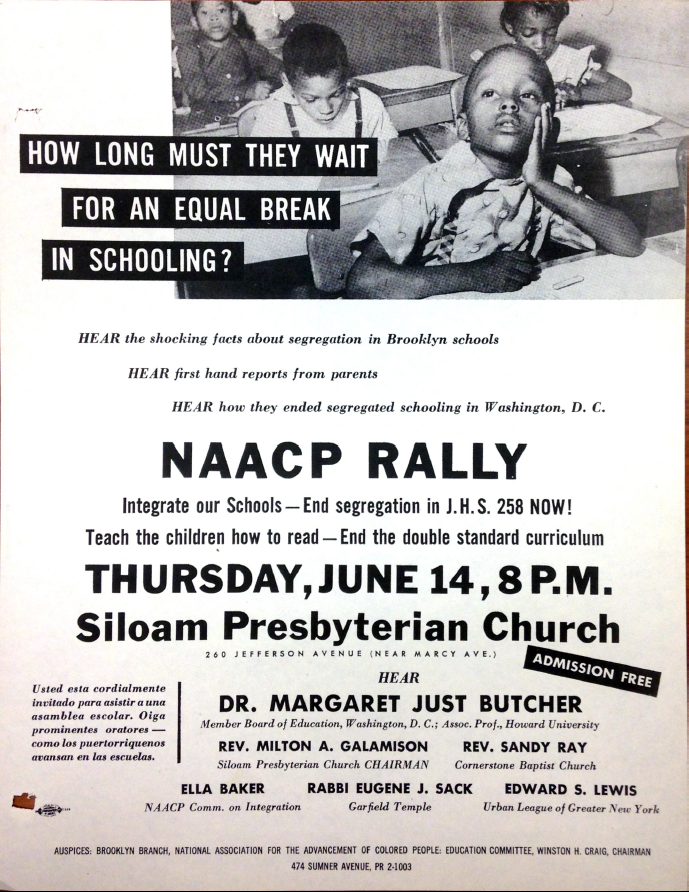 So what does the centennial anniversary signify for the Brooklyn arm of the NAACP? What is its role, its legacy? And is the organization still relevant today?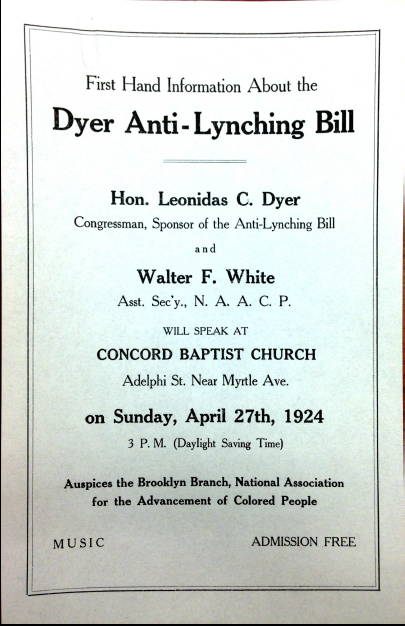 "I feel like the story of this branch and the people of this branch is a bit unsung, in terms of all of the advocacy we have done throughout our history," said L. Joy Williams, president of the NAACP Brooklyn chapter.
"We have an amazing legacy of action for our people."
The Brooklyn Branch of the NAACP was chartered in 1922. It was a year of turmoil and pervasive lynching of African-American men. The first meeting of the Branch, held at the Brooklyn Academy of Music in December 1920, was an anti-lynching meeting. Congressman Leonidas C. Dyer of Missouri, who introduced the Anti-Lynching Bill in Congress, attended the meeting along with Senator Joseph Frank of Maryland, an unwavering anti-lynching campaigner.
"Brooklyn NAACP, if you go through our archives, which are in the U.S. Library of Congress, you can find letters, posters, some of the issues this branch has worked on in the past ... And we were before our time," Williams said.
"There was a time that [Brooklyn NAACP] was pressing Governor Dewey for a special prosecutor on police brutality," Williams said, referring to the Republican governor who served New York from 1943 to 1955.
"And then when Cuomo was in office and we were pushing for a special prosecutor, I wrote an Op-Ed about how [Brooklyn NAACP] was fighting for this same thing then as today.
"And the same thing goes for education. The president of the Brooklyn Branch at that time led the integration movement of Brooklyn schools; it was incubated at NAACP. So all of these things can be tied to our past," Williams said, adding she loves to spend hours digging through the archives of the Brooklyn NAACP.
The Branch's most recent achievement is huge; something yet to be accomplished on the federal level, and that's the passage of the John R. Lewis Voting Rights Act of New York State.
While the U.S. has failed so far to pass voting rights legislation on the federal level, on Juneteenth, the Brooklyn NAACP lobbied the governor to sign into law legislation sponsored by State Senator Zellnor Myrie and Assemblywoman Latrice Walker to create the Voting Rights Act of New York State.
"As we see across the country, a lot of states are restricting access to voting, but we were able to get passed legislation that protects us in the state of New York, which includes school board elections where there is a dearth of representation of African Americans on school boards across the state," Williams said.
The Brooklyn NAACP went to Albany during the pandemic, pressing then-Gov. Andrew Cuomo to pass the legislation and refusing to let up, even as the governors changed hands, until the bill finally was signed into law by Gov. Kathy Hochul.
A great deal of the work coming out of the Brooklyn chapter has been advocacy for legislative reform at the state level. You might not always hear about it, because the branch is far less interested in tooting its own horn than it is in ensuring it is improving and advancing the lives of Black people.
Currently, Brooklyn NAACP is working on bail reform, to help the formerly incarcerated re-enter their communities with the resources and on-ramps they need to ensure they do not return to the penal system.
Still, Williams admits, it's often hard to quantify the NAACP's impact in the 21st century, as some now question the role and relevance of an organization that's been around for more than 100 years.
It's true: We're now in a digital age. Many more social justice organizations have been formed -- such as the Black Lives Matter Movement and Color of Change -- to address the issues of the times, while fewer people in today's generation know the history and legacy of the NAACP and its tremendous role in the fight for civil rights.
And then, there are those who understand the organization's legacy and muscle but misunderstand its role:
"People in the community are asking, 'How are you helping us get housing? How can you help us get a job?'" Williams said.
"But there's a difference between a social service agency, which we are not, and an advocacy organization, which we are."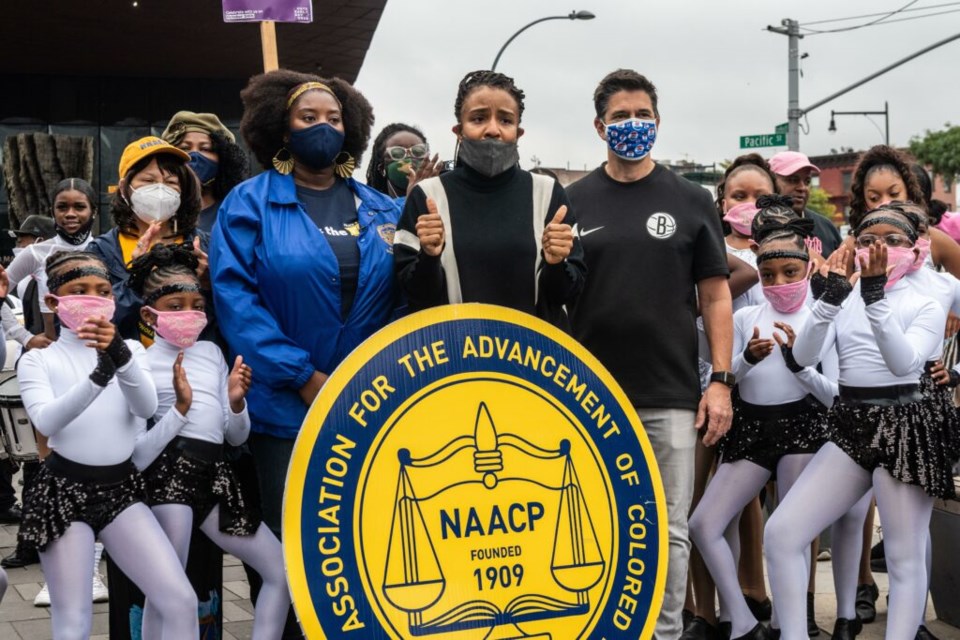 The NAACP is not responsible for representing individuals or serving as legal counsel. It is responsible for making sure there are agencies that exist to provide these services for the community and then steer them to where they can get help.
"For example, a civil rights commission didn't exist in New York State before," Williams said.
"But it is through our advocacy that it now does. Being able to go and file legal, formal complaints against an employer, is a thing that we fought for.
"Our advocacy role is to make sure that those entities have the resources they need; that they're equitably distributed; and when they're not, to raise holy hell until it is. Making sure that there is equity; that our rights are protected and expanded."
The Brooklyn Branch of the NAACP will celebrate its 100-year anniversary at a Centennial Celebration, entitled "100 Years of Action," on Thursday, Dec. 15, from 6:00pm - 9:00pm at 26 Bridge Street Event Space.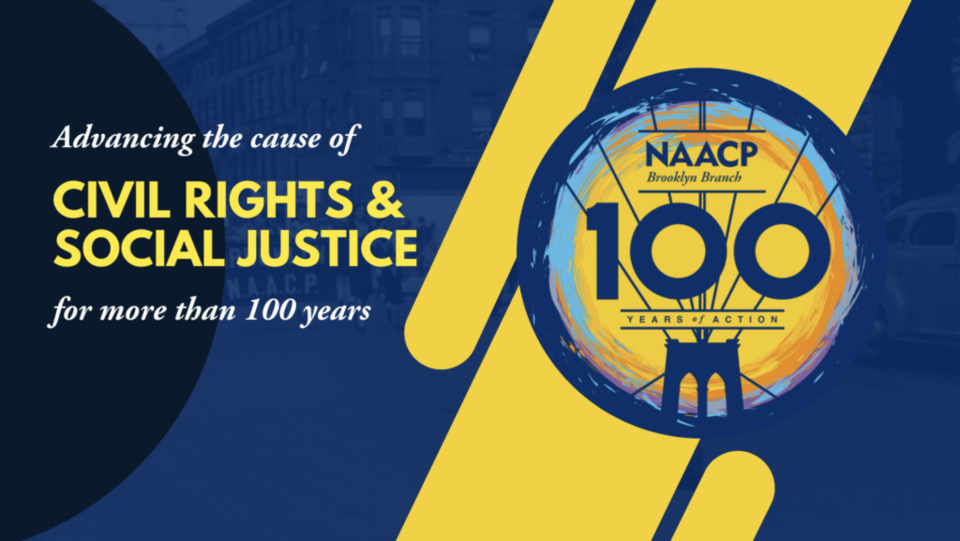 The evening will celebrate:
Gloria Carter, co-founder and CEO of the Shawn Carter Foundation, with the President's Award
Dr. Brenda M. Greene, founder and executive director of the Center for Black Literature, with the Lucille Rose Living Legend Award
C. Zawadi Morris, founder  and publisher of BK Reader, with the Freedom Star Award
Esmeralda Simmons, Esq., human rights attorney with the Legal Leadership Award
New York Attorney General Letitia James, with the Legal Leadership Award
Tompkins Avenue Merchant Association, with the Entrepreneurship Award
Emmanuel Baptist Church, with the Religious Service Award
Dr. Torian Easterling, M.D., former first deputy commissioner and chief equity officer at the NYC Department of Health and Mental Hygiene, with the Valiant Service Award
Dr. Uché Blackstock, M.D., founder and CEO,of Advancing Health Equity Emergency Medicine Physician, with the Valiant Service Award
Dr. Robert Gore, M.D., founder of Kings Against Violence Initiative and physician at the Department of Emergency Medicine, Kings County - SUNY Downstate Hospitals, with the Valiant Service Award
"It was really important for us to do this, because those responsible for the early organizing during the establishment of this branch were amongst the who's-who of Black Brooklyn at that time," Williams said.
"And so, while we're celebrating ourselves and the work of the branch over this past century, it is fitting we also celebrate the individuals who make up this vibrant community; who are pushing our agenda forward. They are people that should be lifted up.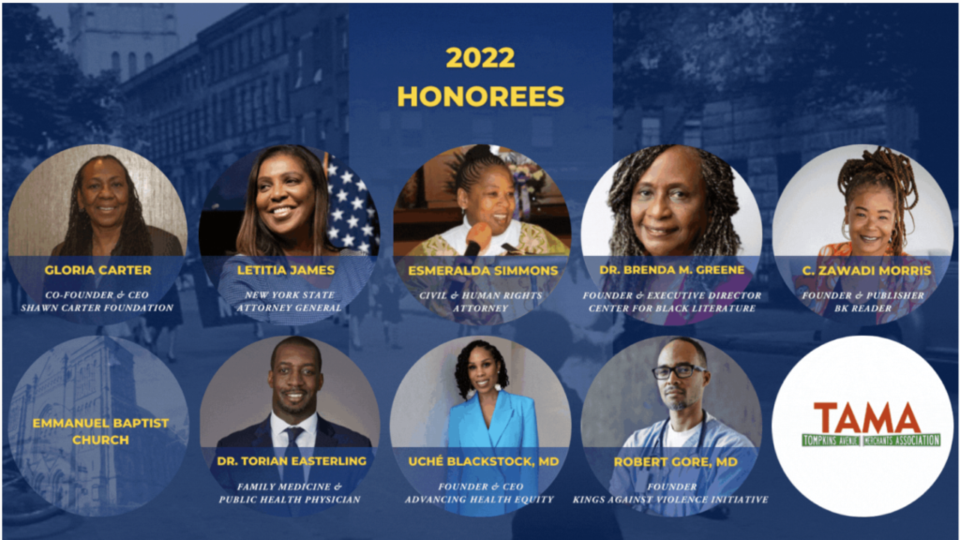 "So what I'm re-dedicating myself to now is making sure that Brooklyn NAACP isn't an organization for just middle-class Black folks or the who's-who, but is looking at the whole community and creating space for all people – including young people – to say what they would like to see; what they need help with," Williams said.
"Come on board. Join us. Tell us what issues we should be taking on. We've got to continue breaking the hinges off the doors; to use our relationships, our legacy, our power and our might."