The Blue Wave Festival, hosted by the NYC-based group the Creative Resistance, is a one-stop shop for NYC progressives looking to volunteer in this year's local and statewide races and will be taking over Fort Greene's Irondale Theater on Saturday, September 8.
"Together, we can take back the New York State Senate from the Republicans and turn the U.S. Congress blue by flipping six Republican Congressional seats from Staten Island to Syracuse, Hudson Valley to Long Island," the Creative Resistance's website states.
The one-day event promises to mix serious politics with serious fun and boasts a full program of activities in an effort to mobilize New York voters for the 2018 election.
The festival will feature candidate tables, voter registration and voter registration training, information about pre-planned Get Out the Vote trips, postcard writing, election-related crafting for kids and adults, and other creative voter mobilization efforts, as well as legal observation training and know your rights campaigns. And this party with a purpose wouldn't be a party without music provided by a DJ — and food!
"Our goal is to plug in hundreds of volunteers to local progressive campaigns which need on-the-ground, door-knocking support," said Sandi DuBowski, steering committee of Blue Wave Festival and The Creative Resistance. "As we saw in the Virginia House of Delegates Democratic takeover in 2017 --which was decided by one vote -- and Alexandria Ocasio-Cortez, the elections are all about turnout. And letting New Yorkers know that their votes on September 13 really matter, this year more than ever, if we want to stand up to the cruel Trump and Republican agenda."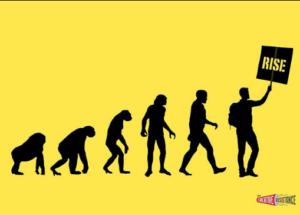 The Creative Resistance, a collective of organizers, activists, media makers and friends who joined forces to get out the vote and to resist the Trump administration's agenda, uses the creativity of its members to create videos, graphics and memes to promote various progressive causes and candidates.
"New York should already be a national leader in progressive legislation," states the group. "But we have the Independent Democratic Conference (IDC) — a group of eight NY State Senators who were elected as Democrats, but formed a coalition with Republicans, blocking progressive legislation in NY. That will change if we get our voters to the polls on primary and election day."
The event is free and open to the public, but attendees are encouraged to RSVP here.
Blue Wave Festival
When: Saturday, September 8 | 1:00pm - 4:00pm
Where: Irondale Theater, 85 S Oxford St, Brooklyn, NY 11217