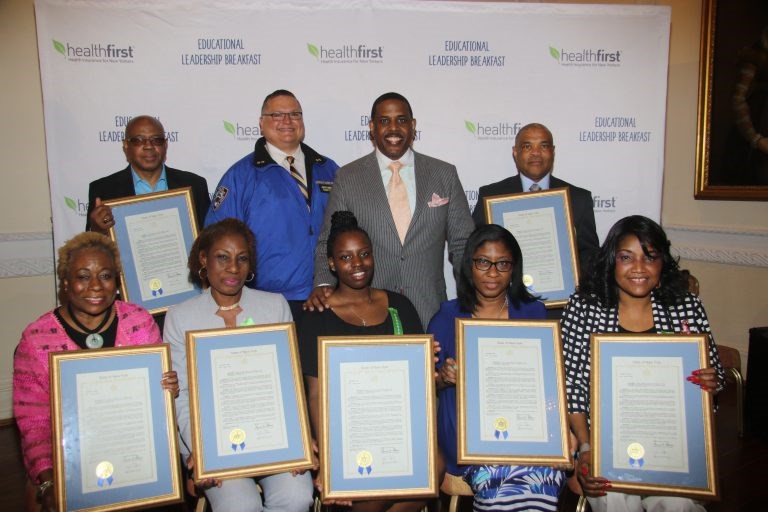 New York State Senator Kevin Parker and Healthfirst hosted the annual Educational Leadership Award Breakfast, on Friday, April 28 at Grand Prospect Hall.
"The Educational Leadership Breakfasts honor and highlight the dynamic leaders in our community who educate, engage, and empower our children daily," said George Hulse, Healthfirst Vice President of Community Engagement. "Their active involvement and collaborative efforts are crucial in the vulnerable communities we serve."
The 2017 Educational Leadership Breakfast series, which honors educators throughout New York City and Long Island, is an event created by Healthfirst, a not-for-profit managed care organization sponsored by hospitals and medical centers in New York. This year, several elected New York State officials have partnered with Healthfirst to celebrate the committed educators of their communities: State Senator Roxanne Persaud, State Senator Leroy Comrie, State Senator Ruben Diaz, State Senator Gustavo Rivera, State Senator Marisol Alcantara, State Senator Jeffrey Klein and State Assemblyman Phil Ramos.
State Senator Parker, who represents the 21st District including Flatbush, East Flatbush, Ditmas Park, Midwood, Kensington, Windsor Terrace, and Park Slope, enthusiastically joined the organization's efforts in recognizing the outstanding work of educators.
"Every year I look forward to honoring educators in our community. This event is important as we highlight traditional and non-traditional educators like our mentors, Sunday school teachers, after school staff, parent coordinators and others who work tirelessly to improve the outcomes for our young people. They each play an important role, and this event allows us to acknowledge their unwavering commitment to our kids," added State Senator Parker.