No one can say Kadayalee Washington isn't working hard.
The 27-year-old estimates she's putting roughly 80 hours a week into her eyewear company, Kleechi, while maintaining a full-time job as a medical assistant.
She needs that much time to manage the never-ending to-do list for 21st-century entrepreneurial success: Developing a business plan; navigating time zones to talk with potential manufacturers in China, Italy and Greece; networking with mentors; researching loan options and perfecting her product.
"I'm in my Steve Jobs phase," she said one afternoon at a coffee shop in Flatlands.
But, unlike the notoriously fashion-neutral tech mogul, Washington was a flurry of energy and color as soon as she walked in the door. She was sporting her own design: A pair of thick, vermillion red glasses with lightning bolt temples that matched her red hair and the vibrant tones of her mesh Gustav Klimt shirt.
Everything about the look was arranged around the eyewear. It had to be: "I'm my own walking billboard," Washington said.
One hundred pairs of the frames she was wearing, with sunglass lenses that can be swapped for prescription, are headed to Brooklyn in preparation for the launch of Kleechi's newest line. The mythology-inspired collection, called "Rise of the Sun," is kicking off with a marketing event at Carver Federal Savings Bank on April 28, in Crown Heights.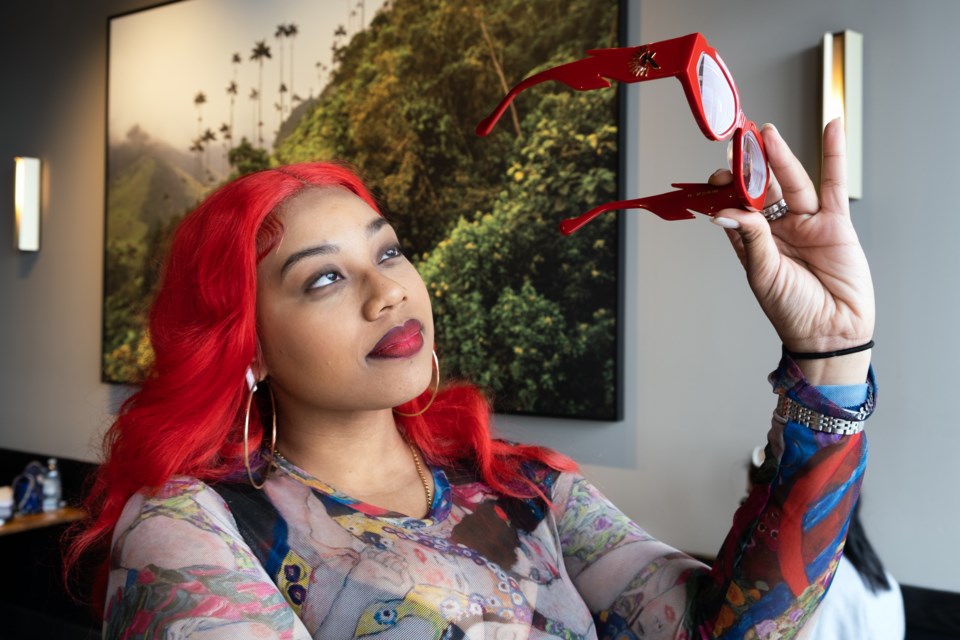 The newest frames represent a milestone moment for Washington, who's taken chances — including dropping out of college, sacrificing relationships and investing her own savings — to pursue her vision.
As an adolescent, Washington said she was bullied for her weight and called 'four eyes.' She has a lens prescription of -12 in one eye and -11 in the other and has worn glasses for most of her life. It's a pretty high prescription — even with surgery, Washington will never have 20/20 vision, she said.
While her family has supported her, Washington said she didn't find a lot of encouragement in academia — she was creative, but a middling student. A college admissions counselor once advised her not to set her expectations too high.
The comment stung and lingered. She went to college for business but felt depressed and uninspired when she saw an ad on the train featuring a pair of "ugly bifocals."
"I think I started to daydream after," Washington reflected. She dropped out and launched Kleechi in 2019. "I hear people say [it's best to have] this sense of realistic negativity… I'd rather be optimistic. I just can't wire my brain like that."
Washington dove into research, using the internet as her teacher. The young entrepreneur has since found success selling her frames at pop-ups and through word-of-mouth advertising.
"I definitely profited, but I wasn't happy with it," Washington said of Kleechi's last line. "I needed it to be bigger. I need it everywhere."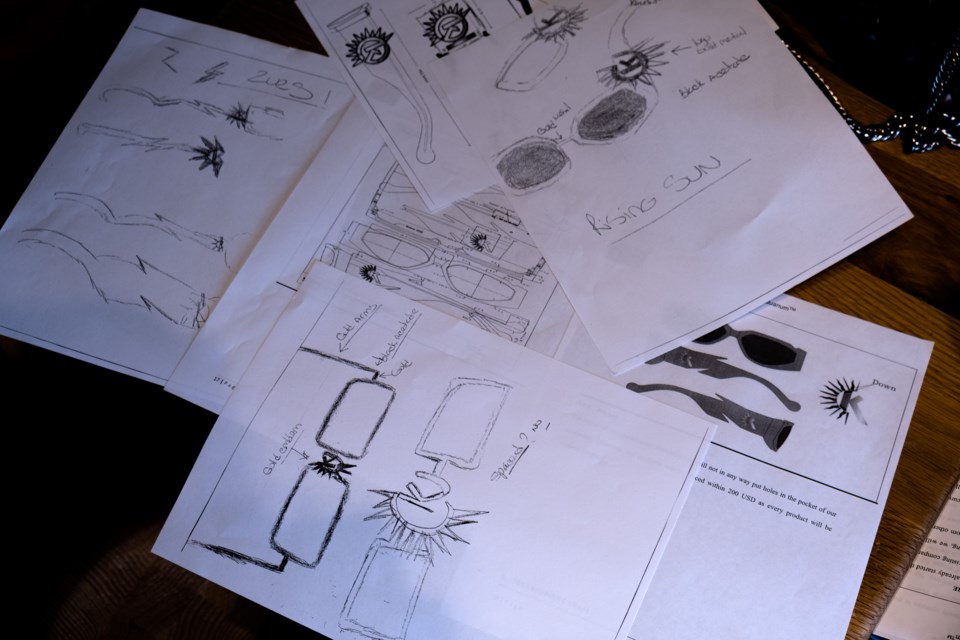 One of Washington's favorite entrepreneurs, Patrick Bet-David, once said a "High-risk, high-chaos, low quality-of-life for three to five years," is integral to the 10-year "fast method" to becoming a millionaire — and Washington is following suit. She has visions of a Rolls Royce and a flagship store next to Tiffany's on Fifth Avenue.
If 80 hours sounds unrealistic, consider that even time spent with friends are opportunities to take promo photos and club visits are strategic attempts to get rappers or their entourage to try on a prototype.
"Friends tell me, 'I just feel like you're so involved in this business,' and I can understand it — I am obsessed," Washington said.
Unlike purses, watches and makeup, there are few notable visionaries in the eyewear industry. With the exception of Ray-Ban, the most popular luxury eyewear comes from designers that also produce clothing and other accessories.
According to the Vision Council, nearly 64% of adults in the U.S. wear prescription eyeglasses. Washington is betting on room in the market for people who want more than functionality from their frames.
Given the importance of marketing a personality in addition to a product, it helps to have someone confident and enigmatic putting themselves behind the brand.
In that sense, Washington is all set.
"I've always had the sun shape for my monogram. I kind of want my brand to stand for that — when you get up in the morning, how do you feel when you see the sun? You feel… I want to say, reinforced," Washington said.
"I have a childlike presence in the sense of imagination, but I feel like that's what makes me magnetic."