This is the first in a two-part series that explores the tension between the wave of new Black progressives and the Black political establishment in Central Brooklyn. Part two examines campaign funding issues and who exactly are the "real gentrifiers."
---
"I think I am old fashioned," Council Majority Leader Laurie Cumbo told BK Reader. "I believe in demonstrating leadership in your community before stepping to the plate to say you want to run for office."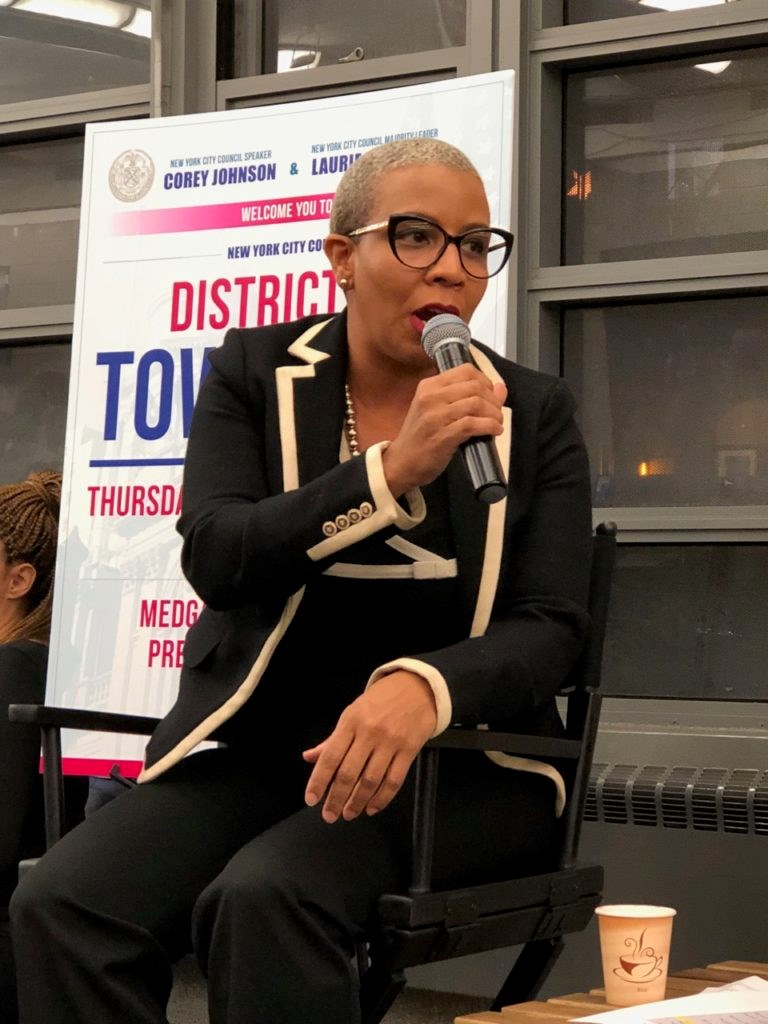 Traditionally, Black candidates developed relationships in the community and sought the mentorship of Black leaders who were icons in the struggle for equality. "But that's an old way of thinking," she said, adding that a "gentrification movement" with a political agenda was upending the way things were done.
Cumbo expressed her reaction to the election victories of progressive candidates, some of them in her own backyard, in a July 23 Facebook post.
She stated: "Many folks do not see what's happening but the recent local election results in Brooklyn demonstrate the power of the gentrification movement. The ability to elect unknown candidates of color with the backing of a super majority of white organizational support, with no proven leadership in the community, with over 75 percent of their campaign contributions coming from out of state (mostly Seattle), with very sophisticated social media strategies signifies the end of an era in Brooklyn."
DSA making its mark
The Democratic Socialists of America (DSA) supported several insurgent progressive candidates who unseated establishment Democrats in the June 23 primary elections, including public school teacher Jabari Brisport.
The DSA-backed candidate declared victory on July 23 in the State Senate race for Brooklyn's 25th District, which includes parts of gentrifying Bedford-Stuyvesant and Fort Greene.
When the final absentee ballots were counted, Brisport pulled off a stunning victory over Assemblywoman Tremaine Wright who had the support of the Black Democratic establishment.
On July 22, Democratic Socialist candidate Phara Souffrant Forrest claimed victory against incumbent Assemblyman Walter Mosley in the 57th Assembly District that includes the gentrifying neighborhoods of Crown Heights, Clinton Hill and Bed-Stuy.
BK Reader contacted Forrest to ask for her reaction to Cumbo's Facebook post, but she was unavailable for comment.
Progressive policies
However, Brisport told BK Reader that Cumbo's Facebook post shows that she's "out of touch as an elected official."
DSA-backed candidates of color did not owe their election victories to a White gentrification agenda, but to the candidates' platforms of progressive policies that appeal to voters in the district, Brisport said.
"Our communities are suffering from multiple angles. There's a lack of access to affordable housing, quality health care, jobs and education," the native Brooklynite said.
"People are looking for candidates who don't just promise those things but actually stand up to the forces that are harming our communities."
Fight for control
Others have noted that DSA developed a strategy of backing candidates of color in gentrifying neighborhoods. Cumbo said the political arm of the gentrification movement had shown itself to be very capable, and it was unclear who the forces behind it were.
People from outside the community have invested millions of dollars into gentrifying neighborhoods in Brooklyn, and "they are going to want to have control over more things. …It's a fight for control," the majority leader said.
Cumbo is far from alone in her distrust of the new Black politicians, their motives, and the power structure behind them. The movement has caused tension across the city between longtime Black leaders and the new wave of younger Black progressives and their White activist allies. The New York Times reported about protests and counter-protests between the two camps.
Some of that conflict has played out between Cumbo and Brisport. In June, Brisport led a group of protesters outside Cumbo's home to voice their demand for a $3 billion cut to the NYPD's budget. About one week later, Cumbo responded with a counter protest outside Brisport's home.
Continuing the legacy
A major part of her concern is that the new Black elected officials and their White supporters won't continue the legacy carried on by Brooklyn's African-American political trailblazers.
She pointed to several Black leaders from an earlier generation, including former Congressman Major Owens, who envisioned the Bedford Union Armory becoming a hub for enrichment activities and educational programs in Crown Heights, and former Assemblyman Albert Vann, who was a founder of Medgar Evers College, a predominantly Black college in the CUNY system.
"When I fight for things, I fight for a legacy that I have inherited," Cumbo said.
"That legacy is not relevant to the new individuals who come here. They are neither interested in it nor find value in it, nor will they protect it."