Brooklyn's Atlantic Avenue is a notoriously dangerous corridor for pedestrians and cyclists due to it being predominately dedicated to moving and storing vehicles, leaving little or no room for public transport alternatives, pedestrians and cyclists.
But an advocacy group trying to "reclaim New York City's streets from cars," Transportation Alternatives, and the transportation company Via want to change that, Patch reports.
The two have released a proposal for redesigning Atlantic Ave that includes a new center median, somewhat like a "bike superhighway," newly-designed intersections to decrease crashes between cars and cyclists, and an increase in pedestrian space.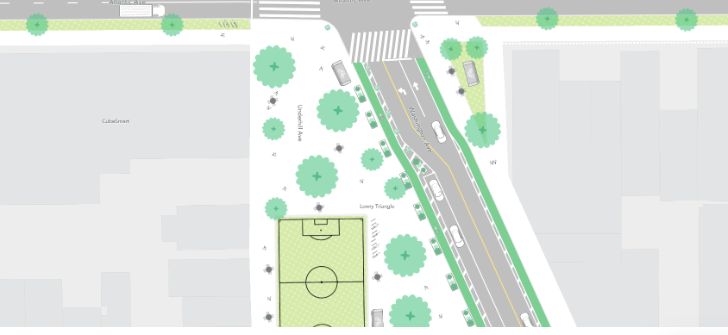 According to Transportation Alternatives, more than 80% of the public space along Atlantic Ave is dedicated to moving or storing vehicles, and the 117-foot-wide roadway includes no room for buses or cyclists and allocates only 18% for pedestrians.
The proposal aims to change that through number of measures, one of which is closing a slip lane at Flatbush Avenue and adding a two-way cycle track, half an acre of public space and a transit priority lane for buses,
In its proposal, the group says the roadway is one of the most dangerous sites in New York City, having had 10 fatal crashes in 2021 alone.
"In the last 5 years, there have also been 75 reported injuries at Flatbush and Atlantic Avenue, ranking this site as one of the top 20% of most dangerous intersections in the city," the proposal says.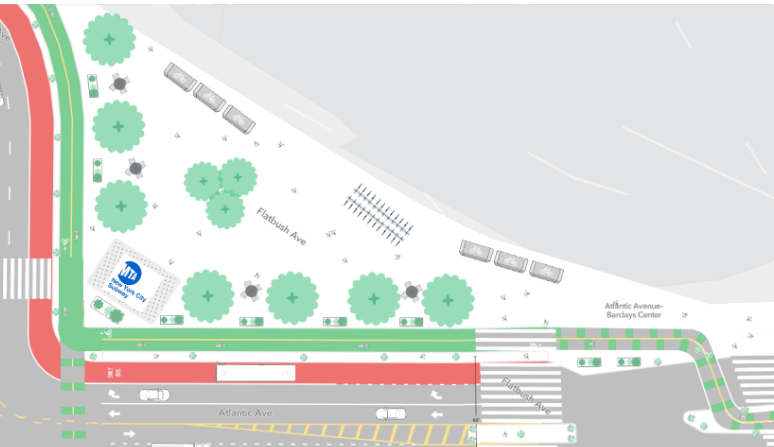 It adds that simplifying the intersections would significantly reduce conflict points "while creating an expansive new pedestrian plazas with enough space for secure bike parking, trees, and seasonal or temporary programming."
The new green space would also help to combat the adverse health and community issues local residents face because of the roadway, including high asthma hospitalizations and increased flooding risks, the group says.
"The community boards here rate high on the Climate Change Vulnerability Index, due to high surface temperatures and low tree coverage, street cleanliness, and access to green space," Transport Alternatives says in the proposal.
Although the plan has no formal political backing yet, the proposal is being rolled out before the new mayor and City Council take office in January, Patch reports.