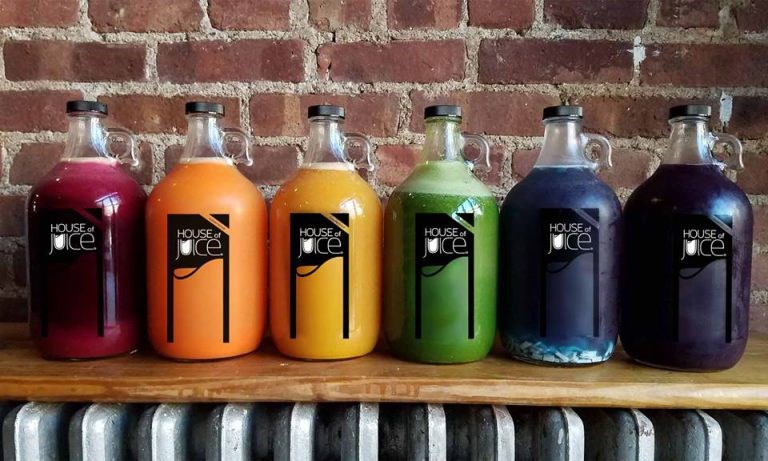 The phrase "you can't be everything to everyone" has been passed down as sage advise for years. While in most cases it rings quite true, the good people at House Of Juice, located at 642 Rogers Ave in Crown Heights, under owner Danii Oliver's leadership are healthfully raging against that thought with their "seed to spirit" concept.
Their juicery/ brewery/ bar/ restaurant, located on Rogers Avenue in Flatbush, is centered around the newly established Island To Island Brewery which sports a fine backyard paired with an amazingly welcoming energy. With a unique focus on total nutrition, the "Made in Brooklyn" juicery offers raw juices, superfood smoothies, tonics, probiotic sodas, house brewed ales, beers and cider, along with a selection of plant-based dishes.
House of Juice is geared especially towards moms and children to enable healthy food consumption in a neighborhood that previously had a dearth of healthy options. The special menu for nursing mothers is the beez neez, along with coaching on juicing and restorative nutrition. More than just selling foods in a casual brewpub and restaurant, House of Juice provides education, workshops, seminars and a kid's culinary program to help inform and boost awareness about eating real, whole foods.
All of team Oliver's recipes are seasonal and local, and served with love and attention to the guests' well being. The produce is sourced from House of Juice's very own organic garden, as well as other local organic garden partners in Brooklyn and local farmers in the tri-state area. Produce that is not at home in the North East is provided by organic fair trade farms.
To give you some clarity on the holistic "seed to spirit" concept, let's take a bushel of berries as it's pulled off the local truck, and see what House of Juice does with it.
At the House of Juice, berries are
cold pressed in the juicery,
used in Superfood smoothies,
added with bacteria to make Kombucha through fermentation,
added with yeast to make alcoholic beer and cider through fermentation,
used in the food program - who dat dessert? -
and used in many other awesome ways.
As more and more Americans become turned off by mass production within the food industry, House of Juice offers an alternative to health-conscious people who are looking for it in underserved, urban neighborhoods.
Yes, all the cool kids are into juicing, and all the super cool kids are into cold press juicing. But you don't have to be cool or a kid to benefit from the "seed to spirit" concept which Danii Oliver has employed in a series of interrelated businesses at her well designed and airy establishment.
If you ask me, House of Juice is a fancy space, in a fancy place that delivers an amazing combination of health and heart. Can you go wrong?