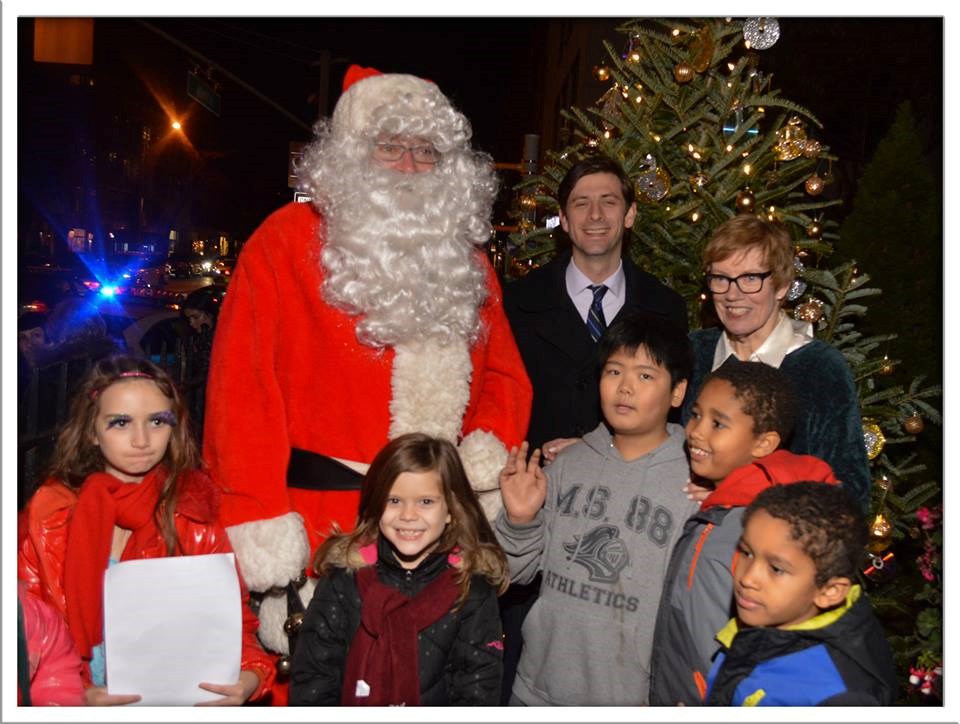 Have you visited the downtown area of Atlantic Avenue lately? If so, then you know that in the last five years it has exploded with number of enormous changes-- from the renovated Brooklyn Bridge Park, to the addition of Trader Joe's; and let's not forget Barclays Center, an epicenter of sports, music and tourism.
"New residential and commercial properties have brought thousands of new potential customers in close proximity," said Christian Haag, president of the Atlantic Avenue Local Development Corp (AALDC).
Well, on Saturday, December 12, from 11:00pm - 7:00pm, Atlantic Avenue will get ready to strut its stuff for the holidays, with more than forty stores and restaurants along the avenue, from Hicks Street to Fourth Avenue, joining together for "Holiday on Atlantic Avenue," a day-long celebration of free events, complimentary holiday treats and special store discounts.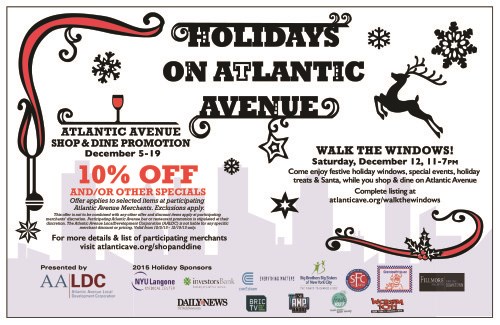 "Walk the Windows," is inviting shoppers to stroll in style along ten-blocks of Atlantic Avenue, from Hicks Street to 4th Avenue, through the charming, historic brownstone neighborhoods and storefronts of Brooklyn Heights, Cobble Hill and Boerum Hill.
Shoppers will enjoy the dazzling and celebratory holiday windows showcasing more than one hundred quality and inviting restaurants, boutiques, and shops that sell a wide range of products and specialty items. Atlantic Avenue is also well known for its extraordinary bakeries, specialty delis, bars and cafes as well as its flavorful international restaurants — some with Zagat and other prominent recognitions — also features popular Brooklyn artisanal beers and wines.
Walk the Windows activities include live music; tribal rugs exhibit with talk; holiday terrarium workshop; cheese & wine pairing class; storytime; art lectures; book making craft; intro to meditation; Strafe signed CD and art raffle; drinks (non-alcoholic and alcoholic — including a whiskey knowledge tasting); ski and snowboard tips and tricks; holiday makeup tips; gift wrapping and goodies party; meet Santa, the Snow Queen (photo ops/bring your camera) and more!
Additionally, from December 5 through 19, the Shop & Dine promotion provides 10 percent off selected items and/or other specials at participating stores and restaurants. For further details and updated list of activities during Walk the Windows as well as Shop & Dine 10 percent discount, please check for participating businesses, go here. You can also check them out on Facebook here.
Holiday carolers, free tasty treats and refreshments, and fun events, will keep you in the holiday spirit. For a complete list of free activities during Walk the Windows, go here.
In the meantime, check out AALDC President, Christian Haag, and two Atlantic Avenue businesses, Brado Thin Crust Pizza and Evolution the Green Room Salon, talk about upcoming Walk the Windows on BRIC TV: