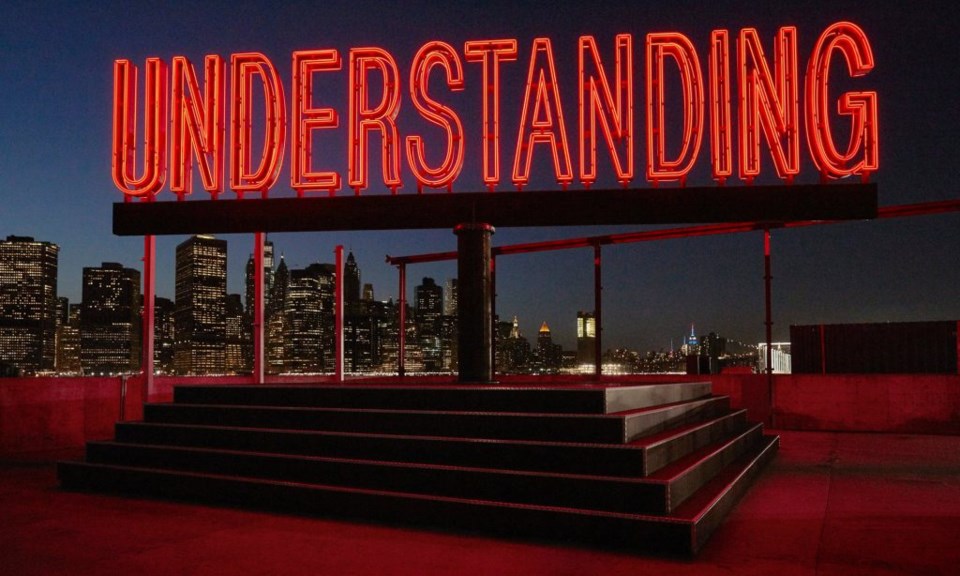 In most New York City neighborhoods it's easy to find artistic pieces painted on sprawling billboards, the side of buildings, or even painted right on the sidewalk. According to a recent article, Turner prize-winning British artist Martin Creed has transformed a space at Brooklyn Bridge Park's Pier Six into a bright statement inspired by the state of the world.
The 25ft-tall revolving neon sculpture simply says 'Understanding' as it allows individuals to take in the piece in order to interpret it for themselves. Martin admits that the idea behind the sculpture can be labeled with a hippy 1960s mentality although he also recognizes how relevant it is to today's society.
"I think it has to do with the bloody shit going on in the world at the moment," Creed says. "It has to do with wars and communicating with people in a way that's understanding, for lack of a better word."
Originally Martin really wanted the sculpture to be a part of a three word series that included 'Peace' and 'Love'. Despite careful planning, the artist found himself without the funds to construct three massive structures that could represent his vision. The enormous rotating sculpture has been placed on a carefully constructed platform that comes complete with stair-like seating for visitors to enjoy. Situated right on the water, the powerful red sculpture doubles as a space for people to contemplate what understanding means to them.
Art enthusiasts and curious individuals can enjoy this dynamic piece of art from May 4th through October 23 as it will continue to set the tone at Pier 6 Martin's retrospective The Back Door will also debut at the Park Avenue Armory from June 8th to August 7th.