After fighting for over a decade, the tenants of 265 Hawthorne Street successfully formed a housing co-op that grants them ownership of their apartments.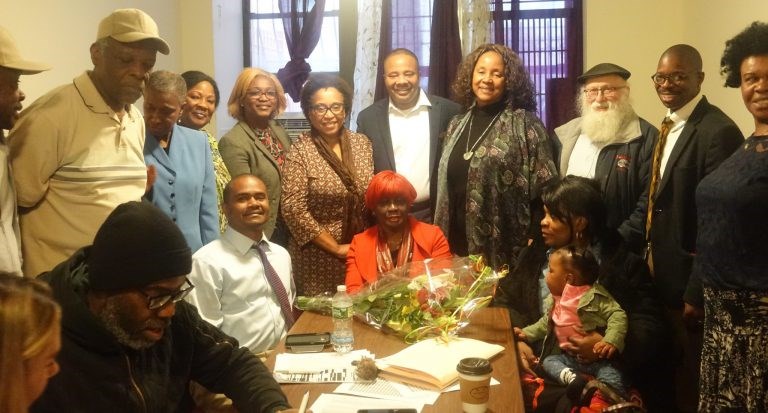 On Monday, the residents of 265 Hawthorne Street celebrated a very special victory: the formation of their own housing co-op. New York State Senator Jesse Hamilton, IMPAACT Brooklyn and other community advocates who supported the tenants in their ten-year journey joined the celebration.
"We are truly blessed here today because this is a success story," said Sen. Hamilton. Ten years ago, the building was in disarray. The neighborhood was changing; we did not really know where we were going.
"But this shows you that when people come together, work together and are committed to the task at hand, we can make things happen. Today is a day we can say we made history in formulating a blueprint for how tenants can take ownership of a building."
For over ten years, the residents of the 71-unit building in Prospect Lefferts Garden have been trying to secure their homes. The building endured fires and floods and struggled with mold, yet the tenants stayed. In 2007, when the city took the building from the landlord, after not paying taxes, the tenants were given a chance to purchase their apartments by forming a co-op.
But if it weren't for the tenacity of long-time resident and president of the co-op board Eve-Lynn Williams, the tenants' pro bono attorney David Morisset and IMPACCT Brooklyn, the endeavor may not have been successful.
The thread that kept it all together? Eve-Lynn Williams who went to every community board and precinct council meeting to rally support and to secure the homes of the tenants.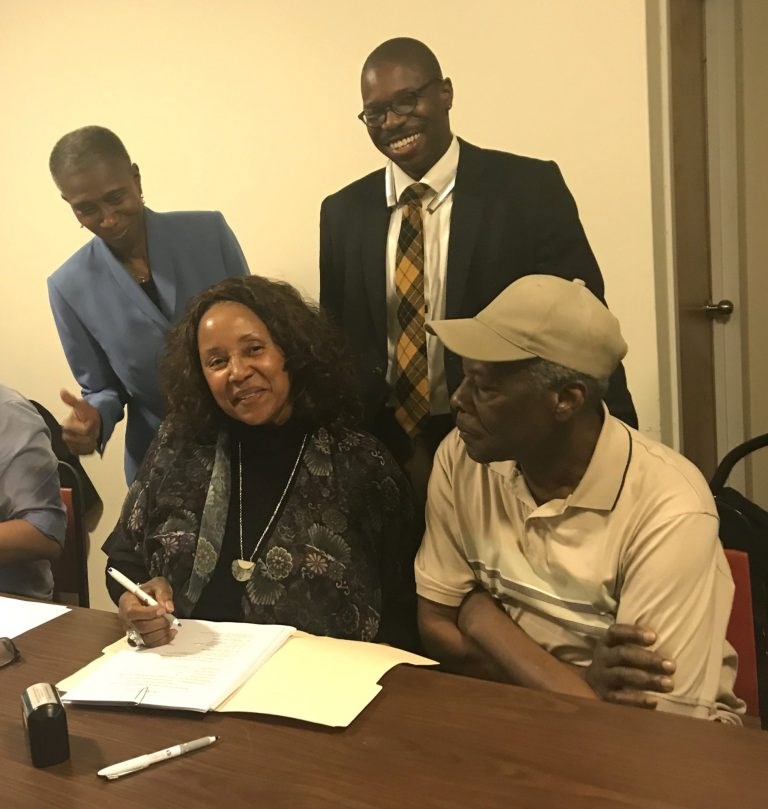 "We are here because we have been working diligently with the hard-working people from IMPACCT Brooklyn, our tenants' association and our Senator Jesse Hamilton and his staff," said Williams. "They have worked tirelessly from home, work, church, in the middle of night and weekends."
IMPACCT Brooklyn guided them through the administrative process to form the co-op and worked on the tenants' behalf with the building's management company to finalize the paperwork.
In addition, attorney David Morisset went above and beyond to support the tenants' quest, from filing their paperwork to representing them in court, using his own money.
"This is a shining example of what IMPACCT is doing and it has to spread," said Morrisset."There are a lot of good opportunities and if nobody knows, that is a tragedy. We need to make sure they do not only hear the bad news, they hear the good news — and that is why I sacrificed."