According to a new report by Rent Hop, residents in the Flatbush subsection Erasmus are not getting enough heat from their landlords as city data reveals: They have filed the most complaints in the 2018 heating season.
In 2018, New Yorkers issued a total of 120,780 complaints, with Erasmus residents filing 117.5 complaints.
While the beginning of 2019 hasn't been as cold as 2018's bomb cyclone, the current heat season has continued to show that certain parts of the city still aren't getting the heat they need — despite peoples' complaints to 311. And the Erasmus section is on track again to clinch the top spot for the most heat complaints in the 2019 heat season, followed by the Bronx neighborhoods Mount Hope and Norwood.
Other Brooklyn neighborhoods listed include pockets of Prospect Lefferts Garden, Crown Heights North and South, Farragut in East Flatbush and Pennsylvania Avenue in East New York.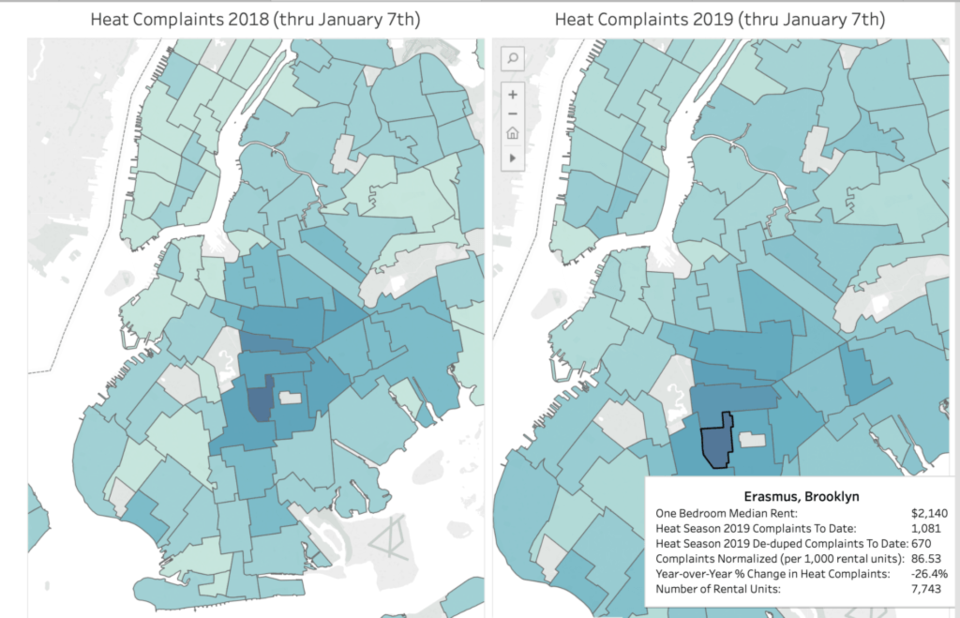 The analysts blame the landlords for not properly providing heat and the city for not following up on the complaints. They point out that high complaint rates often correspond to rent prices: The majority of complaints come from with low-income neighborhoods during the heating season when landlords are required to maintain specific temperatures in their buildings.
NYC landlords are required to heat to all tenants from October 1, through May 31. The temperature requirements, however, a rather low: Between 6:00am and 10:00pm, if the outside temperature falls below 55 degrees, the inside temperature is required to be at least 68 degrees; between 10:00pm and 6:00am, if the outside temperature drops below 40 degrees, the inside temperature should be at least 55 degrees.
"The same landlords in the same areas still aren't adequately heating their buildings. The same Department of Housing isn't doing enough to make sure these people aren't cold," analysts write. "One can only imagine how the person or persons at these addresses making hundreds of calls must feel. Year-after-year, cold and seemingly screaming into the wind for help."
To read the full report, go here. If you are affected by a cold apartment, contact 311.