Community leaders in South Brooklyn who were pushing for final State Senate maps to retain a plurality-Asian-American district say they are happy with how the district lines turned out for them now that the final maps have been released — even amid elected Democrats' criticism of the process by which they were drawn.
"I think the final maps look good for us. I think it's fairly accurate in terms of what the proposals were and what we advocated for," said Steve Mei, director of the Chinese-American Planning Council for nonprofit Brooklyn Community Services and a proponent of creating a new State Senate district for the growing Asian-American population centered around the southwestern corner of Brooklyn.
The new boundaries of State Senate District 17 — stretching in something resembling an L-shape, from Greenwood Cemetery through Sunset Park down to Bensonhurst and Bath Beach, plus a lick of Bay Ridge — are the result of a lengthy, controversial and complicated back-and-forth redistricting process.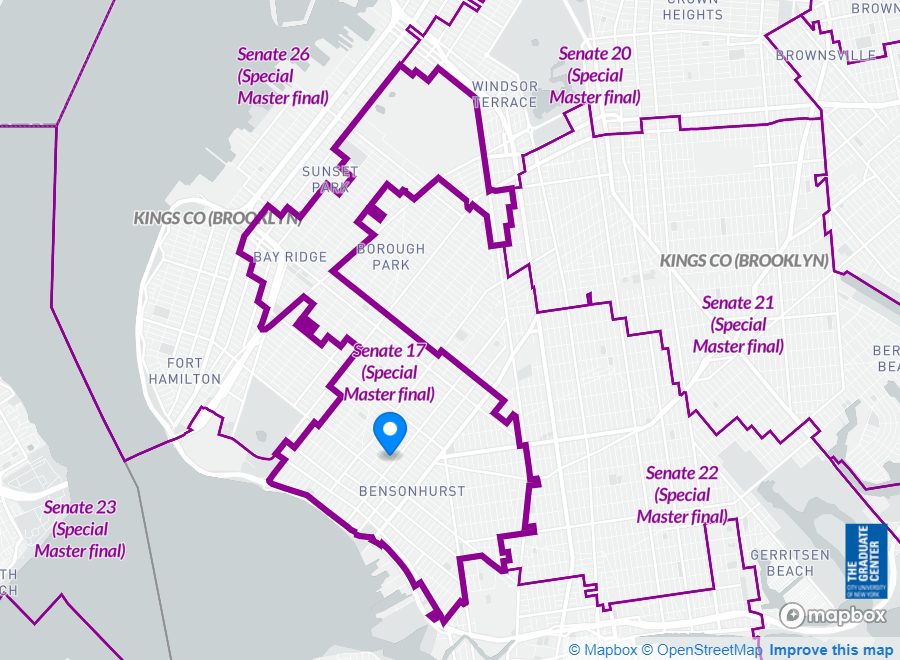 The Democratic-controlled State Legislature had drawn up district maps for the statewide chambers and congressional delegation that favored their own party, only for Judge Patrick McAllister, a Republican in upstate Steuben County, to declare the maps an unconstitutional gerrymander.
Following appeals from Democrats, New York State's highest court upheld the ruling for the congressional and Senate maps, though not for Assembly, handing the redistricting power to McAllister and, ultimately, special master and Carnegie Mellon University fellow Jonathan Cervas.
In South Brooklyn, community leaders were initially dismayed at that court decision. The draft State Senate District 27 was 46% Asian-American, granting some representation to a community that hasn't had much of it, despite growth in the last decade.
"In Brooklyn, there isn't really any Asian-American leader other than Nancy Tong, who is district leader (for the 47th Assembly District)," Mei said. "We have an 18% AAPI (Asian-American and Pacific Islander) community in Brooklyn. I think we definitely need someone to be in Albany for us."
But the community is breathing a sigh of relief with the May 21 release of the final congressional and State Senate maps, including the one for District 17, which is 48% Asian-American, and also backed Joe Biden for president by a 58%-42% margin in 2020.
"With the lines still reflecting the Asian plurality, I'm hoping it will encourage more of the Asian Americans to participate in the voting," said Don Lee, board chair of Homecrest Community Services .
"In the past, with all of the gerrymandering and being separated into so many districts, people were being disenfranchised. We're hoping (now) we will be able to participate more and to have a voice that reflects the community."
Outside of that controversy, representatives of the Asian-American community in South Brooklyn said they're eager to see what benefits their newfound representation can yield.
"We hope that, of course, that we will have somebody (in the state Senate) that can work within our Asian, Chinese community to help us to fight for what's right, or that at least we can have somebody tell the city or the state we want a safer community, we want more resources for the nonprofit organizations to be able to give more information and resources to the community members," said Ansen Tang, executive director of the United Chinese Association of Brooklyn.
So far, the only two candidates to announce they are running in State Senate District 17 are Democratic former Assembly staffer Irene Chu and Republican retired detective Vito LaBella.
"I'm pleased to see comments submitted by Southern Brooklyn residents were heard & implemented in final maps," Chu said in a tweet May 21, after the final maps were released. "Sunset Park Chinatown is united & connected to nearby communities, making #SD17 an Asian majority. I'm honored to run & represent the working families of Southern Brooklyn."
Meanwhile, LaBella said in a video released that day that he intends "to stand up to the Democratic machine that has kept our streets less safe, our schools less good and our businesses less profitable."