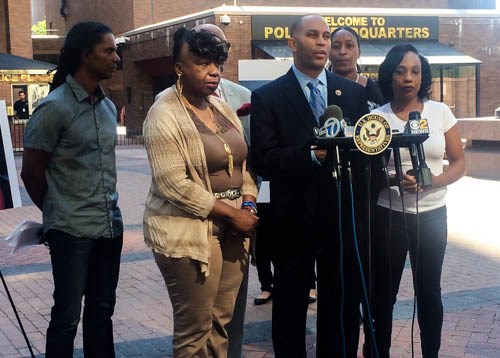 U.S. Representative Hakeem Jeffries (D-NY) held a press conference on Wednesday outside of One Police Plaza protesting what he calls a scandalous decision by the NYPD to pay officer Daniel Pantaleo overtime and bonuses despite his involvement in the 2014 death of Eric Garner, the unarmed man from Staten Island who died from a chokehold while being arrested for allegedly selling loose cigarettes.
A Staten Island grand jury cleared Pantaleo of criminal wrongdoing.Both the NYPD and the U.S. Department of Justice launched independent investigations after the indictment but have yet to release conclusive reports. In the meantime, Pantaleo has been restricted to desk work.
In the two years since Garner's death, his pay has increased by roughly $40,000 in overtime payments and bonuses, according to NYPD payroll records. Pantaleo's earnings in 2016 represent a 35 percent increase in overtime pay, and a 14 percent overall increase from the previous fiscal year, which began shortly before Garner's death on July 17, 2014.
"This should shock the conscience of every decent New Yorker," Jeffries said outside of NYPD's Manhattan headquarters. "Daniel Pantaleo should be fired for killing Eric Garner."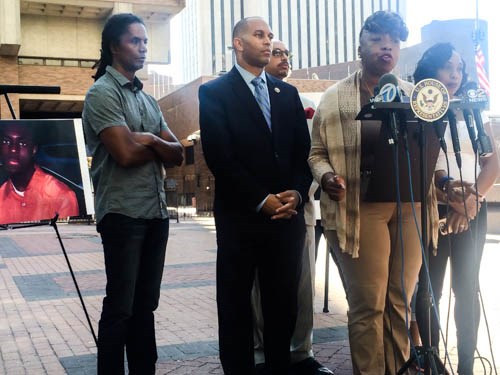 Jeffries was joined by Garner's mother, Gwen Carr, who lamented how the pay increases could create an incentive for abusive police officers to continue doing what they're doing: "It's a smack in the face," said Carr. "You're being congratulated for killing my son. And this is just totally unacceptable by me."
Constance Malcolm, whose son Ramarley Graham was killed by officer Richard Haste in 2012, said the pay hike was a disrespect to families and New Yorkers. "If we do this, we [would] go to jail. Why not the police officers who commit a crime?"
Jeffries added, "The administration's coddling of police officers like Daniel Pantaleo and Richard Haste — both of whom took the life of innocent, unarmed African-American men — is unacceptable and unconscionable.
"The majority of New York City police officers are hardworking public servants who are in the community to protect and serve. However, those police officers who cross the line and take the life of innocent civilians without justification must be held accountable, not rewarded with overtime and bonus pay."
The Patrolmen's Benevolent Association defended officers' right to earn money while undergoing an investigation. "There is absolutely no justification to prevent police officers on modified duty from working overtime when the department requires," PBA President Patrick J. Lynch said in a statement.
"Overtime is not a reward... These officers have every right to continue to support their families until there is some determination regarding their actions."
But Mark Winston-Griffith, the director of the Brooklyn Movement Center, a Bed Stuy-based non-profit community organization, emphasized that the protest was about more than the money. "They need to be held accountable," he said referring to the police officers. "They need to be disciplined; they need to lose their jobs."
Yesterday, incoming police commissioner James O'Neil pledged to commission an internal review of the payments made to police officers suspected of wrongdoing. But Jeffries said that it wasn't enough.
In addition to protesting the pay increase, he is also urging the U.S. Department of Justice to take a closer look into the NYPD's policy for paying officers on modified duty. He said he is also planning to present legislation before the House to urge for more transparent information-sharing whenever a police officer is involved in a civilian death.
"The time for talk and study is over," he said. "The time for action is now."