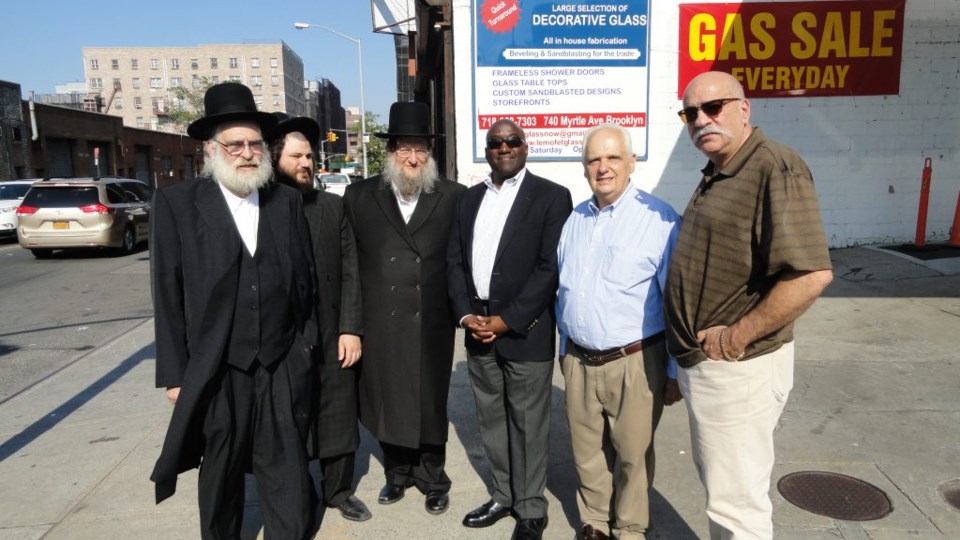 Last week, Assemblyman Joe Lentol, who represents North Brooklyn, met with Rabbi Abe Perlstein, First Vice Chair of Community Board 1, Simon Weiser, Co-Chair of the Community Board's Transportation Committee, Gerry Esposito, the Community Board's District Manager, and Brooklyn Borough Department of Transportation Commissioner Keith Bray for a site visit to review the traffic congestion and safety problems at the intersection of Wythe Avenue and Williamsburg Street West and at the Flushing Avenue exit on the eastbound side of the BQE.
"The problem is that you have traffic exiting the BQE and merging with traffic from Williamsburg Street West," said Lentol. "Half the people want to turn on Wythe Avenue and half want to go straight through, but the merge is what makes it difficult. As for Flushing Avenue, the backup during peak hours is tremendous and a huge inconvenience for people who get stuck there. We're trying to find creative solutions to these problems."
Rabbi David Niederman, president of the UJO of Williamsburg and North Brooklyn, said traffic has been a nightmare for motorists and pedestrians.
"The bottleneck at the BQE Flushing Avenue exit is unbearable to the neighborhood, and it often backs up the BQE. The Wythe Avenue exit also needs improvements," said Niederman.
The meeting was productive, and they are approaching a solution, according to Lentol.
"A special shout out to Assemblyman Joe Lentol, for his personal devotion to improve the traffic movement in the area, by securing funding for the South Williamsburg Transportation Study, working on trouble-blocks in the area, and for joining us now to review and seek solutions for the traffic issues at the BQE exits," Niederman said.