There were bats and spiders, s'mores and metrocards, pilots and race car drivers... even Sherlock Holmes made an appearance.
But at Fort Greene PUPS' annual Great PUPkin competiton, the top prize went to Howie Mandel Davis, a wheelchair using Chiweenie who came dressed as a hot dog vendor, complete with his cart.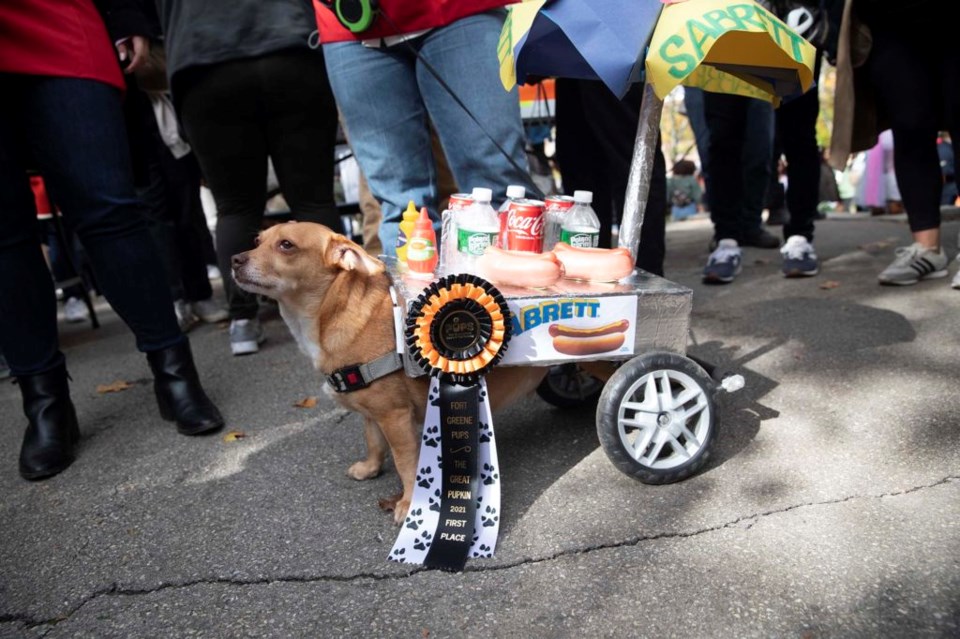 Howie's owners Leah Davis, Alana Davis and Ashley Serna said Howie, who has a spinal disorder and has lost the use of his back legs, didn't turn up to the annual competition expecting to leave victorious... much less have the whole crowd cheering his name.
"We got ready in 15 minutes!" Leah said. "We have never done this before, this is the first time and he loves the attention so he is so so happy â€" he had an amazing time."
Hundreds of people turned out to Fort Greene Park Sunday, on Halloween, for the 23rd iteration of the doggy dress up competition, that saw pups of all sizes and shapes saunter across the stage in their Sunday best with hopes of taking home an award... or, even better, some treats.
For metrocard Tank and his pizza rat family, it was their first Halloween together after Tank was adopted in June.
"Tank lived in Brooklyn for many years and has finally got the chance to come and check out the parade," his owner said. "It's an amazing time, with so many amazing costumes â€" it's fantastic."
The competition filled the park's memorial steps from noon until 2:00pm, at which stage starstruck humans crowded round the four-legged contestants to take photos and give belly rubs.