The Prospect Heights Neighborhood Development Council (PHNDC) is at odds with Omarahe Guarriello, owner of American Vegan Restaurant, surrounding Guarriello's DJ dance party that PHNDC Chair Gib Veconi says is disturbing local residents.
Saturday nights at American Vegan, located at 612 Vanderbilt Avenue, Guarriello hosts DJ Misbehaviour outside his take-out restaurant while serving vegan fast food to local residents.
The mini dance party of Hip Hop and House Music happens during Open Streets, a weekend program started during the pandemic to provide economic relief to local businesses. Open Streets temporarily closes off traffic and invites pedestrians into the streets to enjoy outdoor dining and socially-distant fun.
Open Streets overall has been a hit with Brooklyn residents and business owners. And the one on Vanderbilt Street is one of the most active and popular in Brooklyn.
So, what's the problem?
Part of the problem is that PHNDC operates Open Streets. And when the program first started late summer 2020, Guarriello decided not to sign on.
Guarriello explains his business was doing well during the pandemic, before Open Streets began. "When I was proposed with Open Streets, I immediately knew it would hurt my business," Guarriello said.
"The program was meant to help eat-in restaurants, which is very narrow," he said. "Buses and cars are not able to come through all weekend. So Open Streets doesn't take into account the other businesses like the massage parlors, vintage furniture stores, supermarkets and the grab-and-go businesses that rely on steady foot traffic."
He said his business depended on easy access to the restaurant by motorists and delivery personnel, along with a steady flow of pedestrians looking to grab a quick bite on their way to Prospect Park. He said, during the initial weekends of Open Streets when traffic was cut off, American Vegan saw a dramatic drop in sales.
"It seems very entitled to me to allow people to just sit and hang out the middle of the street, especially when Prospect Park is right there," said Guarriello. "It's not very New York, and it's not fair."
Still, 24 restaurants along Vanderbilt Avenue, most of which are sit-down restaurants do participate in Open Streets and have welcomed the casual crowds and lingering patrons.
Then, last summer, DJ Misbehaviour walked in and asked Guarriello if she could set up outside his establishment. Since his business was suffering, Guarriello figured he had nothing to lose and began hosting Misbehaviour on Saturday evenings.
The response he received from the public was overwhelmingly positive.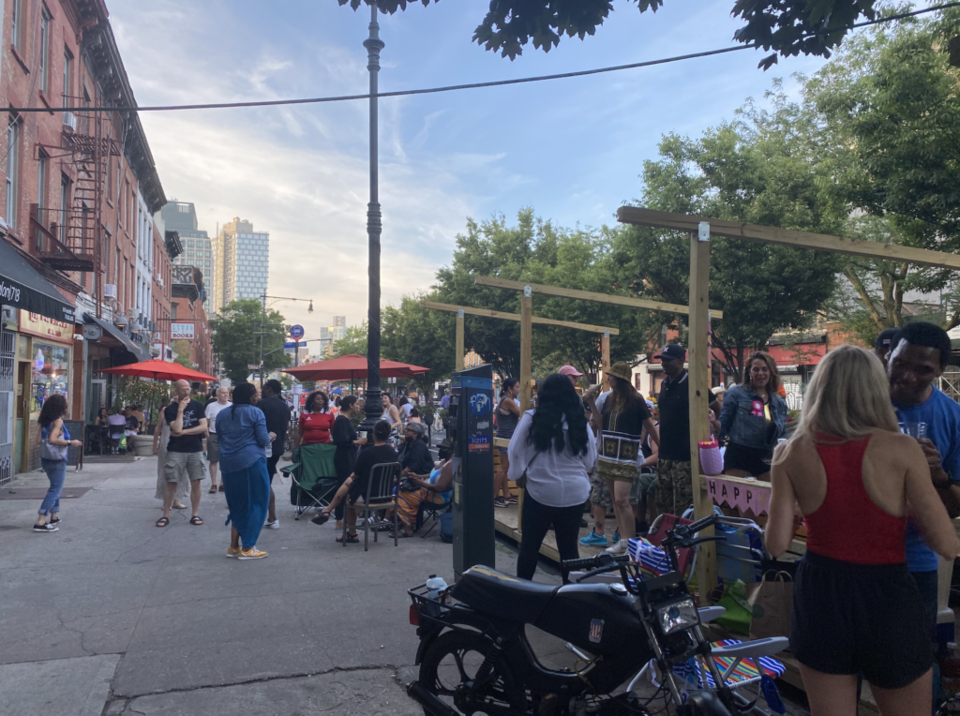 However, according to Veconi, locals have issued noise complaints regarding the music. Veconi did not specify how many complaints there have been, nor what was said in the complaints, but he added, "We're still trying to engage the proprietor, and it's very much a question of his willingness to solve these issues."
Last summer, Guarriello said, the establishment received complaints from Veconi every Saturday. At one point, said Guarriello, health inspectors were showing up back-to-back, out of the blue, although they never identified any violations in the store.
Despite the noise complaints, there are many Brooklynites who go to American Vegan specifically to enjoy the music on Saturday nights. Ariel Nadelstern, a local and long-time follower of DJ Misbehaviour, is one of them.
Nadelstern followed DJ Misbehaviour for a decade before helping her secure her spot in front of American Vegan. She said she felt like something was missing in bringing Open Streets together, and American Vegan felt like the "most interesting" business on the block.
"All last summer, when everything was shut down, we were able to rock on the block and have so much fun," Nadelstern said. "All of a sudden, Vanderbilt sort of became real again."
Another local resident standing outside of American Vegan agreed: "This was here for a lot of us last summer when there was not much you could do and it provided an amazing sense of community. It was one of the few opportunities to see people outside in a safe environment having fun and connecting. It's just great to see it back."
Another part of the problem with Veconi's persistent complaints, Guarriello intimated, might be the type of music he was playing: He said Veconi suggested to him that he play music that was more "professional."
Still, the noise complaints continue. Last Saturday, in fact, at the time of this interview, a police officer was at the restaurant responding to another anonymous noise complaint. Settling the dispute with Veconi has not been easy, said Guarriello:
"I tried to speak with him a few times, but he got a little threatening, saying my business wasn't going to last long if I kept playing music. So, I just kind of banned him from the restaurant."
Additionally Guarriello questions whether Veconi represents the residents and businesses along Vanderbilt Avenue or himself. He said only one other woman besides Veconi has complained to him personally, and she didn't ask for him to end the music but turn it down. But from all other indications, American Vegan remains the life of the block party.
Saturday nights at American Vegan provide an "oasis on this block for a couple of hours," especially for New Yorkers who "are running around this busy city, grinding all the time," Nadelstern said.
"When [DJ Misbehaviour] is here, we see at least 100% increase in our revenue in the store, if not more," Guarriello said. "In fact, when the DJ's there, there is an increase in traffic and people purchasing at all of the businesses. If anything we are helping Open Streets."