By Cecilia Clarke, president and CEO of Brooklyn Community Foundation
Dear Friends,
Five years ago, Brooklyn Community Foundation launched Brooklyn Insights, an engagement project that allowed us to understand what Brooklyn's community leaders and residents wanted from the community foundation working in their backyard. In a borough as diverse as any place in this country, we heard one demand echoed from Coney Island to East New York: Brooklyn needs to combat racial inequity.
Since then, the Foundation has put this commitment—to be vocal and explicit about race, to attack not only disparate outcomes but also the systems that create them and to move the diverse communities of color, those born here and those who have traveled here—to the center of our strategy. We still have a way to go to reach our own goals, but we are doing the work and have stuck to that path. We see more and more of our peers also on this journey, showing their commitment to advancing racial justice.
In the aftermath of the shooting in El Paso, carried out by a white supremacist echoing President Trump's racist and anti-immigrant language, and preceded by Congressman Cummings' largely black Baltimore district referred to as a "rodent-infested mess," we are reminded that community foundations like ours are doing our work in extraordinary times.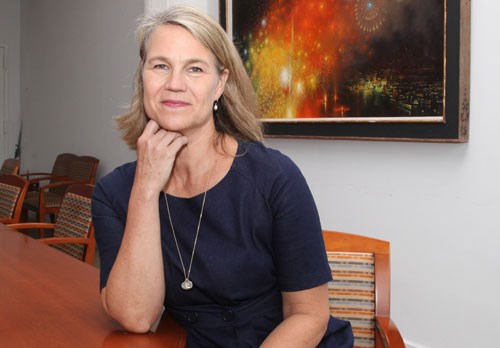 The moment demands that every institution with a platform use it to speak out. Together, we must raise our voices to drown out the hate and call it out for what it is. This is racism. We must not tolerate or normalize it. We must condemn it, and then we must connect that rhetoric to the policies that are ruining the lives of people of color and holding back progress for us all.
Because whether we like to admit it or not, Trump isn't the beginning and end of the problem. His entire administration is slowly chipping away at the advances made in black, brown and indigenous communities.
We each have a responsibility to ensure that we don't just fight back against the hateful policies of this administration, but actively reverse them. It's not enough to just say "no." What's needed is a clear and resounding "yes"— a commitment to building equity, justice, and opportunity in our communities, and meaningful investment in programs and initiatives that work toward these goals. That's what we're building at Brooklyn Community Foundation, and we redouble our commitment to the work of racial equity in this grave and uncertain moment.
Today, I am proud to join with our board of directors and staff to stand with houses of worship, foundations and other groups as vocal allies to racial justice leaders. We must implicate ourselves in this fight and declare clearly which side we are on. As a community foundation, we have a special responsibility. We don't speak for the communities we call home, but we must stand with them. And when the moment demands it, we must speak out rather than stay silent.
Sincerely,
Cecilia Clarke, BCF President and CEO, and Alan Fishman, board chair