Councilmember Laurie Cumbo talks frankly about the trials and triumphs of working while pregnant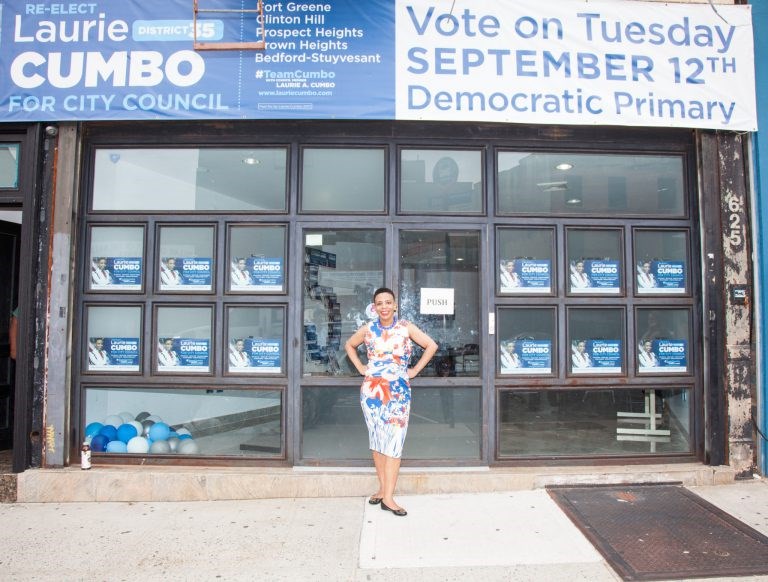 New York City is six weeks away from the partisan primaries (September 12), and there's at least one local candidate in the City Council "on the stump" with a baby bump!
Councilwoman Laurie Cumbo, who represents the 35th District in Brooklyn, is running for reelection and currently, is in her ninth month of pregnancy. As she prepares to welcome her newest constituent into the district-- a boy!-- she vows she is "more fired up than ever!"
Of course, like any first-time mother, she admits she's a bit nervous about the typical things like childbirth and whether or not she's been eating right.
But as an elected official, her career focus is still pointed at positively shaping the political climate her son will be born into-- a legislative effort that has been a part of her political record from day-one.
As chair of the Committee on Women's Issues and co-chair of the Women's Caucus, Cumbo, throughout her tenure, has been an active proponent of women's rights. She says that entering motherhood has served to further deepened her compassion for the working mothers she represents in her district, which includes Fort Greene/Clinton Hill, Crown Heights, Prospect Heights and parts of Bedford-Stuyvesant.
On Sex Education in the Schools
[perfectpullquote align="right" cite="" link="" color="" class="" size=""]Many working women miscarry or lose their jobs because their employers refuse to grant simple concessions. [/perfectpullquote]
In May, Cumbo sponsored a bill to create a sexual health education task force to standardize sex ed in classrooms and to teach adolescents not only about the birds and the bees, but gender identity and expression, as well as healthy relationships. The bill unanimously passed in City Council and the task force will submit a report with its findings and recommendations to the mayor and the speaker by December 1.
It's a valiant first step, Cumbo says, but she wants to encourage more discussion about sex education, pregnancy and, in particular, childbirth.
"I think there's so much more that we can do to [...] begin to teach young women about relationships, dynamics around having children and mental health services, because that's a whole other component to having a child."
On Educating the Public About Women in the Workplace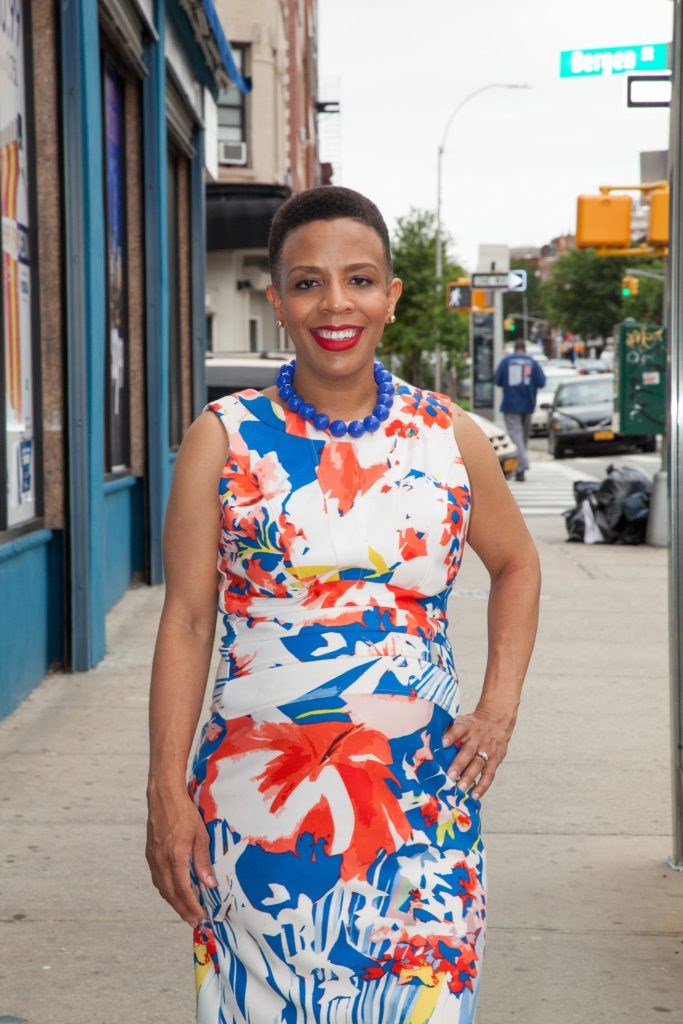 Years, before her pregnancy, in 2014, she backed the Pregnant Workers Fairness Act, which requires that employers make reasonable accommodations for pregnant workers to minimize their chances of miscarrying or termination. The law also mandates that the Commission on Human Rights educates the public about pregnancy discrimination and creates a written notice regarding employees' rights for employers to distribute.
While some may view it as a "women's problem," the narrative that pregnant women are incapable of performing up to par is universal, Cumbo says, and that needs to change.
"Every day when I get up and I do the job and I deliver results, I feel like I'm defying the stereotypes of-- like Donald [Trump] has said-- the 'inconvenience' of having women in the workplace that are going to bring life into the world."
Many working women miscarry or lose their jobs because their employers refuse to grant simple concessions, such as providing a stool to a pregnant cashier who stands for hours on end; or assigning a policewoman to light patrol duty, because she can't fit into her bulletproof vest. The spillover effect is that some women are instilled with a false sense of their own limitations.
On Running a Political Campaign While Pregnant
Since publicly announcing her pregnancy on Facebook in May, Cumbo has not slowed her efforts for re-election as it regards helping local small businesses and promoting arts and cultural tourism in Brooklyn. Her campaign office, located at 625 Washington Avenue in Clinton Hill, is teaming with volunteers busy knocking and making phone calls to constituents, reminding them to get out and vote.
[perfectpullquote align="right" cite="" link="" color="" class="" size=""]"You can't do everything that you used to do, but you can do things differently"[/perfectpullquote]
And on the campaign trail, she has more or less remained a fixture. Most recently, on Sunday, she was out showing support at the 23rd annul Moshood Fashion Show.
"You can't do everything that you used to do, but you can do things differently," Cumbo says. "So while I can't stand at the train station and give out fliers, I can sit at the train station and give out fliers. While I can't stand at every press conference, I can sit at the press conference. While I can't always take the train, I can take the bus."
On addressing the realities of pregnancy and complications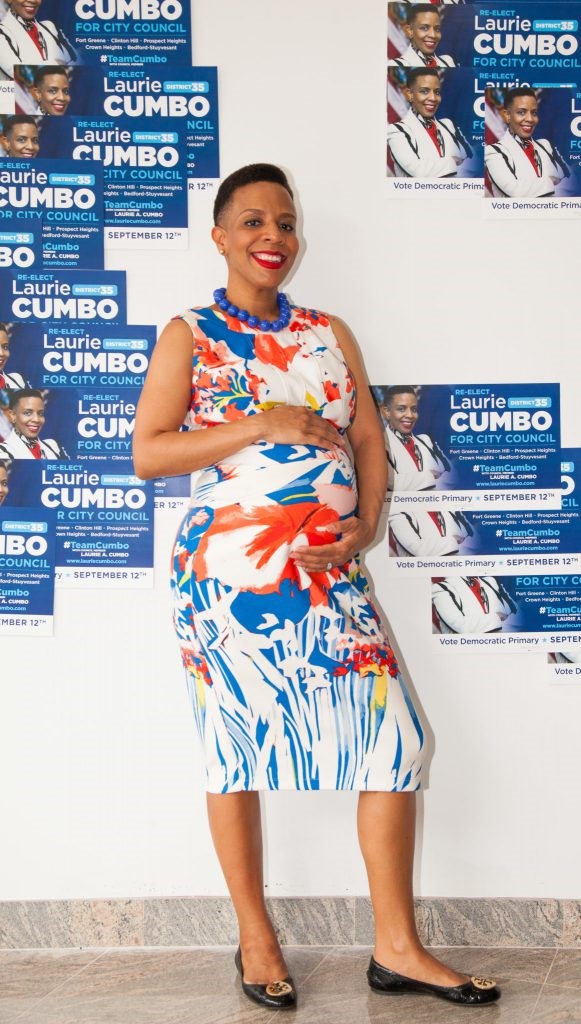 After miscarrying once, before she took office in 2013, Cumbo wasn't taking any chances this time around. She dons only soft, flat-heeled shoes and abstains from parties. And she doesn't shy from talking about the often grisly reality of gestating a human being for nine months.
"We as humans have a tendency to just put out the positive of our experience. And there's a place for that, too," she says. "But by me being more human and real, it allows someone else to feel and be more human and real, also."
It was only after speaking openly about her miscarriage that she discovered "hundreds" of other women who had miscarried, too. "Just by me sharing what I've experienced, if you were to experience the same thing, you may feel a little bit more like, I'm not some abnormal, broken down, messed-up-plumbing-inside-of-me woman."
Still, Cumbo's pregnancy has had some complications. Doctors discovered Cumbo had scars on her placenta, which meant it could erupt at any time. She needed hormone injections and three weeks of bed rest in her first trimester, because her body wasn't producing enough hormones to sustain a viable pregnancy.
"I have a weakened cervix. I had to have stitches to stitch up my cervix to strengthen it, so that the baby wouldn't come out," she shares. In her last trimester she discovered that she had gestational diabetes. So now keeps a blood sugar test kit on her desk to monitor her blood glucose levels every four hours.
She adds, most women avoid discussing the less-than-peachy aspects of pregnancy, such as the complications often encountered while pregnant, stillborn birth and postpartum depression, because, perhaps, they do not want to appear weak.
"Sure, all the baby bump photos look cute, but there's such a journey that happens that is kept to oneself," she says. "I think it would be more ideal if the realities of having a child were more known."She's in awe of celebrity super moms like tennis champion Serena Williams, who won the Australian Open while two months pregnant. And while they are inspiring figures, she wants women to know that each of them will experience their own unique journey.
"I'm ultimately doing this for all moms who've been told they couldn't do something because they were pregnant or because they had a child."
But Cumbo is ready to deliver any day, and with the primaries six weeks away, how does she plan to juggle the responsibilities around taking care of a newborn baby while stumping at the polls? The cold reality is, being a new mother is a full-time job... with overtime!
Cumbo says she will take the time off she needs but that the work will go on:
"Women are awesome and dynamic multi-taskers, and there are millions of women in New York City who work two or three jobs after having a baby!" she said.
"As a result of transformative legislation that I worked on with Mayor de Blasio to create family leave, I am fortunate that I can spend the first few weeks with my newborn, and I will continue to champion parental leave and fair pay on the campaign trail and in the City Council."