Almost one year ago today, Brooklyn Public Library gathered seven award-winning children's book illustrators to hatch a plan: Create a mural art display befitting a child's imagination when they are absorbed in the wonderful world of books.
This multi-panel display would be curated by Brooklyn-based illustrator, Sophie Blackall, a two-time Caldecott Medal winner and a four-time recipient of The New York Times Best Illustrated Picture Book Award.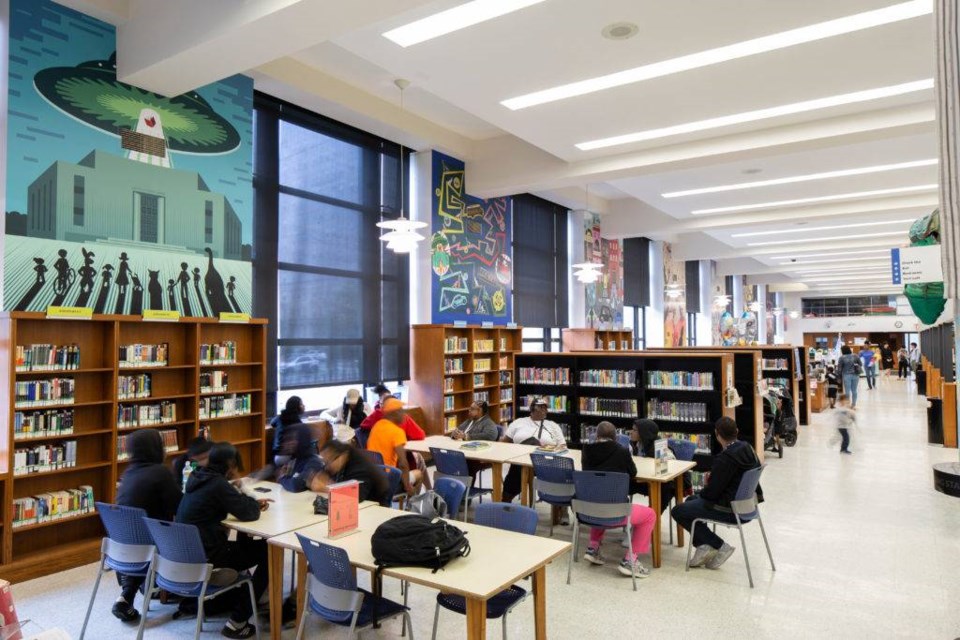 Blackall, along with six other award-winning illustrators-- Yuyi Morales, Christopher Myers, Stephen Savage, Javaka Steptoe, Paul O. Zelinsky and Selina Alko-- would pull together this special installation that would serve as a hallmark feature of the children's library.
Together, the artists share among them at least ten Caldecott awards, the highest honor for children's book illustration.
In the beginning stages, each illustrator worked independently on his or her individual panel. Then the group worked together, borrowing elements from one another to provide continuity. Those elements include: seven UFOs, 22 strollers, 25 butterflies and 24 people (and aliens) reading books.
And BPL appears three times among the panels.
On Monday, October 7, these seven illustrious illustrators will join BPL at Grand Army Place to formally debut the seven-panel mural in the library's youth wing.
Parents, children, babies, strollers, aliens and butterflies are welcomed. BPL just got more colorful! And where there is a color and creativity, a child's imagination surely will follow.
ABOUT THE ILLUSTRATORS:
Sophie Blackall, Brooklyn-based illustrator of 45 books for children including best-selling Ivy and Bean series. Two-time winner of Caldecott Medal and four-time recipient of The New York Times Best Illustrated Picture Book Award.
Yuyi Morales, New York Times bestselling author and illustrator of Dreamers and Nino Wrestles the World and six-time winner of the Pura Belpré Medal for an outstanding work of literature for children that best portrays, affirms, and celebrates the Latino cultural experience. In 2015 she received the Caldecott Honor for her book Viva Frida.
Christopher Myers is a widely acclaimed author and illustrator living in Brooklyn. In addition to illustrating his own titles, he has worked with numerous authors, including his father, Walter Dean Myers. The two worked together on the Caldecott Honor winner Harlem, as well as the Coretta Scott King Honor winners Black Cat and H.O.R.S.E.
Stephen Savage has written and illustrated 13 children's books, including the Geisel Award Honor, Supertruck and the New York Times Best Illustrated Book and bestseller, Polar Bear Night, written by Lauren Thompson. A 2015 Sendak Fellow, Savage is based in Brooklyn.
Javaka Steptoe is a Brooklyn-based artist, designer, and illustrator. He received the 2017 Caldecott Medal for Radiant Child: The Story of Young Artist Jean-Michel Basquiat, which he both wrote and illustrated. His debut work, In Daddy's Arms I Am Tall: African Americans Celebrating Fathers, earned him the Coretta Scott King Illustrator Award.
Paul O. Zelinsky's illustrations have won wide acclaim and numerous awards, including the Caldecott Medal for his Rapunzel; and three Caldecott Honors, for Hansel and Gretel, Rumpelstiltskin, and Swamp Angel. He is the most recent recipient of the Society of Illustrators' Original Art Lifetime Achievement Award for Illustrator. His movable book The Wheels on the Bus is a perennial favorite among toddlers. Zelinsky lives and works in Brooklyn.
Selina Alko is the award-winning Brooklyn-based writer and illustrator of B is for Brooklyn and Daddy Christmas & Hanukkah Mama and numerous other books She lives in Brooklyn.