Councilmember Rafael Espinal wants you to "give a sip," but without plastic straws.
The Brooklyn lawmaker is joining a local, national and international movement that combats the excessive use of plastic and its environmental effects. On Wednesday, Espinal introduced a bill that seeks to outlaw all plastic or non-biodegradable straws and stirs from the city's restaurants, bars, cafes and other beverage-serving establishments.
"It's no secret that we have a plastic problem. It is estimated that there are 13 million metric tons of plastic clogging our oceans and that 100,000 marine creatures die from plastic entanglement a year," said Espinal who represents portions of Bed-Stuy, Bushwick, Brownsville, Crown Heights, Cypress Hills and East New York. "But, there is something we can do about this trend, and it could be as simple as changing how you drink your iced coffee in the morning or your cocktail at night."
Espinal is not pushing for a ban altogether, but suggests alternatives, if New Yorkers aren't ready to skip the straw.
"Each day millions of plastic straws are used and discarded. With so many options available from paper to metal straws, we can make plastic a thing of the past," said Espinal. "That is why I am proud to introduce legislation, which would virtually eliminate plastic straws from NYC venues, bars and restaurants."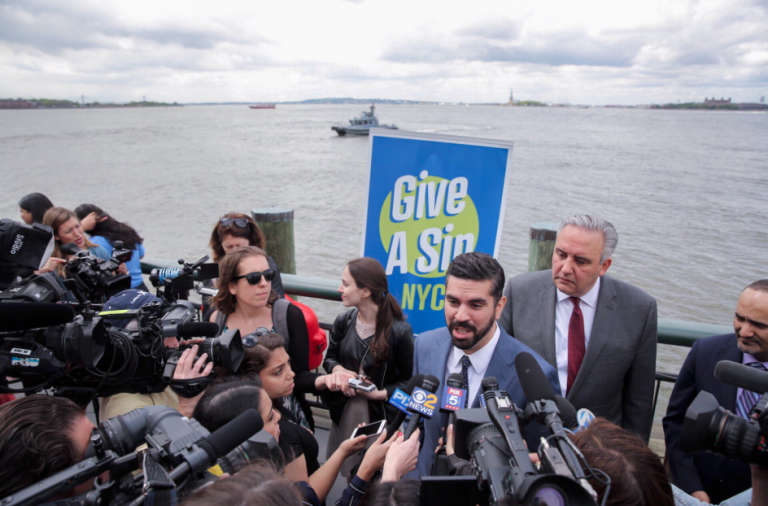 If Espinal's bill gets passed, the city will give food and beverage establishments two years to transition from plastic straws to environmental-friendly alternatives. After that initial grace period, businesses may face penalties of $100 for the first violation. New Yorkers with a disability or medical condition will be exempt from the law.
In New York City, more than 65 hospitality establishments have already signed onto the campaign, including restaurants like the Pier A, Gramercy Tavern and Freehold in Brooklyn. If the bill passes, NYC will be joining other U.S cities including Seattle, Malibu and Miami Beach. City Council is expected to vote on the legislation later this summer.
"If we don't change our consumption and disposal habits, there will be more plastics than fish in the ocean by 2050," said Espinal.