Since the beginning of the pandemic, there has been a steady decline in the number of homeless individuals spending the night in New York City Department of Homeless Services (DHS) shelters, according to a recent report by NYC Comptroller Scott Stringer.
This trend is mostly driven by families leaving the shelter system, the report, which was derived from analysis of DHS Daily Shelter Census reports, highlights.
In addition, despite the number of single adults in city shelters reaching an all time peak in the winter of 2021, over 2,600 have left the shelter system since then, representing a 14% decrease.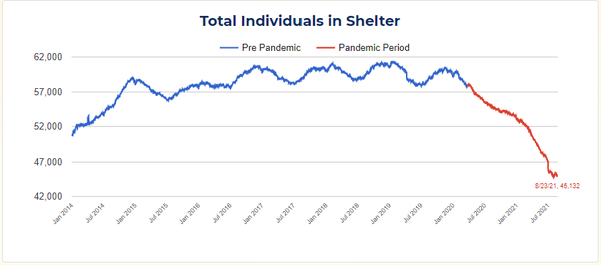 While this data appears to show progress, it does not determine where all of the people leaving shelters have gone.
The City does not have an accurate way of capturing the number of people that are homeless, Joseph Loonam, Housing Campaign coordinator at the Brooklyn-based advocacy organization Vocal-NY, told BK Reader. Those numbers are a little bit misleading in that they are not looking at the full scope of the problem that we have in the city.
DHS was contacted for comment, but did not reply by the time of publishing.
In Stringers analysis of the DHS data, it was noted that many homeless individuals chose not to apply for shelter beds due to fears of contracting COVID-19 in congregate settings. While the city has attempted to make these shelters safer and more socially distanced, the results have been mixed.
In addition, homeless New Yorkers are being vaccinated at a lower rate than the rest of the city despite free vaccines being offered at walk-in clinics and mobile vaccination sites.

According to Loonam, this adds up to a shelter system that many homeless individuals would rather avoid altogether.
We had a membership meeting in May with folks from the Williams Hotel [which has been used to temporarily house the homeless during the pandemic] out in Brownsville and almost everybody who was at that meeting was saying if they transfer us we are not going back to the congregate shelters, he said.
Voucher increases bring hope
For many homeless individuals and their advocates, the passing of legislation in May that would increase the value of CityFHEPS rental assistance vouchers was a huge win. Many considered the program to be ineffective at its previous value, with a majority of people unable to find rental accommodation that was cheap enough to be covered by the voucher.
The increase, which brought vouchers for single adults from $1,265 to $1,945 and for a family of three or four from $1,580 to $2,217, went into effect on September 1.
At the time, DHS Administrator Joslyn Carter said the increase in vouchers would build on DHS's "comprehensive efforts to do everything we can to support New Yorkers experiencing homelessness."Carter said that the department had made important progress in helping more than 140,000 New Yorkers move out of shelters into permanent housing, and the vouchers were one of the number of tools it was using to level the playing field.
For some, the increase in voucher value proved life changing. Milton, who has been in the shelter system for at least five years (he said he stopped counting at five), September 22 was an exciting day. After nearly a year and a half as a CityFHEPS voucher holder, he was approved for a new apartment.
The efforts of the people who have been fighting for this produced results. he told BK Reader, I do see positive changes.
He said that the increase has been helping a lot of his friends in the shelter stay positive, although many of them were unaware that the value of vouchers went up.
It demonstrates how they [the shelter] do things., he said. They're not forthcoming with information a lot of the time.
His journey to find housing was a struggle; one that he was on top of since first receiving a voucher after being transferred from a temporary shelter in a hotel in 2020. Not everybody in his situation is able to be as persistent.
For others, even getting the voucher is difficult. Randall Crudup told BK Reader that he has been trying to get a CityFHEPS voucher for five years since he first entered the shelter system. The communication from the people here is not helpful, he said.
In his experience, even the people he knows that have been able to get one are no closer to finding housing than he is.
While Miltons story has a happy ending, Loonam believes that the voucher increase will take several months to truly make an impact. Even with the increase in effect, it can take several months to find an apartment, get approved, and sign a lease.
The longer it takes for voucher holders to find housing, the closer we will come to the eviction moratorium on January 15, when an influx of people are expected to join the shelter system. It should be noted that the moratorium has been extended several times since it was first put in place.