The manual provides a general overview of immigrant rights, as well as information about city-wide and Brooklyn-based resources with regards to education, healthcare, business support and more.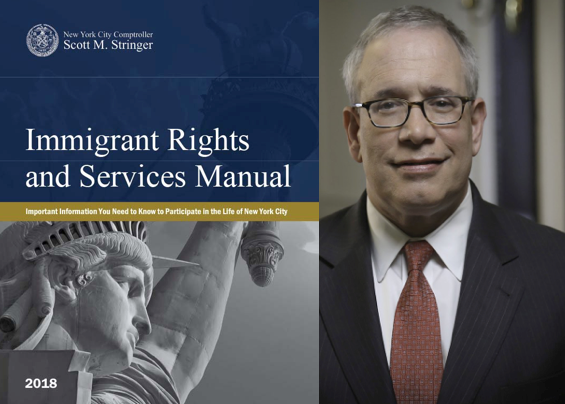 On Thursday, New York City Comptroller Scott M. Stringer released an updated, comprehensive 75-page manual on immigrant rights. The manual is available in 10 languages — including Arabic and Urdu for the first time — and is designed to help immigrant New Yorkers understand their legal protections and access a wide range of services that support foreign-born New Yorkers.
The manual comes, as the comptroller stated, at a critical time when the Trump administration continues to target immigrant communities and DACA recipients, and seeks to split apart families through repeated raids launched by Immigration and Custom Enforcement (ICE) agents.
"New York City couldn't run without the immense contributions and ingenuity of our immigrant communities. But with Washington putting our immigrant neighbors in the crosshairs — attempting to split apart families and upend lives — we need to stand shoulder to shoulder with foreign-born New Yorkers who make our city the global capital of culture and innovation. We need to make sure all immigrant New Yorkers know that we have their back," said New York City Comptroller Scott M. Stringer. "We all need to be in this together."
The comptroller's office first published this comprehensive resource source guide, which is now printed in ten languages (Bengali, Chinese, French, Korean, Haitian Creole, Russian, Spanish, Arabic, Urdu and English), in 2015. The manual outlines resources available to all immigrants in the city, provides detailed guidance on recent local, state and federal legislation impacting immigrant communities and offers information about available legal, health and educational services as well as the following:
Emergency contact resources for those fearing deportation;

Legal and social service providers;

Public benefit programs;

Worker's rights;

Small business assistance;

Consumer rights and a range of other issues relevant to immigrants living in New York.
Brooklyn has nearly a million foreign-born, according to data provided by Baruch College, with 463,951 coming from South America and 291,279 from the Caribbeans; the borough's immigrant population originating from Southeast and Central Asia is an estimated 273,804.
In the manual, immigrants residing in Brooklyn can find specific locations and phone numbers for a variety of questions and needs, ranging from small business assistance, health care, worker's rights and more. For legal assistance, Brooklyn residents can receive assistance provided by the Medgar Evers College Immigration Center, which offers free, high quality and confidential citizenship and immigration law services, as well as the Brooklyn District Attorney's Immigrant Affairs program.
The manual concludes with a comprehensive resource directory that compiles organizations, government agencies, and other offices and resources. To see the complete manual, go here.
"New York City is, and must always be, a place that is welcoming to people who want to make a better life for themselves, no matter where in the world they come from," said Stringer. "The dreams and aspirations of the 3.3 million immigrants living in New York City define our culture and help to power our economy every single day."