On Monday, Comptroller Scott M. Stringer and Minister Kirsten John Foy of the National Action Network rallied local elected officials, faith and community leaders to stand in solidarity against violence and hate following the attack on the Tree of Life Synagogue in Pittsburgh on Saturday.
Among the somber group of leaders who gathered in front of the Soldiers' and Sailors' Arch at Grand Army Plaza were Representatives Yvette Clarke and Jerry Nadler; Councilmembers Laurie Cumbo, Robert Cornegy, Rafael Espinal and Jumaane Williams, as well as representatives of various community and faith groups, among others.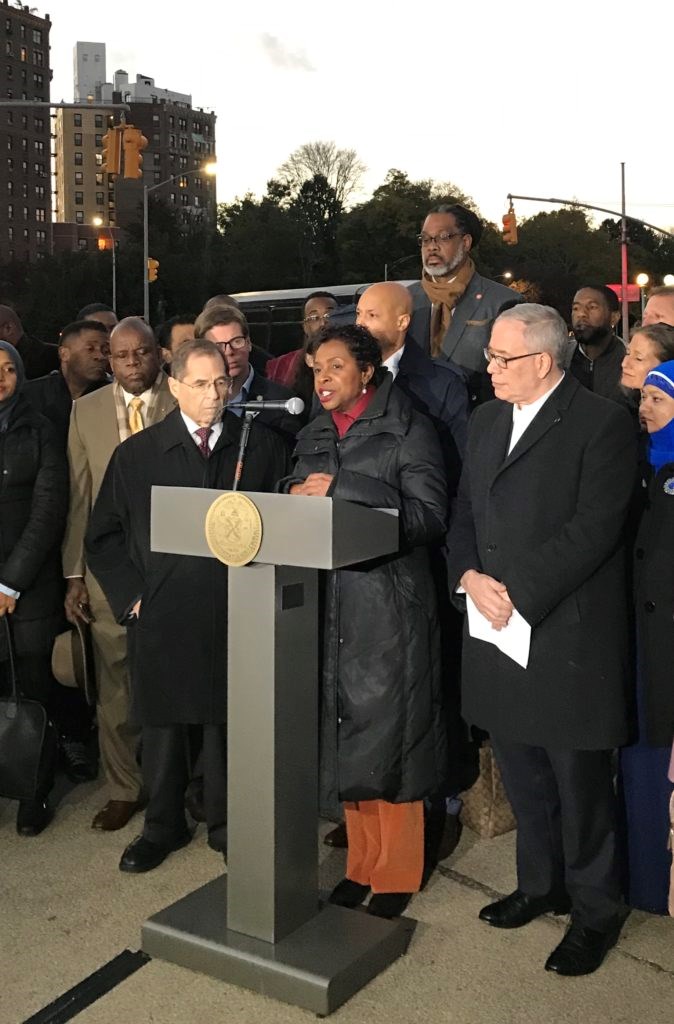 Saturday marked the deadliest attack against the Jewish community in the United States. A gunman, armed with an AR-15-style assault rifle, stormed into the Tree of Life Congregation, where worshipers had gathered to celebrate their faith. The assailant shot indiscriminately into the crowd, killing 11 and wounding six, reports the NY Times.
"This is shocking and devastating," said Comptroller Scott Stringer. "And it came after a dark two weeks for us in New York City. When a Jewish man was beaten up in broad daylight in Brooklyn, when the White supremacist Proud Boys gang wreaked havoc in our streets, and when pipe bombs were sent to public servants and journalists. But we must not fight fire with fire — we must resist the call for more guns. New Yorkers will never be divided — not now, not ever."
The attack occurred in the wake of an alarming rise in anti-Semitic incidents across the United States. In 2017, incidents surged 57 percent according to the Anti-Defamation League (ADL), representing the largest annual increase since the organization began tracking these incidents nearly four decades ago. In New York State, there have been 12 anti-Semitic assaults in 2018, nine of which occurred in Brooklyn. Statewide, ADL tracked a 90 percent increase in anti-Semitic incidents in 2017, compared to 2016.
Brooklyn's elected officials found clear words for the Trump administration and its inflammatory rhetoric that has been largely criticized as emboldening of hate groups.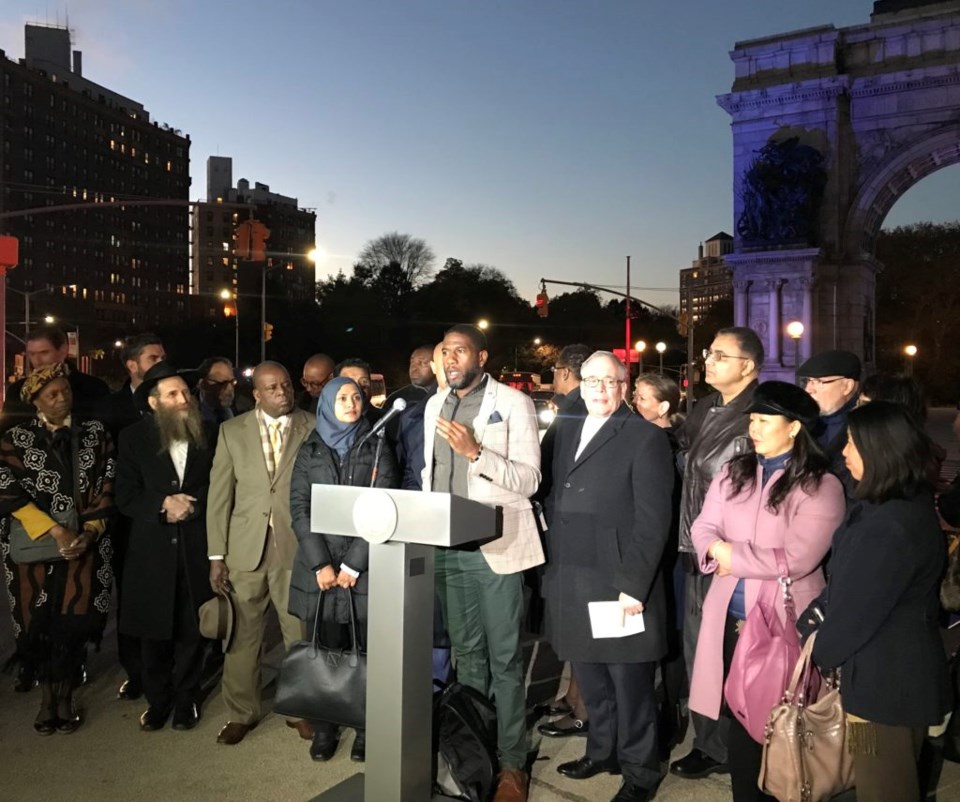 "We all know the climate that has been created under the Trump administration has unfortunately made occurrences like this far too frequent," said Congresswoman Yvette Clarke. "We must continue to fight for human dignity and continue to be morally indignant about what takes place in our nation and, more importantly, continue to act. Go out and vote on November 6. Vote for human dignity, vote for who we are as a people. And, finally, vote to put people in place who recognize that AR-15s have no place in a civilized society."
When Councilmember Jumaane Williams asked the assembled crowd if this was the last time they would be gathering in solidarity with victims of mass shootings, he was met with silence.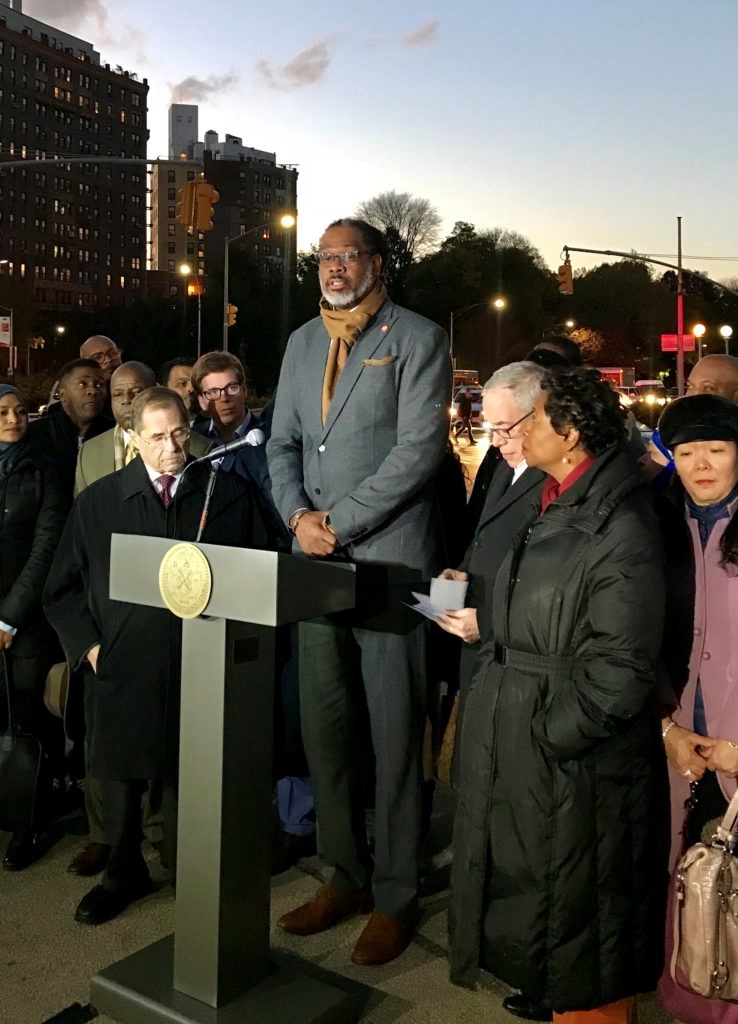 "It's a sad state of affairs. If we like it or not, they're using hatred to unite us, but we should unite ourselves," said Williams. "We have to call out the rhetoric that is allowing and fueling the bigotry. We have to acknowledge the demonic obsession with guns in this country. We have to understand that having access to assault weapons and bigotry is a deadly combination."
Councilman Robert Cornegy also admonished the gun lobby and its narrative that arms would make the country safer, and appealed to the better angels of Brooklyn.
"Words matter. Language matters," said Cornegy. "But in the great state of New York, in the great city of New York and, most importantly, the planet of Brooklyn, this is what it looks like when we come together to make America great again."