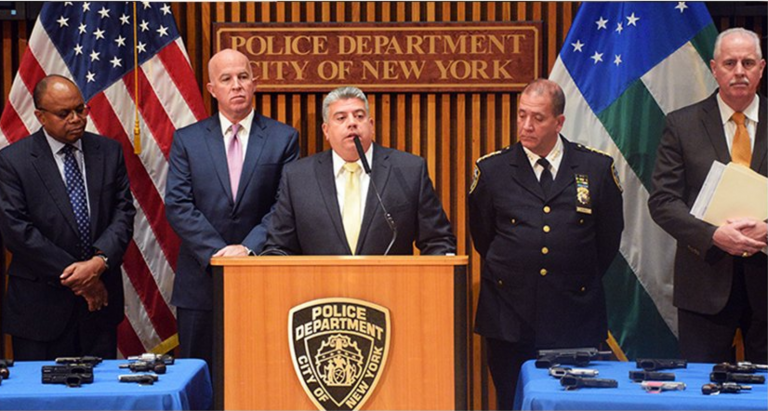 Brooklyn District Attorney Eric Gonzalez announced on Wednesday a man from North Carolina has been arraigned for allegedly trafficking 33 firearms from his home state into Brooklyn.
According to the investigation, Marcus Gamble, 24, was charged on a 115 counts for selling a total of 25 loaded firearms to an undercover police officers for a total of about $27,000. The sales took place inside a car near Flatbush Avenue and Maple Street in Prospect-Lefferts Gardens during December 2016.
He also was arrested with eight additional guns and assault rifle parts before completing a third planned transaction

On December 20, 2016, as the defendant was allegedly waiting for a sale to begin, he was arrested inside a Golden Krust restaurant at 568 Flatbush Avenue. Eight guns and parts of an assault rifle were recovered from his book-bag, according to the indictment.

Some of the weapons were purchased legally in North Carolina and others were stolen, the investigation found.
"The pistols and revolvers that were recovered as part of this investigation are exactly the type of guns that are used to commit violence on our streets," said Gonzalez.
"Keeping such weapons — purchased legally in southern states, but possessed illegally in Brooklyn — out of the hands of criminals undoubtedly saves lives so I am determined to continue working with the NYPD to identify out-of-state firearms traffickers and to bring them to justice in Brooklyn."