A new study of the Pulaski Bridge bike path by Bike New York finds that bike riding is alive and well between Brooklyn and Queens ... but with a few caveats.
The study, which was released on Tuesday, on is one of the first observational and quantitative analyses of bike riding in NYC outside of Manhattan. It tracks cycling behavior around the opening of the Pulaski Bridge bike path-- a converted motor vehicle lane on the bridge-- by the NYC Department of Transportation in April 2016.
Prior to the opening of the bike path, in April 2013, the city counted an average of 99 bikes per hour in a 12-hour count on the bridge's pedestrian path, where bike/pedestrian conflicts were commonplace. Since the bike path's opening there where 142 bikes per hour in peak commuting times and 53 bikes per hour in non-peak times on the bike path, according to the latest count in November 2109 by Bike New York.
The bike/pedestrian conflicts on the pedestrian path prior to 2016 have been eliminated, and bike traffic is up by almost 50 percent.
However, 3 1/2 years after opening, traffic should and could be higher with better bike network connections in Greenpoint and especially in Long Island City, where the Pulaski Bridge bike path opens into a very busy and complex set of street intersections.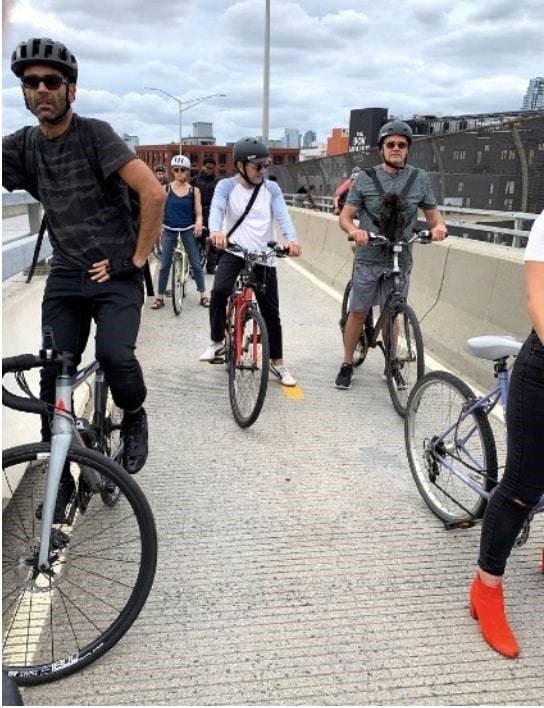 Brooklyn Waterfront Greenway improvements such as connecting the West Street bike path to the area near the bridge via a bike path on Commercial Street, and fixing the failing path design on West Street so that it becomes a reliable through route, would lead to higher bike traffic between north Brooklyn and western Queens, according to the report.
Further south, establishing a protected bike lane link between Kent Avenue and West Street would facilitate easy bike trips between the Pulaski Bridge and Williamsburg. More CitiBike station capacity at the LIC subway stations would help as well.
Another recommendation concerns the small but growing presence of fully motorized bike travelers: "This is something the cycling community and the city should keep an eye on, in terms of speed differentials and potential safety issues," wrote a Bike New York representative.
"Anecdotally we're seeing the same on the Williamsburg and Queensboro Bridges."
DOT could shed more light on these issues if it released its bike data for the Pulaski Bike Path. There is a bike counter embedded in the path by DOT, but DOT has not released any of the data.
"No one at DOT has ever explained why, and a letter from Bike NY to DOT on this issue was never answered," said Bike New York. "NYC DOT should make bike counts from the Pulaski Bridge and all automated bike counters a continually updating open data source."