A new 7,000 square foot dog run boasting New York's first canine-friendly turf has opened in Prospect Park.
The fenced off Kensington Dog Run has separate areas for small and large dogs, and is located in the Parade Ground along Coney Island Avenue. It features benches made of reclaimed wood from downed park trees, and has rubbish bins, water fountains and new plantings of trees and dog-waste-resistant shrubs.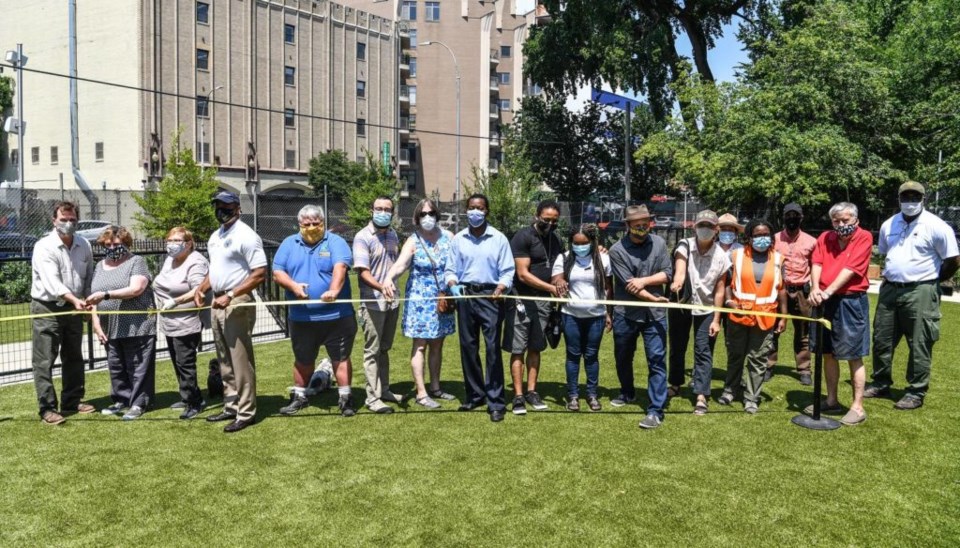 On Monday, Prospect Park Alliance held a ribbon cutting with Brooklyn Borough President Eric Adams, Councilmembers Brad Lander and Dr. Mathieu Eugene, Prospect Park Alliance VP of Capital Christian Zimmerman and representatives from the Kensington Dog Run Association, Community Board 14 and FIDO.
President of Prospect Park Alliance Sue Donoghue said the organization was excited to share the new park with canines in the community.
"In under a year, we have transformed this space into a state-of-the-art amenity for dogs and their owners to enjoy. This is exactly what our community needs right now, and with dog runs reopening citywide, the timing couldn't be better," she said.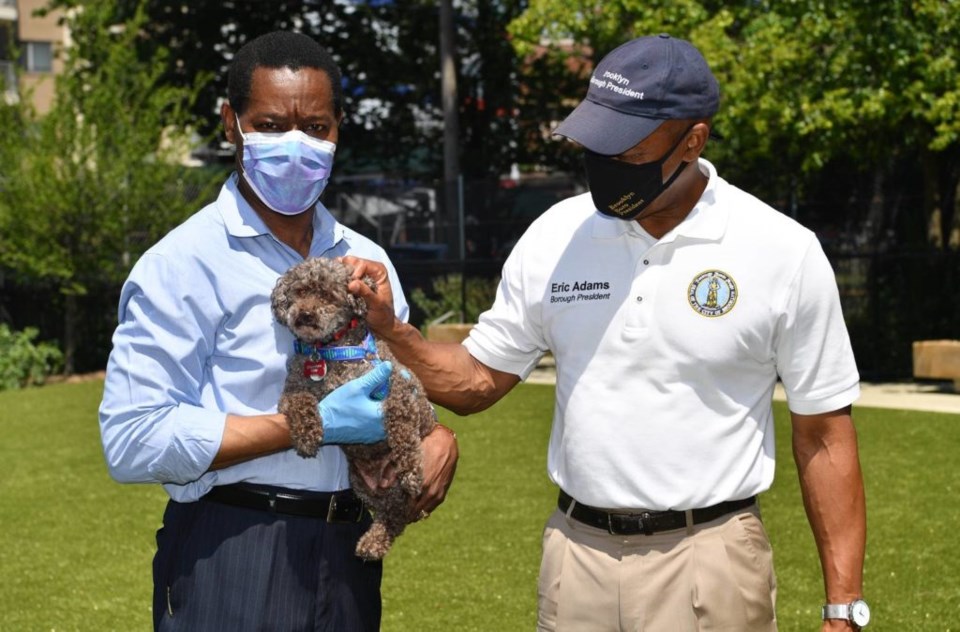 The neighborhoods surrounding the new dog run are home to about 20,000 canines, according to a 2015 report by the NYC Department of Health. The $405,000 project was funded by Brooklyn Borough President Eric Adams and City Council Members Lander and Eugene, and was advocated for by local groups Brooklyn FIDO and the Kensington Dog Run Association. It was designed and project managed by Prospect Park Alliance.
Adams said the dog run was a testament to what the community could achieve when it came together over a shared interest, like providing a space for our canine companions to enjoy.
Lander said although the dog run won't protect the community from COVID, advance racial justice, or make our community safe for all, "It felt pretty great to cut the ribbon this morning and remember that democracy can deliver public goods that transform our neighborhoods based on grassroots vision."
Eugene said: "The Kensington Dog Run represents an investment in this community that promotes a healthier living space for everyone, especially during the current public health crisis we are facing."