A new report from the New York Housing Conference found that nearly half (25) of the New York City's Council Districts produced fewer than 500 new units of affordable housing under the de Blasio administration while in the other half (23) the city produced more than 1,000, with 8,555 affordable homes in the top producing district.
New York City is in the midst of an emergency-level housing crisis, driven by a deep shortage of affordable housing. Over 900,000 households across the five boroughs pay more than 30% of their income on rent, with 460,000 of those households paying more than 50%. There are over 68,000 people experiencing homelessness on any given night.
"Insufficient housing production is the root cause of an accelerating housing emergency, and New Yorkers across the boroughs desperately need their elected officials to step up and support more growth and affordable housing in their districts" said Rachel Fee, executive director of the New York Housing Conference.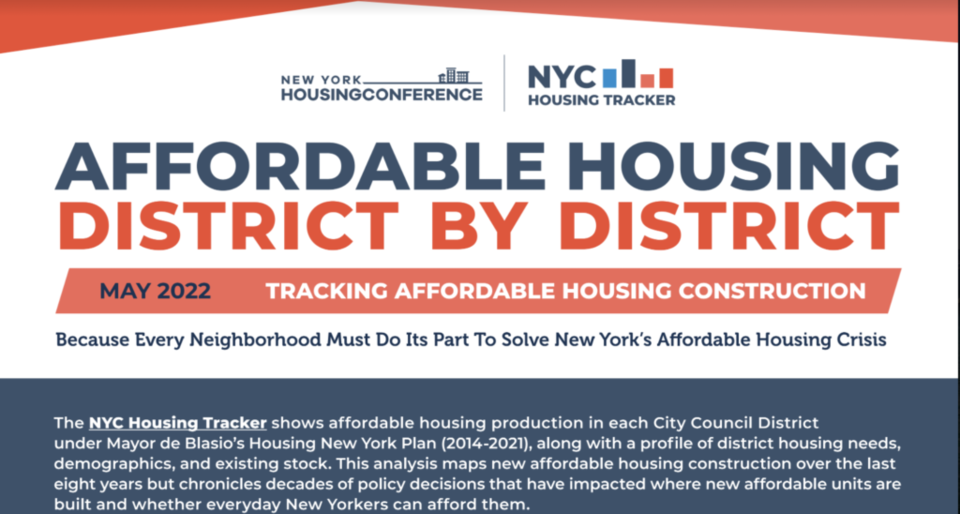 Council District 42 in Brooklyn, represented by Charles Barron, was amongst the top-five producing districts in affordable Housing, producing a total of 5,246 new units. Council District 42 includes the neighborhoods of East New York, New Lots, Remsen Village, Spring Creek and Starrett City.
In contrast, Council District 46, represented by Mercedes Narcisse, was amongst the bottom-five producing districts in affordable housing, producing a total of 41 new units. Council District 46 includes the neighborhoods of Bergen Beach, Canarsie, Flatlands, Georgetown, Gerritsen Beach, Marine Park, Mill Basin, Mill Island and Sheepshead Bay.
The highest-producing units included:
District 17, the Bronx: 8,555 new units
District 42, Brooklyn: 5,246 new units
District 8, Manhattan and the Bronx: 4,989 new units
District 33, Brooklyn: 4,055 new units
District 15, the Bronx: 3,115 new units
The lowest-producing units included:
District 23, Queens: 17 new units
District 46, Brooklyn: 41 new units
District 19, Queens: 47 new units
District 51, Staten Island: 49 new units
District 13, the Bronx: 58 new units
"Housing production has fallen significantly behind population growth in NYC and we're lagging behind most other major US cities in adding supply. But where the impact is felt is on the ground for everyday New Yorkers who are struggling to pay rent or who can't move to bigger apartments as their family grows because they are priced out," said Fee.
For example, while Brooklyn's population since 2010 has increase by nearly a quarter million people, the borough has produced just 40,200 new units of housing, according to the report
At the same time, the report notes that New York City overall produced just 23 new units per every 1,000 residents over the last decade even as the population has soared.
The report will be used to urge residents to support the continued production of affordable housing in their district, with an emphasis on sharing production more equitably citywide.
The report also highlights critical barriers to housing production, including low and lost zoning capacity and unequal affordable housing production across New York City neighborhoods.
For more information about the boroughs and affordable housing production across New York City, view the full report here.