Brooklyn has the highest percentage of people reported with hepatitis A, B and C, according to a brand new report of 2021 statistics from the New York City Department of Health and Mental Hygiene.
You don't want hepatitis. It's a viral liver infection spread through bodily fluids. While highly treatable and preventable, it can sometimes be a chronic condition with flu-like symptoms, unexplained weight loss, fatigue and more. Without treatment or care, people living with hepatitis A, B or C may contract liver disease, cancer or premature death, according to the report.
"Hepatitis is preventable and treatable," Health Commissioner Dr. Ashwin Vasan said.
"However, the greatest threat to people living with hepatitis are barriers to care. We have to do all we can to reduce inequities and ensure that preventive services and treatment are available."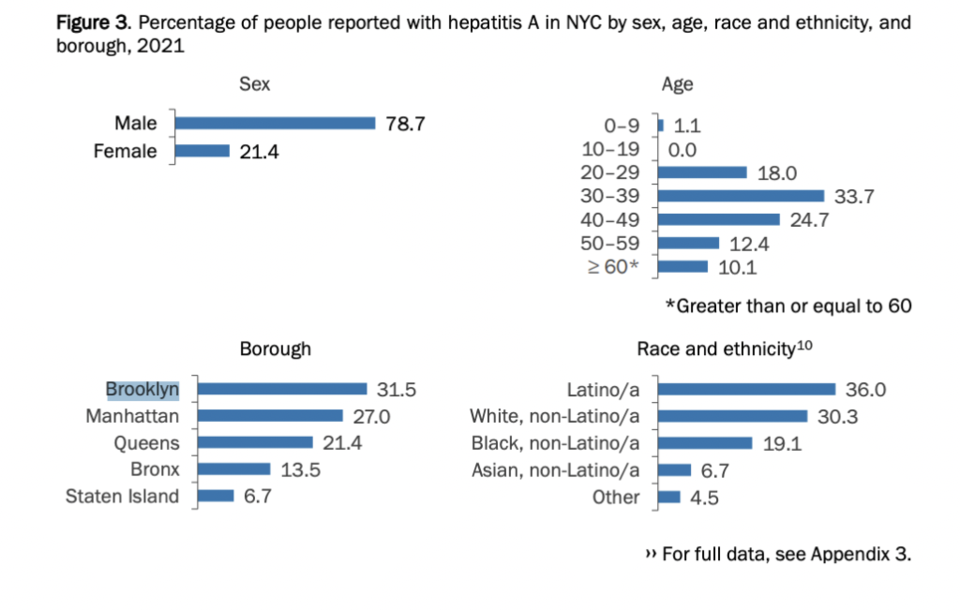 In 2021, New York City received increasing reports of hepatitis A among people who use drugs and people experiencing homelessness. These populations often face barriers to care and suffer ongoing outbreaks of hepatitis A nationwide.
In 2021, of people with newly reported with chronic hepatitis B, 56.7% were male and 43.2% lived in neighborhoods of high or very high poverty. Among those with chronic hepatitis C, 62.9% were male and 43.1% lived in neighborhoods of high or very high poverty.
Sunset Park East has the highest rate of people newly reported with chronic hepatitis B. Two other Brooklyn neighborhoods ranked in the top 10: Dyker Heights at number five and Bensonhurst West at eight.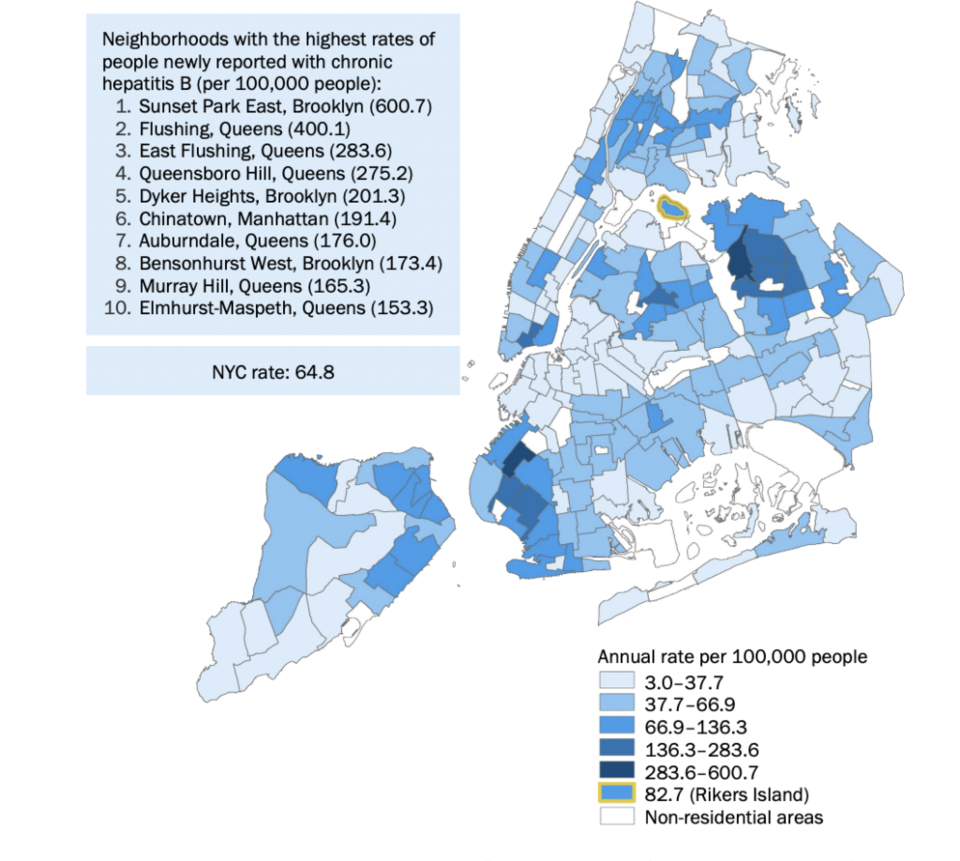 "While it is encouraging to see an overall decline in hepatitis B and C cases in New York City since 2016, we have more work to do to ensure all New Yorkers have access to care and treatment," said Dr. Sarah Braunstein, Assistant Commissioner for the Health Department's Bureau of Hepatitis, HIV, and Sexually Transmitted Infections.
The report includes updates on Health Department-funded services and programming, recommendations for healthcare providers and updates on progress toward implementing the Viral Hepatitis Elimination Plan.
According to the report, cases of both chronic hepatitis B and C increased from 2020 to 2021, citywide. This is linked to more people accessing health care and screening services following the first year of the pandemic.
For information on hepatitis A, B, and C, or to find a location offering low- to no-cost hepatitis A vaccination; hepatitis B testing, vaccination, or treatment; or hepatitis C testing or treatment, visit nyc.gov/health/hepatitis or call 311.
For information on Hep Free NYC, visit HepFree.nyc.