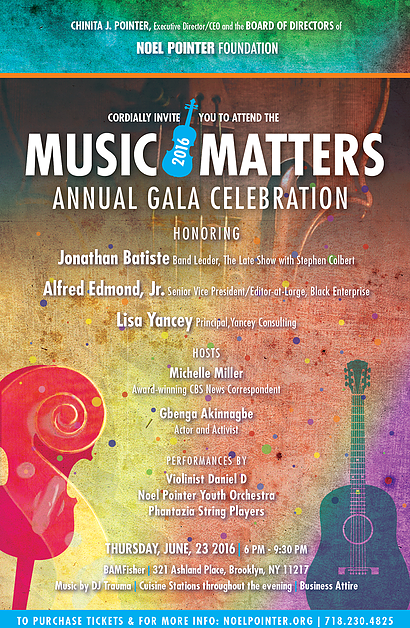 On Thursday, June 23, 2016, the Noel Pointer Foundation will host a celebration of 21 years of string music education at a star-studded gala ceremony at the BAM Fisher Theater. Hosted by the award-winning CBS News Correspondent Michelle Miller, Actor and Activist Gbenga Akinnagbe, Noel Pointer Foundation (NPF) Board Chair Tracey Capers, and NPF Executive Director Chinita Pointer, this ceremony will honor the legacy of talented musicians and their support for music education.
The NPF was founded in 1995 in Bedford Stuyvesant, Brooklyn, with the intention of providing string music instruction to pre-k through high school students in New York City public and charter schools. The foundation strives to commemorate the legacy of the late Grammy-nominated jazz violinist and arts education advocate Noel W. Pointer, who firmly recognized the power of music education.
According to a study by E. Glenn Schellenberg at the University of Toronto at Mississauga, six-year-olds who were given weekly voice and piano lessons experienced a jump in their IQ scores across the board. In the last few decades, various research studies have confirmed the benefits of music exposure, especially for adolescents.
The NPF recognizes the power behind music instruction and hopes to bring those experiences to children who might otherwise never have the opportunity to learn an instrument at such a critical age. Through the foundation, the students can utilize guided instruction for the violin, viola, cello, bass, guitar and piano. They can also choose to study music theory which broaden their horizons in terms of understanding music composition.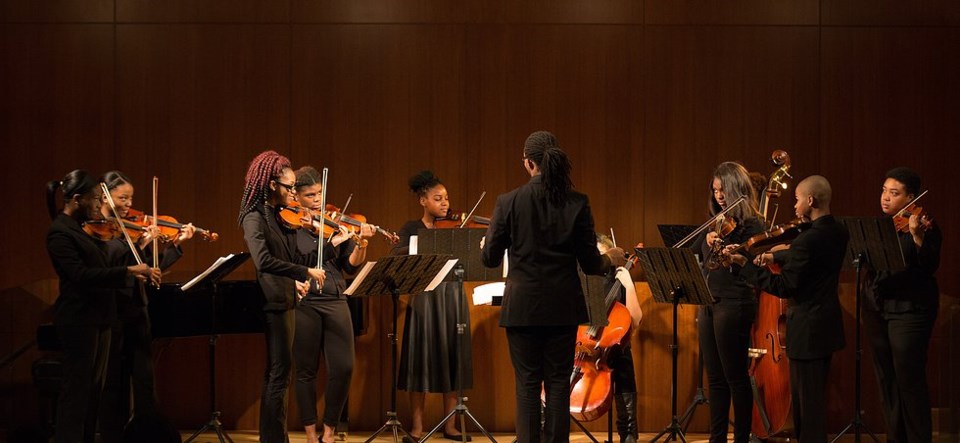 After years of fundraising and careful planning, the foundation is now operating in 26 public and charter schools throughout the five boroughs, providing high quality music education to over 2,000 students. Since its inception, NPF has reached over 30,000 students citywide and it continues to set new goals in hopes of making music education an integral part of the education system in New York City.
Serving as a culmination of their efforts, the Music Matters Annual Gala will feature cocktails, hors d'oeuvre, and a program that will recognize the foundations accomplishments while setting the pace for their future. The evening will also feature music provided by DJ Trauma. For more information or to reserve your ticket, please click here and keep in mind that all proceeds from ticket sales will be used to benefit the mission of NPF.