The milling and repaving is scheduled from Monday, September 25 to Friday, September 29, affecting a wide area in downtown Brooklyn, including the BQE ramp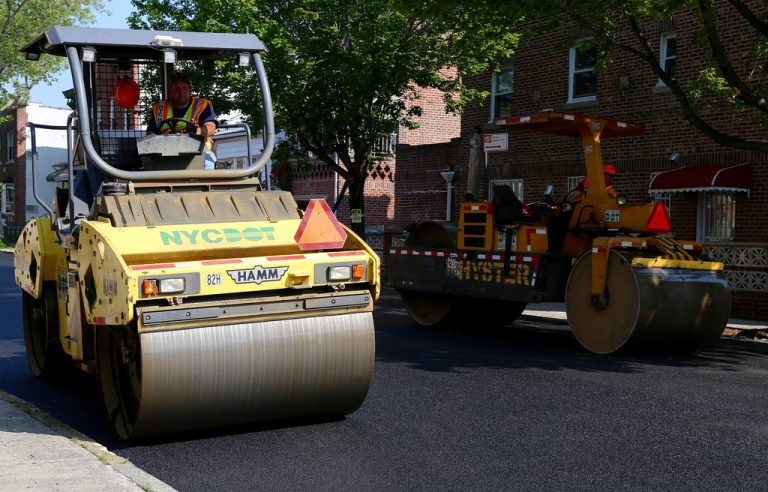 The Department of Transportation (DOT) has planned the milling and repaving of selected streets in downtown Brooklyn including the entrance of the BQE ramp. Weather permitting, the milling is scheduled to begin on Monday, September 26, and streets affected are Prospect Street, between Old Fulton Street and the BQE ramp, and Sands Street, between Adams Street and Jay Street.
The paving will be the more extensive part of the scheduled street work beginning on Tuesday, September 26. Affected streets are affected are Court Street, Bridge Street, BQE entrance ramp, Tillary Street and Navy Street. All work is expected to conclude on Friday, September 29.
Residents should be aware that vehicles left on these streets, when work is ready to be performed, will be relocated generally within three blocks. Thus the DOT encourages owners of relocated vehicles to first walk around the neighborhood to look for their cars. Residents who are unable to locate their vehicle may call (646) 892-1370 during business hours or the 84th Precinct at any time to learn where it was towed to.
Milling, which strips the top layer of asphalt from the streets, is widely used for pavement recycling, where the pavement is removed and ground up to be used as the aggregate in new pavement; it is usually done in preparation for paving. The milling process is noisy and may cause discomfort in the affected neighborhood for several days. Ideally, much of the work is done at night in order to minimize disruptions to traffic.
Street Milling and Repaving Schedule
Monday, September 25
Prospect Street, between Old Fulton Street and the BQE ramp
Sands Street, between Adams and Jay streets
Tuesday, September 26
Court Street, between Atlantic Avenue and Wyckoff Street
Bridge Street, between the Metrotech service road and Fulton Street
Wednesday, September 27
Bridge Street, between the Metrotech service road and Fulton Street
BQE entrance ramp, between Prince and Navy streets
Tillary Street, between Prince and Navy streets
Thursday, September 28
BQE entrance ramp, between Prince and Navy streets
Tillary Street, between Prince and Navy streets
Navy Street, between Park Avenue and Tillary Street
Bridge Street, between John and Prospect streets
Friday, September 22
Bridge Street, between John and Prospect streets
Prospect Street, between Old Fulton Street and the BQE ramp
Sands Street, between Adams and Jay streets