Meet the Creative Artists Behind Those Beautiful Murals in Prospect Heights
The final installment of a 3-part series on how murals have shaped one Brooklyn neighborhood, as told by the curator, community and creative artists.
The UnderHill Walls mural project will be undergoing its regularly scheduled fall transformation, thanks to the curator, local residents, community leaders and business owners, all of whom we've introduced in the previous articles "Meet the Curator", and "Meet the Community" Meet three of the artists whose artworks bring the vision together - Jessie Novik, Dustin Prestige and Miki Mu.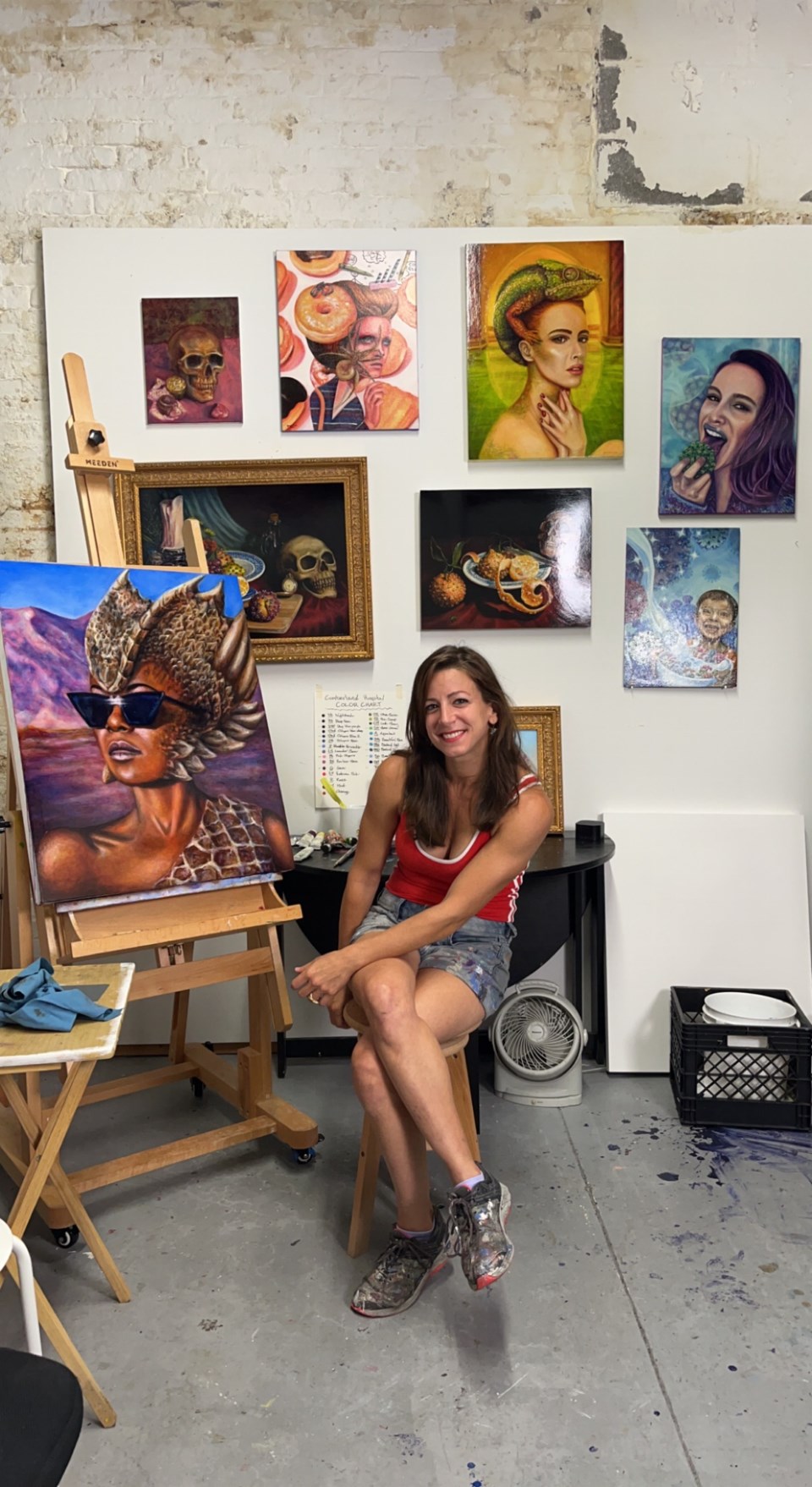 Jessie Novik: Art Heals
Artist Jessie Novik jumped at the opportunity to create her piece an ode to "I Love Lucy" star Lucille Ball. Her process is a technique she enjoys which uses monochromatic underpainting, acrylic paint, and glazing to make the red pigments pop.
She recalls the earlier parts of her art career as a street artist. "When I first started painting on walls I started with graffiti and wasn't thinking about the impact or how my designs would be perceived, but since studying art therapy I gained a desire to help and serve which is important."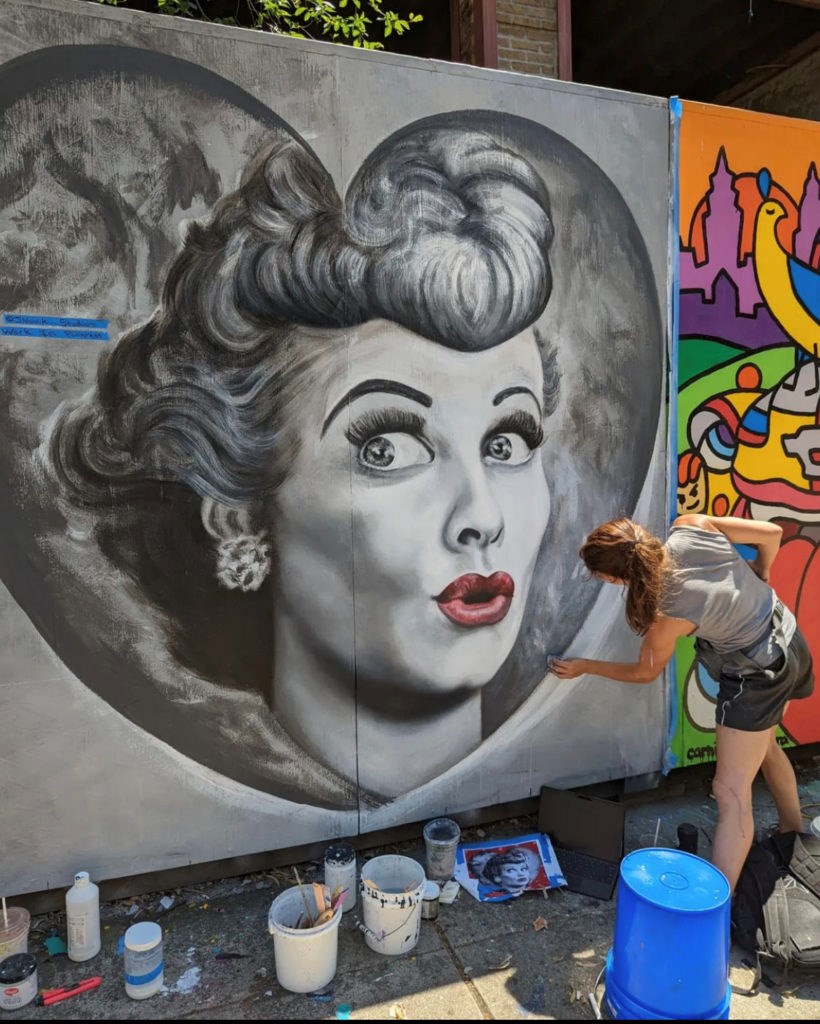 She emphasizes that public art can bring both healing and community belonging, but isn't a replacement for much-needed resources. "It's not a placeholder for infrastructure and for the real deep community development that needs to occur particularly in underserved areas," she said.

The muralist looks forward to future projects that allow her to bring art therapy to public art spaces.
Dustin Prestige: Art Inspires
Artist Dustin Prestige welcomed the chance to work with Jeff Beler who came across some of his artwork for sale during the pandemic. The Houston native who describes his style as "Basquiat's brash chaotic beauty and Picasso's complex simplicity" has called Brooklyn home for the last few years.
Among his popular work is his "Look Who's Vacant" piece found near the Washington Walls site. "It's a play on the blue barriers that often surround New York construction, and the hole became an eye that allows people to walk by, be nosey and look into who's vacant," Prestige said.
"You'd be surprised how living in a neighborhood can get you so accustomed to seeing the same thing over and over, that the one beautification effort gives people a sense of pride in their neighborhood," he said.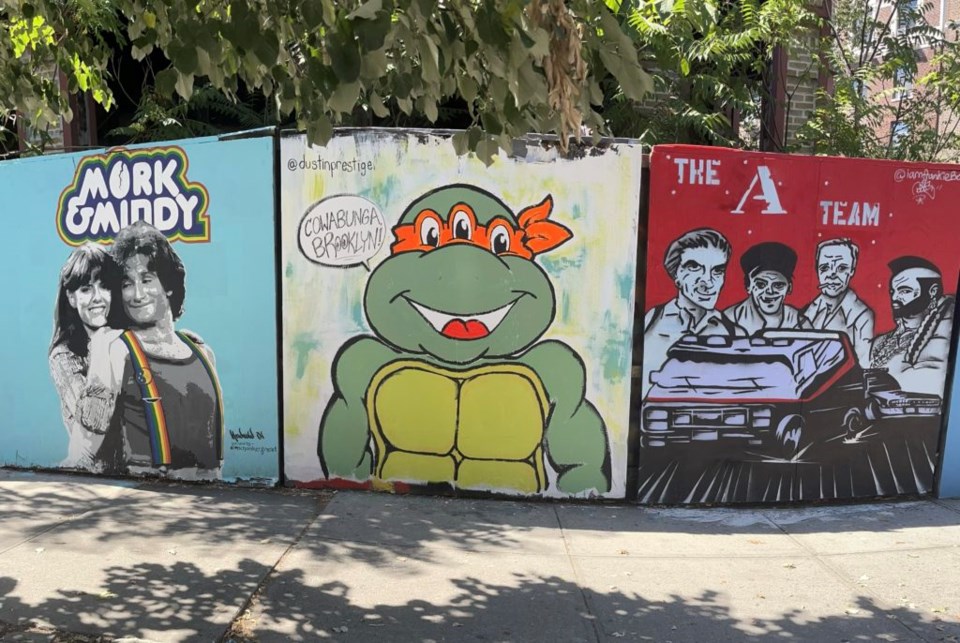 Prestige shares that public art also creates access and gives exposure to culture without having to go to a museum. "Every few months you're gonna be gifted with some new experience this artful menagerie on display all around you," he said.
"Art is one of the community's biggest tools, these artists are talented people to take drab surfaces and turn them into beautiful pieces of art."
Miki Mu: Art Uplifts
Artist, Michela Muserra aka Miki Mu, was born and raised in the south of Italy and has called Brooklyn home for over 20 years. The mural artist started off as an illustrator and painter before transitioning to public art in the last decade.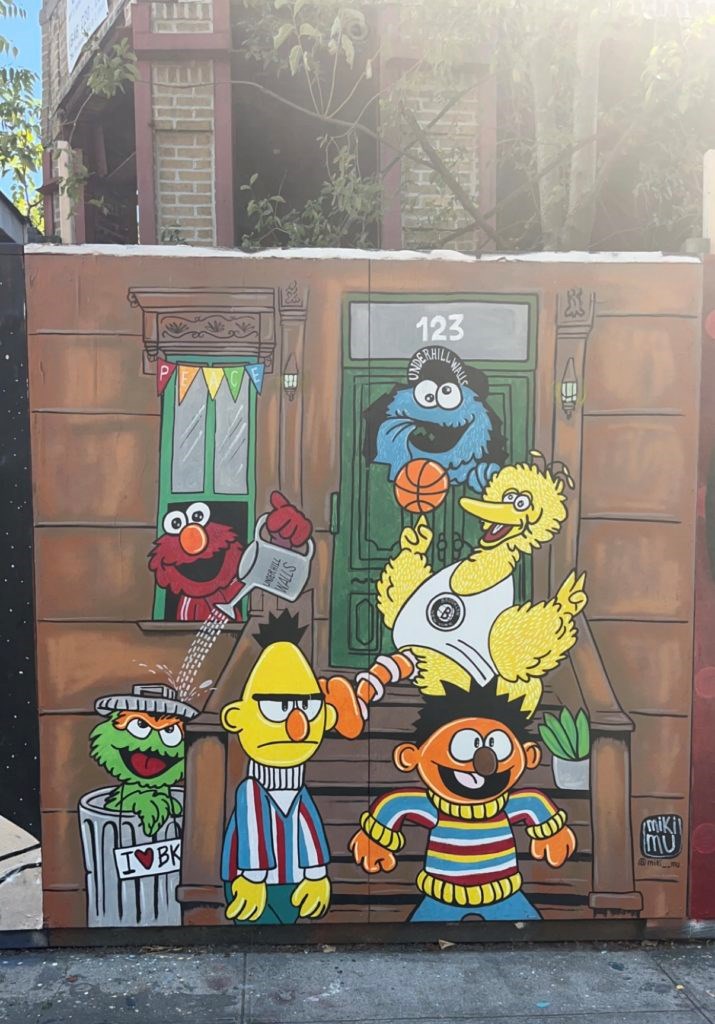 "Social media is the most powerful connecting tool these days," Mu said, crediting the online platform for the UnderHill Walls opportunity.
"For me, it is not just an act of beautifying the neighborhood," she adds, "this is an opportunity to recognize and celebrate people and culture, lift up the spirit of the community."
"Especially after Covid-19, the community needs to breathe some positive changes, get together in the streets, open up conversations and feel hope for a better change."
This Prospect Heights community has proven that murals are more than visually appealing props. Public art is healing, inspiring, and uplifting its community of curators, residents and artists - one colorful masterpiece at a time.