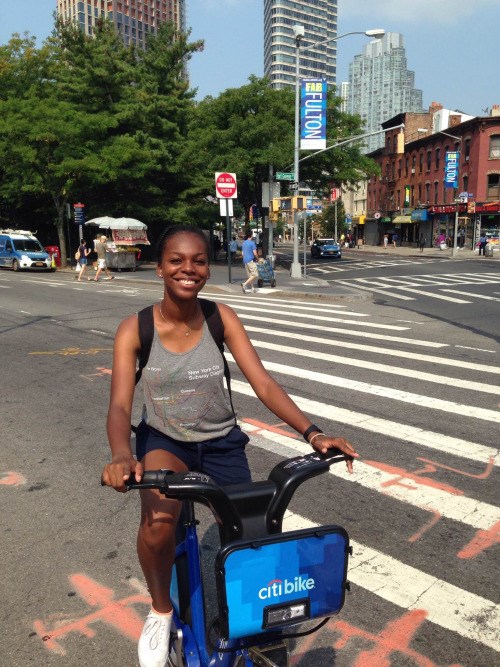 Meet Jemila Smith. Born and raised in Bed Stuy, Jemilia is a senior at Midwood High School, and works as an ambassador. Jemila was initially hired as an ambassador at Restoration this summer through New York City's Summer Youth Employment Program (SYEP). When SYEP came to a close, Jemila was asked to continue on with Restoration through the fall.
Were you a cyclist before you became an ambassador for Citi Bike?
I used to ride a bike when I was younger but my mom didn't want it out front. We put it in the fire escape in the back of the house because there was no room inside. We have a back yard so it's private. Construction workers came and put up a scaffold, and then when the scaffold came down a couple of months later there was no bike. And then my mom was just like: "I guess you're just not meant to ride a bike."
How long had it been since you had ridden a bike?
I would ride my aunt's bike. I would just borrow it every once in a while every summer, but I hadn't ridden one steadily in the NYC streets, so riding a Citi Bike is the first time that I've ridden on the streets by myself.
How did that feel at first?
It was a bit scary, but the streets that I started on don't have that much traffic. I usually ride up Classon and go down Dekalb or Lafayette, which have [bike] lanes so it's much safer. I have yet to ride on Fulton…I'm too scared.
Where do you most go on a Citi Bike?
Downtown Brooklyn. My mom makes me run errands for her more often. Back and forth to Target to get her favorite Icees because it's so hot outside. But it's good for me too because I do a little shopping now and then, if I want to pick up some shoes I can just take the bike down and it's nice.
What do you like most about Citi Bike?
The convenience. And, plus, when I'm riding the bike I love the way the wind feels on your face.
How do you think Citi Bike will impact or change Bed Stuy?
I think it'll make transportation easier. I see a lot of people watching me while I'm on my Citi Bike as I ride through Bed Stuy. People come up to me while I'm docking and they'll ask me questions about it like- it works out for you? I'm like- yeah! It's good, it's a good system.
Citi Bike has partnered with the Bedford Stuyvesant Restoration Corporation to promote equity in bike sharing in Bed Stuy. This initiative is made possible through a grant from the Better Bike Share Partnership. The grant strives to develop and implement strategies to increase bike share use in underserved communities. In Bed Stuy, Restoration hired ambassadors from the community in an effort to build relationships between the neighborhood and Citi Bike, their new transit option!
This blog post can be found originally here.