Hundreds of Greenpoint residents gathered to protest the proposed redesign of McGuinness Boulevard on Sept. 12.
For months, the City's plans for a "road diet" on the busy roadway have polarized the community, forming two groups strongly for and against the plan.
First unveiled in May, the original plan would have removed one lane of traffic on each side of the street to make room for a dedicated bike lane in both directions
According to local residents who believe bike lanes would make the street safer for cyclists and pedestrians, the plan was long overdue. On the other hand, some local residents have been concerned about the plan's negative impact on the flow of traffic and local businesses.
"We want to preserve the functionality of McGuinness Boulevard without sacrificing the safety of our residents," said Evelyn Dul, Greenpoint resident and member of Keep McGuinness Moving, the organization against the plan. "We don't just want new studies. We want a new plan that addresses the needs of all of us."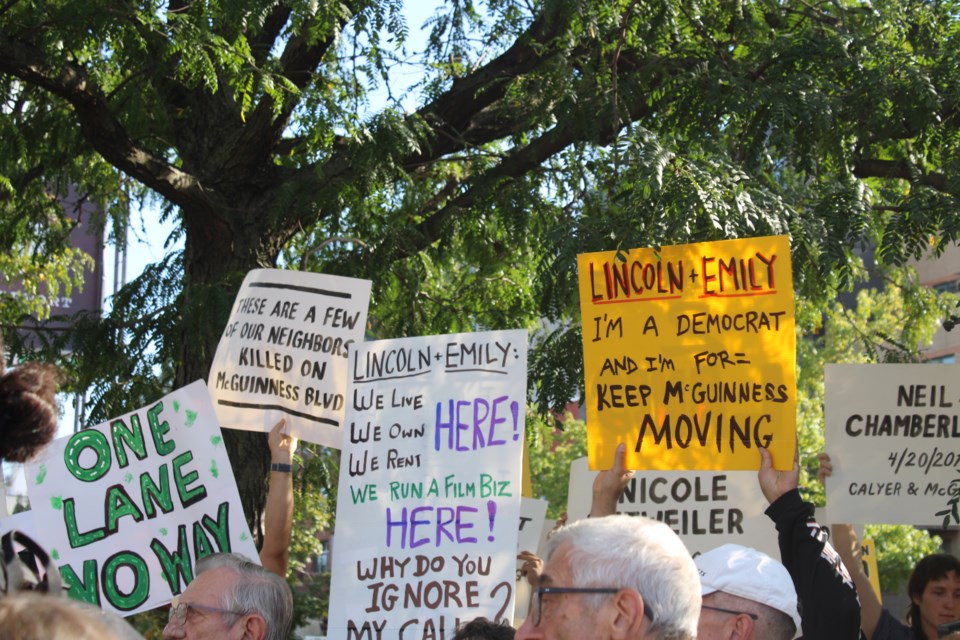 After seeing a well-attended town hall event hosted by the opposing group Keep McGuinness Moving in June, New York City Mayor Eric Adams walked back on the plans, saying alternatives would be explored to address the community's concerns.
Make McGuinness Safe, the group in favor of the road diet, staged a rally at city hall on July 13 and delivered signatures in support of the original plan to the Mayor's office.
Yesterday's rally, hosted by Keep McGuinness Moving, comes after the Department of Transportation announced a new, compromised version of the plan in August. The plan still includes a dedicated bike lane and two lanes of automobile traffic from 7:00am-7:00pm on weekdays.
Tuesday's rally began at 4:00pm in a parking lot at the intersection of Calyer Street and McGuinness Boulevard. Attendees brought signs calling out DOT and local electeds, including Council Member Lincoln Restler and Assemblymember Emily Gallagher, who support the redesign.
"The notion that reducing to one lane each way and adding a bike lane is the only way to achieve a safer McGuinness is just nonsense," said Brooklyn Chamber of Commerce President Randy Peers at the event.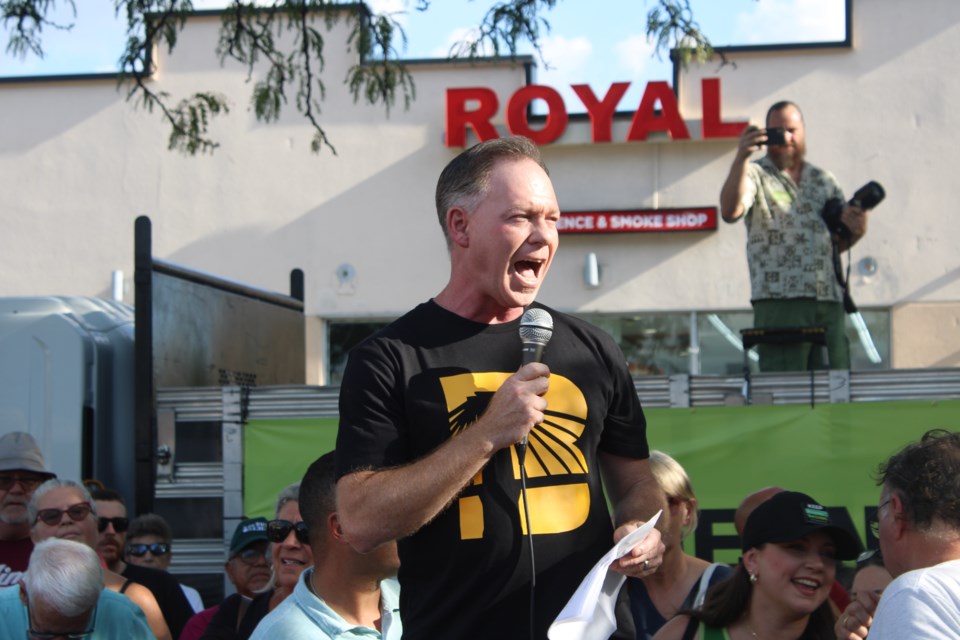 When the compromise was announced in August, Restler and Gallagher and other local electeds released a joint statement supporting the new plan.
"For decades Greenpoint neighbors and advocates have been demanding a safer McGuinness Boulevard. Today we are pleased to reach a compromise solution that will bring safety improvements to this 1.1 mile corridor that has seen far too many deadly crashes and injuries", the statement reads.
Despite pushback from the protestors, the redesign is set to begin implementation this week.