Mayor-Elect Eric Adams, with a team of public health leaders from across the city, on Thursday revealed a plan for how his administration aims to combat the COVID-19 Pandemic and keep the city open, in light of the most recent surge with the Omicron variant.
His "Winter Pandemic Plan" will in many ways keep in place the current administration's regulations on mandates but with ramped up testing, greater coordination with stakeholders, more safety protocols, and a public dissemination of higher-grade masks, amongst a number of other editions.
"The day has come where we must learn to be smarter, live with COVID and ensure that we protect everyday New Yorkers. And that is what I'm going to do," Adams said. "We are stepping up to meet the challenge with renewed vigor. As we enter the new year, we will drive down disease and further drive up vaccinations city wide."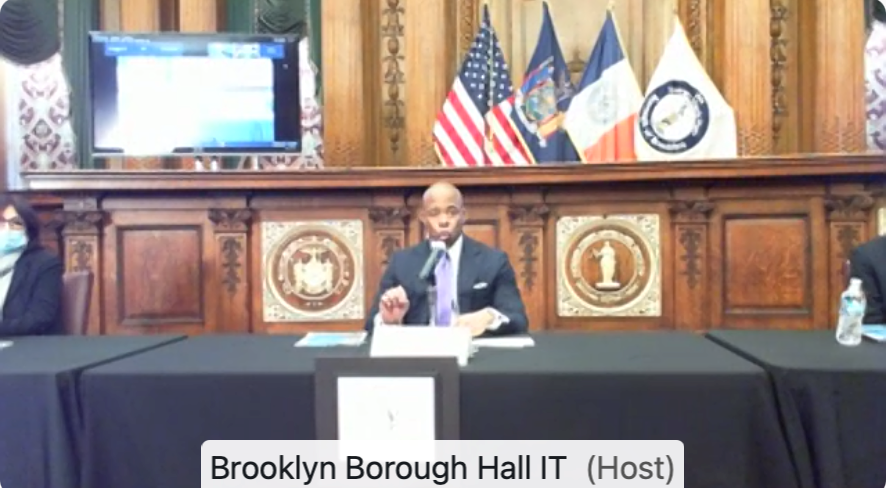 The plan was created with extensive input from public health leaders all over the city, state and federal government to come up with smart approach that "follows the science," he said, adding there would be "a focus on equity and effectively reaching underserved populations."
"The goal is to prepare ourselves to get through the winter surge and the coming months and year," Adams said. "Our focus is vaccine and testing. Vaccine and testing. This is the clear message we must get out."
Adams on Wednesday announced that Dr. Dave A. Chokshi will continue to serve as Commissioner of the Department of Health and Mental Hygiene (DOHMH) through March 15 of 2022. Ashwin Vasan, M.D., Ph.D. will then assume the role of DOHMH Commissioner in March and will serve as Senior Advisor for Public Health in the interim "to ensure continuity and a seamless transition of leadership as New York City continues to combat the surge in COVID-19 cases due to the Omicron variant," his office announced.
At the press conference, Adams was joined by Dr. Chokshi and Dr. Vasan and other health leaders to lay out the 6 Pillars of his administration's approach to combating the spread of the virus:
Vaccinationâ€" The private sector employer mandate will stay in effect in the new year, with the focus on compliance, not punishment. The plan will be to work hand-in-hand with employers, forgoing fines as long as the employers help get their staff vaccinated. The administration will continue to study the need for any up-to-date mandate, which may require additional boosters while following the emerging science on the importance of boosters. The City will set a deadline for this spring about a vaccine mandate in schools to commence later in 2022
Supporting Hospitals in Congregate Settingsâ€" The administration says it will ramp up their efforts to shore up hospitals' capacity during the winter surge. Will resource the hospital system to make sure they have the capacity to address emerging needs. It will reinforce nurse staffing levels and improving safety in congregate settings like nursing homes and jails.
Testingâ€" The current administration already has added more than 60 new testing sites since Omicron. Adams already has released additional resources to the health department, including over 250 staff to keep the public health infrastructure strong and nimble enough to respond to other needs as they arise
Treatmentâ€" The new administration plans to increase access to monoclonal antibody treatments, including IV treatments of Sotrovimab, and oral antibodies treatments like Paxlovid and Molnupiravir.
Slowing the Spread of the Virusâ€" The administration will implement strong coordination of resources on the ground and clearer lines of communication. That will include the dissemination of 2 million higher grade, higher filtration masks in January (KN95s, KF94s, N95s) in January. It will also roll out news ways of communicating with New Yorkers around the state of COVID with a color-coded system that shows the level of threat and the safety measures needed to respond.
Safer Schoolsâ€" The "The Stay Safe and Stay Open Plan" for schools will focus on doubling surveillance and contact tracing protocols; distributing millions of higher-quality masks and rapid at-home tests for children to take with them to their homes; and improving ventilation at schools.
"Our message to all New Yorker is clear: We will be ready against COVID on day-one," said Lorraine Grillo, the New York City deputy mayor overseeing the pandemic-recovery efforts. "Starting Saturday and every step of the way, we will prioritize engagements with stakeholders, including our unions, our business community, public housing residents, non-profits and community based organizations to ensure the most effective and equitable approach to fight the virus.
"When NY C has strong leadership and is united in a cause, we always succeed."