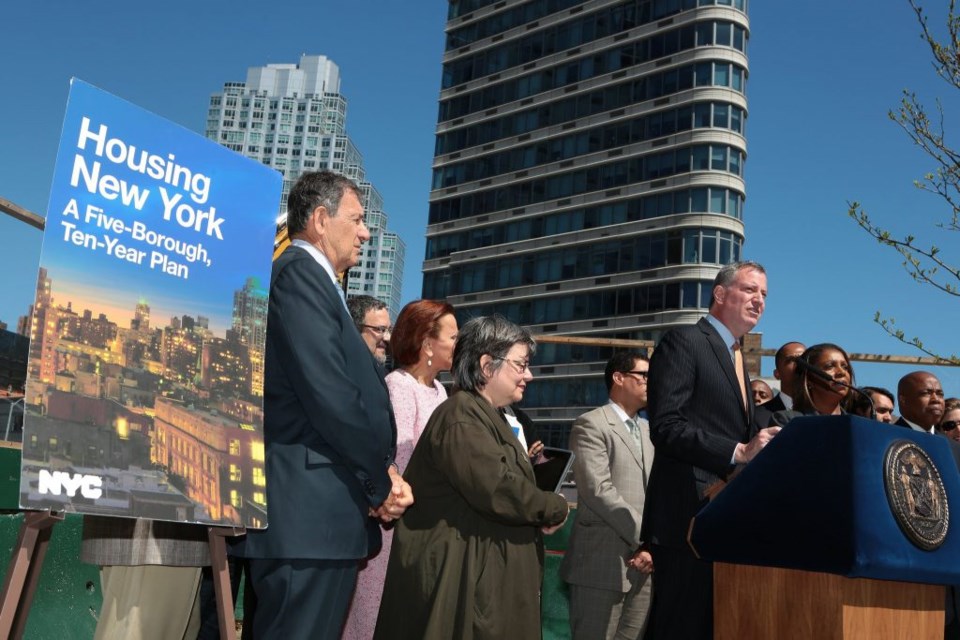 As a key initiative of Mayor Bill de Blasio's housing plan, "Housing New York," the Department of City Planning in December launched a bold proposal for a that would enact zoning laws mandating a certain proportion of new housing developed throughout the five boroughs is allocated as permanently affordable.
Neighborhoods are changing fast, particularly in Brooklyn, where new housing stock has become a weekly occurrence. Unfortunately, most of these new units not only are financially out of reach for its current residents, but also, it is creating a market that is driving up current rents at breakneck speed.
De Blasio's Mandatory Inclusionary Housing plan, which would require the approval of the City Council, serves as a way to ensure a certain portion of housing remains accessible to low-income residents. And, according to the mayor, the proposal would be the most rigorous zoning requirement for affordable housing of any major U.S. city.
Under the proposal, the City Planning Commission and ultimately the City Council would apply one or both of these two requirements to each Mandatory Inclusionary Housing area:
25% of residential floor area must be for affordable housing units for residents with incomes averaging 60% Average Median Income (AMI) ($46,620 per year for a family of three), or
30% of residential floor area must be for affordable housing units for residents with incomes averaging 80% AMI ($62,150 per year for a family of three)
However, several housing advocacy groups and some elected officials are taking exception with the plan, saying it doesn't go far enough, setting the bar for affordability still too high. They point out, at the current AMI levels, the City's proposal targets families earning at or above $51,000 annually. Meanwhile, more than 25 percent of New York City households earn less than $25,000 annually.
Public Advocate James has submitted a proposal that lowers the income eligibility for affordable housing even further and increases the number of set-aside affordable units. Her plan calls for an additional option to be included where 30 percent (versus 25 percent) of the floor area be set aside for households earning 30 percent (versus 60 percent) AMI, making units affordable to a family of four earning $26,000 per year.
Her plan also is calling for every single development to include 15 percent of its affordable units for residents earning 30 percent AMI. In addition, it adds protections existing residents from displacement and guarantees equal treatment between market rate and rent-regulated tenants.
"Right now, we have a chance to shape the affordable housing landscape in this City for generations to come, and we have to get it right," said James in a statement. "I appreciate Mayor de Blasio's efforts on this pivotal issue and the substantive discussions we have had with the administration throughout this process. I am confident that when our recommendations are adopted, the MIH proposal will gain support from a cross-section of New Yorkers. Until that point, I reserve my support for this proposal and look forward to working with the Administration to improve it."
According to the mayor's office, there may be room for improvement: Mandatory Inclusionary Housing represents the floor, not the ceiling, of affordability that would ultimately be achieved in new development, his office wrote. And in City-initiated neighborhood rezonings, each area would be evaluated individually in determining how to potentially broaden affordability.
Meanwhile, the mayor's administration has moved forward with his current housing plan to build a total of 200,000 units of new affordable housing. Earlier in January, he announced that so far, his office has financed 40,204 affordable apartments, enough affordable housing for more than 100,000 New Yorkers. It is the largest number of new affordable apartments underway during any year since the City's housing department was founded 38 years ago.
"This has to be a city for everyone. And that's why we are fighting displacement in fast-changing neighborhoods," said de Blasio. "It's why we're putting shovels in the ground on a new generation of apartments that working people can actually afford. Hundreds of thousands of New Yorkers go to sleep every night worried about whether they'll be able to afford rent next month or next year. With our housing plan, we're giving seniors and working families security for decades."
New Yorkers can apply for affordable housing at nyc.gov/housingconnect or by calling 311.