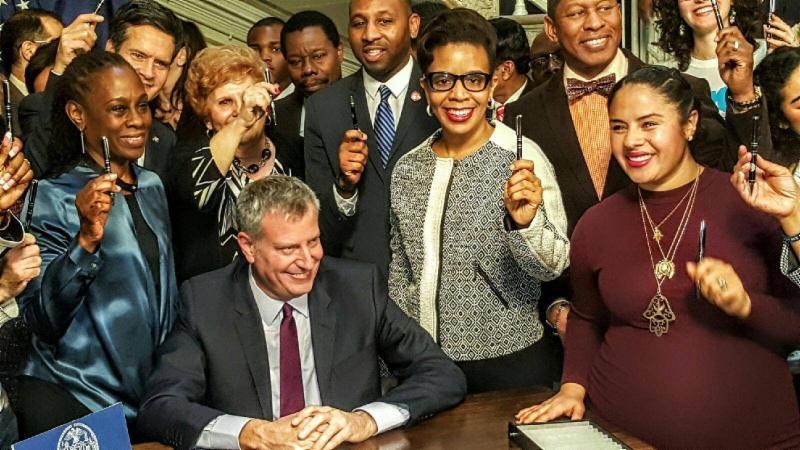 On Thursday, Mayor Bill de Blasio signed a personnel order to provide paid parental leave policy to approximately 20,000 New York City employees, providing six weeks of paid time off for maternity, paternity, adoption, and foster care leave, at 100 percent of salary — or up to 12 weeks total when combined with existing leave.
"For too long, new parents have faced the impossible choice between bonding with their child and paying their bills," said Mayor Bill de Blasio. "Paid parental leave means healthier and more financially stable families, more effective workplaces, and a stronger and more just city — which everyone can get behind. From increased minimum and living wages, to paid sick and parental leave, these policies ensure that New York City will continue to lead the country in fighting for our working families. "
The new policy went into effect as of December 22, 2015 and comes at no new cost to New York City taxpayers: the personnel order repurposes an existing managerial raise of 0.47 percent scheduled for July 2017 and caps vacation time at 25 days for the 20,000 employees covered by the benefit.
"The most important job of a new parent is to spend as much time as possible with the baby. Forming a strong bond with an infant has a life-long positive effect on the child's physical and mental health," said First Lady Chirlane McCray. "Paid parental leave isn't just the right thing to do. It's an investment in the future of our city."
The legislation gives municipal workers, including parents of adopted and foster children, six weeks of paid family leave.
"This is huge and a giant step in the right direction," said Council Member Cumbo. "The United States is one of a few nations that still does not have a paid family leave mandate and I am hopeful that what we did here in New York City will transcend throughout the nation."
The six weeks of leave must be taken within 24 weeks of the qualifying event (birth, adoption, foster care); once the first day of paid parental leave is taken, the employee must use the remaining paid parental leave within the following 12 weeks.