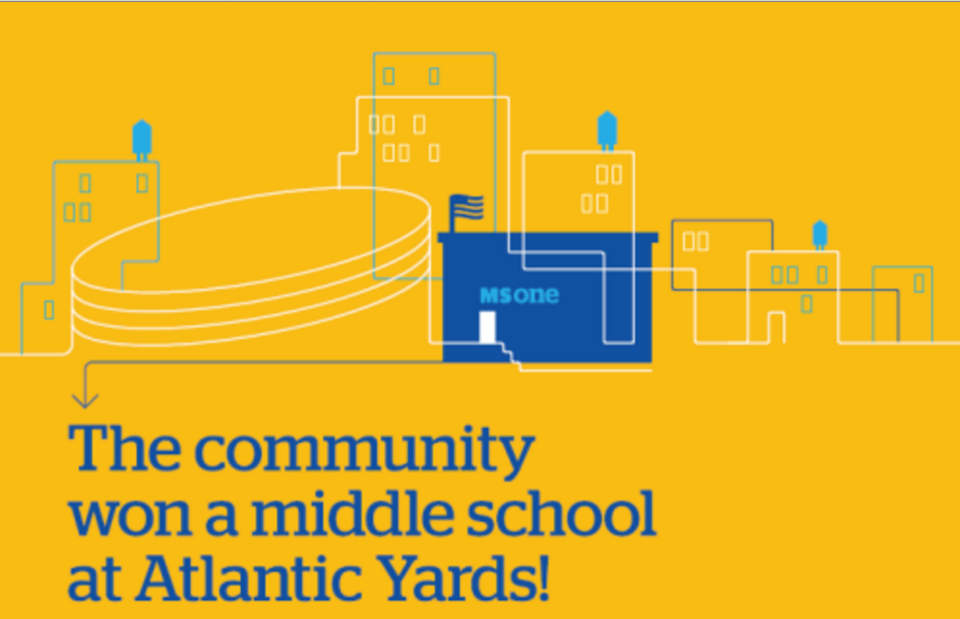 Brooklyn Community Board 8, the members of Community Education Council for New York City School District 13, parent advocates and civic organizations, and elected officials, have joined together to create a vision for a new public middle school to be located at the northeast corner of Sixth Avenue and Dean Street in the Atlantic Yards.
The project, M.S. OneBrooklyn, is expected to open in September 2018 and would help meet a significant local need for a dedicated intermediate school accessible to all District 13 students with the goal of providing academic excellence, inclusion and diversity of students across District 13 public schools.
M.S. OneBrooklyn will provide high quality instruction in performing, visual and language arts, and will leverage its unique proximity to Brooklyn's leading arts and cultural institutions to provide experiential learning that reaches beyond the classroom. M.S. OneBrooklyn will offer a comprehensive STEM curriculum, starting with the firm math and science foundation needed for the challenges of high school, college and careers.
As a mid-size middle school located in a new, centrally located, state-of-the-art facility, M.S. OneBrooklyn will be attractive and equally accessible to all rising District 13 middle school students. The M.S. OneBrooklyn vision can align with a larger strategy within District 13 that strives to ensure that appropriate learning conditions are available to students of all grades. The vision recognizes both that space is at a premium, and also that a mid-size middle school at Atlantic Yards should be an integral part of any plan that seeks to optimize the use of present and future school facilities.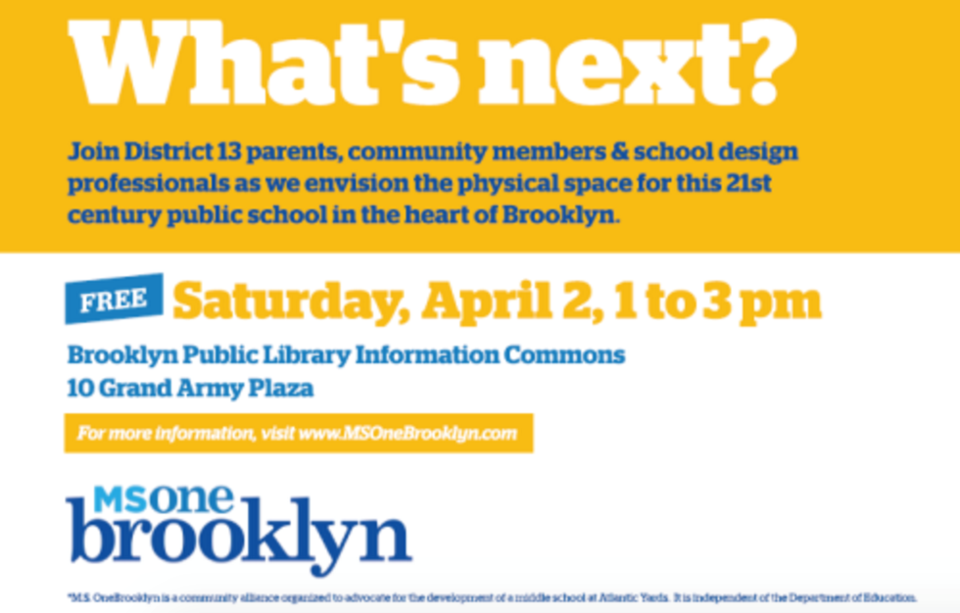 On Saturday, April 2, from 1:00pm - 3:00pm, M.S. OneBrooklyn organizers will hold a planning meeting with design professionals, community members, potential parents and representatives from the New York City Department of Education to envision the look, design and feel of the physical space of the middle school.
Breakout sessions will allow attendees to explore requirements for facilities, common space and street design to create a 21st century learning environment, as well as to identify and address safety concerns in the environment where the school will be situated. The results of the planning meeting will be compiled into a report for presentation to the Department of Education and the School Construction Authority.
WHAT: Design Planning Meeting for M.S. OneBrooklyn
WHEN: Saturday, April 2, 1:00pm - 3:00pm
WHERE: Brooklyn Public Library, 10 Grand Army Plaza, Information Commons Room