Brooklyn resident Danielle Fazzolari leads regular, free meditations on her stoop in Clinton Hill.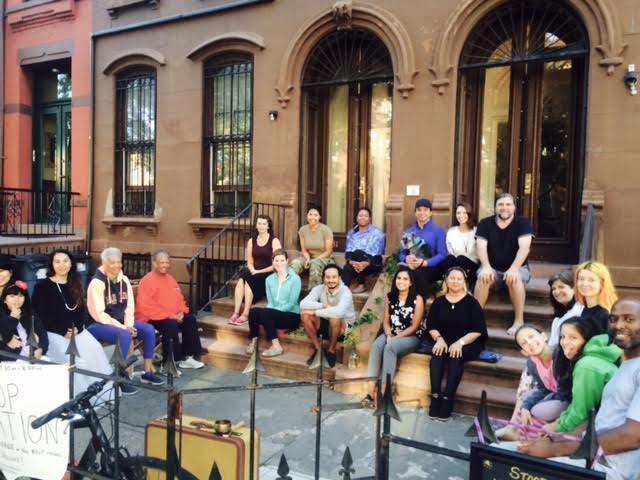 Danielle Fazzolari is breaking the New York stigma of "neighbors as strangers" in her Brooklyn neighborhood of Clinton Hill— through meditation.
It all started in November 2016. After President Donald Trump was elected, Fazzolari sent an email to her neighbors asking, "How did this happen? I don't have the answers, but I believe in community.
"Let's regroup together; let's find some quiet space in our hearts."
Fazzolari then led a meditation on her stoop in Clinton Hill. Seven neighbors participated; many neighbors were meeting each other for the first time, even though they live on the same block.
"That first meditation was actually a reminder to say 'hey, let's check in, let's feel on a physical level' let's put our awareness and attention on the heart.
[perfectpullquote align="right" cite="" link="" color="" class="" size=""]"People walk by and ask, 'What's going on here?' And I just say, 'Get in here! We're meditating!'"[/perfectpullquote]
Although Fazzolari thought her 'stoop meditation' would be a one-time event, the positive feedback encouraged her to keep hosting. She began facilitating a meditation every week, until the temperature became unbearable: "I kept going, but it was so cold. I had little space heaters outside but then my neighbors were like 'Danielle, go inside!'
"So I took the winter off."
Fazzolari practices and teaches mindfulness, a meditation practice that focuses on the present moment. But she wasn't always a meditation teacher. She used to worked in the fashion industry then one day, quit her job and booked a one-way ticket to India. That's where she immersed herself in meditation.
She ended up training with MNDFL, a New York-based meditation studio, where she works as a certified teacher in their studios... and now, on her stoop.
Her guided stoop meditation is free and open to anyone. "There's no intimidation, no judgment," she said. "People walk by and ask, 'What's going on here?' And I just say, 'Get in here! We're meditating!'"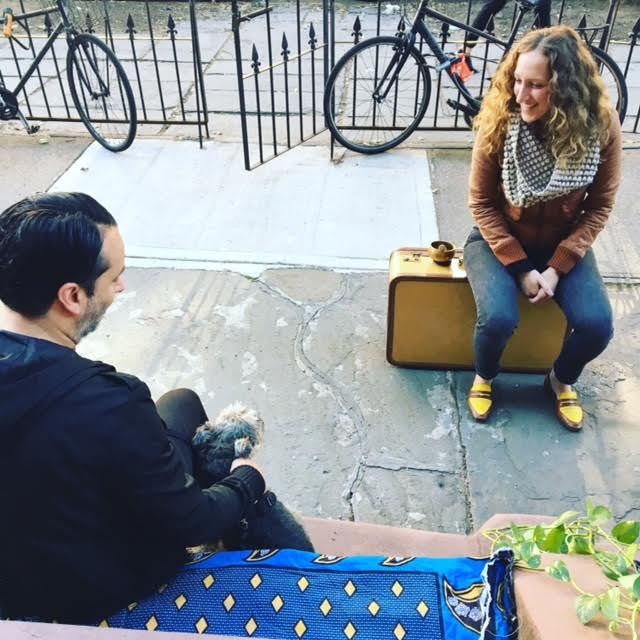 Stoop Meditations are every Thursday at 7:30am, at 453 Washington Ave, between Greene and Gates avenues. Everyone is welcome.
Her guided stoop practice has gained so much traction that she has run out of room and had to buy benches:
"We're forming our own little community. And it keeps growing!"
"The point of mindfulness is to not miss this beautiful life that is in front of us, that so often gets covered up by society," she said.
Through accessibility and kindness, Fazzolari's Stoop Meditation has cultivated a community unlike anywhere else in New York.
She opens up her stoop as a second home for her students to confront the present. She gives those around her a safe space to feel emotion.