Notebook in hand, Sen. Kirsten Gillibrand (D-NY) listened to Brooklynites express concerns about affordable housing, support for migrants, education and health care Tuesday evening.
About 75 people, including state senators and council members, gathered at LIU Brooklyn's Kimball Auditorium at 5 p.m. Aug. 30 for the senator's third town hall series in New York City.
While Gillibrand offered to investigate some issues—such as a bill to bolster Alzheimer's care and Medicare privatization—she gave a few constituents more concrete responses, specifically when it came to education funding. 
In response to a lead-off question from moderator Amanda Bossard of News 12, Gillibrand expressed support for President Joe Biden's student debt relief plan.
"This is an investment in the people who need it today," Gillibrand said. "It's not perfect, but we make investments based on who's at risk and who's in need all the time."
Gillibrand took several opportunities to advocate for debt-free college for aspiring public service workers in New York, including teachers and first responders. The senator—who joined Gov. Kathy Hochul earlier in the day to announce new child care provider stabilization grants—said she plans to ask Hochul to include aspiring mental health care providers in her efforts to alleviate nursing students' debt.
"It's just like the G.I. Bill," Gillibrand said. "If you say to America's young people, 'If you're willing to give back to your community, we're willing to give back to you,'... I think it would really make a difference and I think it would be widely bipartisan and popular as a national mandate."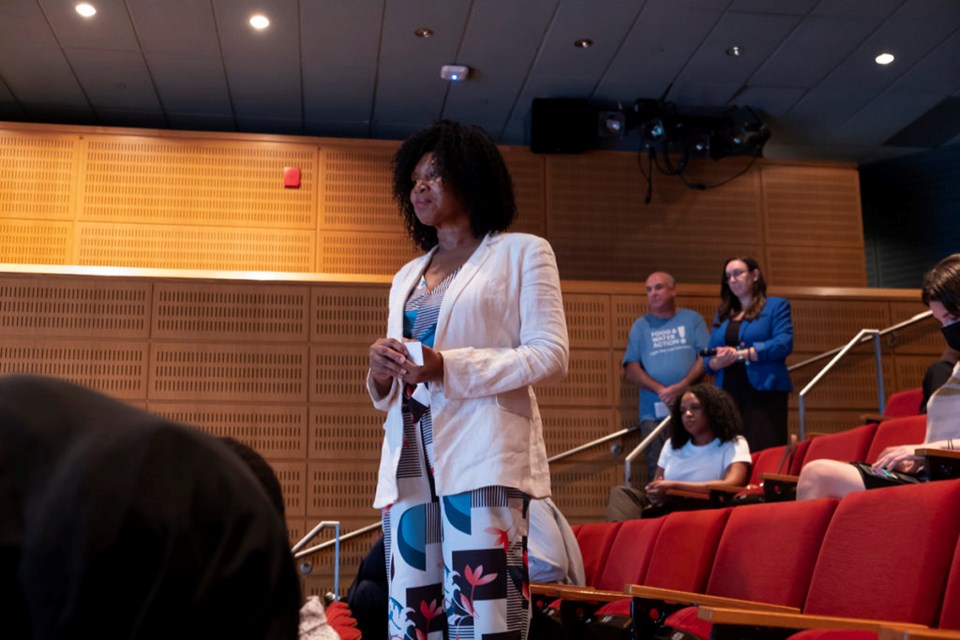 Affordable housing was a predictably hot-button topic. In May, Gillibrand and Rep. Yvette Clarke (NY-09) introduced the Affordable Housing and Area Median Income Fairness Act of 2022, which would invest $15 billion in affordable housing over 10 years and re-assess the Area Median Income (AMI).
But Gillibrand didn't mention that bill when Colette Boston, host of Talk A D' Town Radio's Community Connection, asked what was being done to ensure that people have equitable access to housing. Instead, she said she was urging city council to do "a deep dive of where every dollar in affordable housing goes."
"It's frustrating for me because I've been in the Senate since 2009 and we've never solved it," Gillibrand said. "There's problems up and down the whole system."
Newly elected Assembly District 51 leader Jacqui Painter came to the Brooklyn town hall to advocate for the NYC Housing Authority (NYCHA)-funded Red Hook Houses. She said the effects of Hurricane Sandy—including high levels of soil toxicity—are still impacting residents.
Gillibrand encouraged Painter to apply for climate grants in the Inflation Reduction Act.
"I'm really glad that I know about these bills. because I had no idea. And the information is so hard to find," Painter said after the town hall.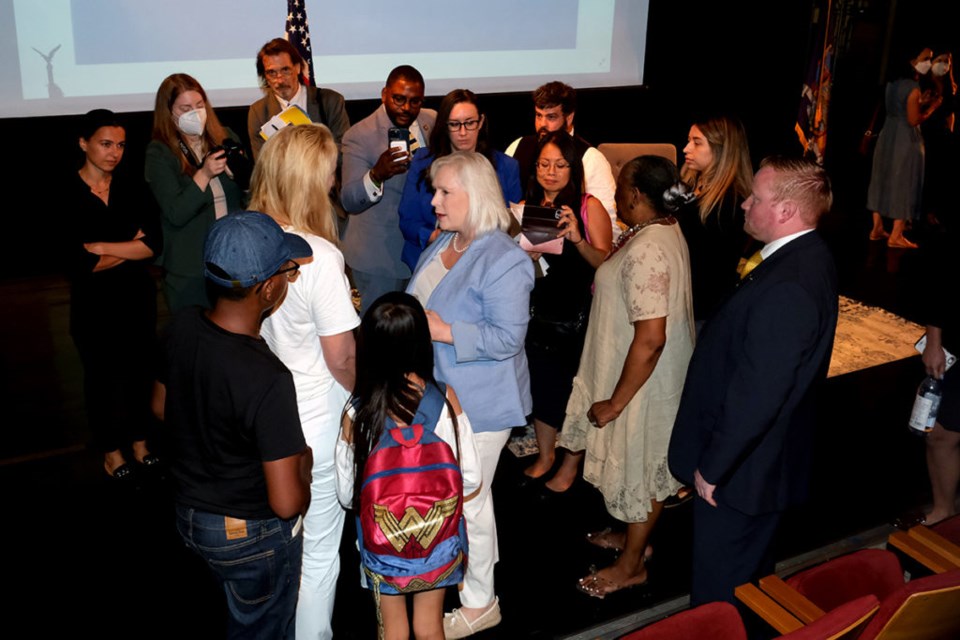 Gillibrand told constituents she would investigate two environmental issues: removal of spent waste at the shuttered Indian Point nuclear power plant; and a recent energy deal brokered by Sen. Chuck Schumer, which would speed up fossil fuel projects. 
Gillibrand also said that she would vote yes on the Safe Schools Improvement Act of 2021, which addresses discriminatory bullying in elementary and secondary schools.
Salim Drammeh, president of the Gambian Youth Organization, asked Gillibrand if there were plans to help the influx of migrants coming into the city, given the already overwhelmed shelter system and lack of affordable housing.
Gillibrand suggested more FEMA funding and said she plans to talk with mayors in upstate New York about offering shelter.
"It seems like they have something in the works," Drammeh said afterwards.
"But we need it right now."