In a statement to the press and on Twitter, Kings County District Attorney Kenneth Thompson announced on Tuesday that he has cancer.
"I've dedicated myself and our Office's resources over the past three years to keeping the people of our great borough safe while strengthening our commitment to reform and improve our criminal justice system... And now I am prepared for another fight," said Thompson.
"Recently I was diagnosed with cancer. As a man of intense faith, I intend to fight and win the battle against this disease."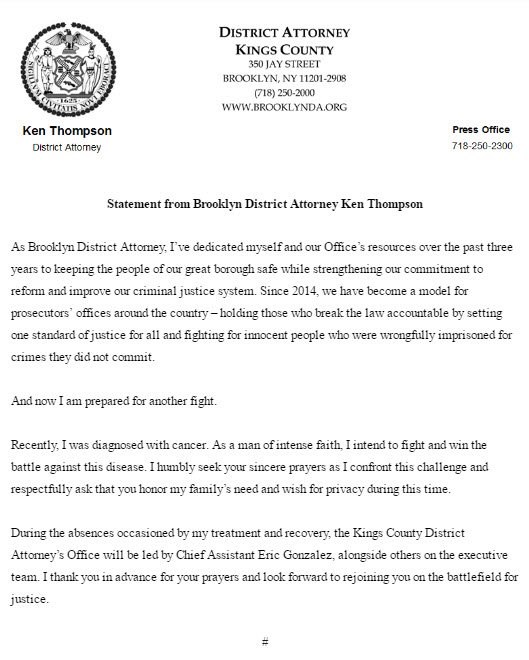 Thompson did not say what type of cancer he has, but announced he would be taking absences from his position to undergo treatment..
Mayor Bill de Blasio and other elected officials fired off statements of support for the D.A. who, since elected to his role, has made a name for himself nationally for his role in investigating the cases of innocent people who were wrongfully incarcerated.
"#Pray4DAKenThompson!" wrote City Councilmember Robert E. Cornegy on Facebook.
"My prayers for a 'Refuah Shleima' to Ken Thompson may god heal him quickly, we need a fighter for the good people," tweeted Gary Schleisinger, a prominent Satmar Community activist.
Thompson said the D.A.'s office would be led by Chief Assistant Eric Gonzalez while he is out.
"My administration is prepared to work with Brooklyn's Chief Assistant District Attorney Eric Gonzalez in District Attorney Thompson's absence and wishes the District Attorney a speedy recovery and swift return to duty," said de Blasio.