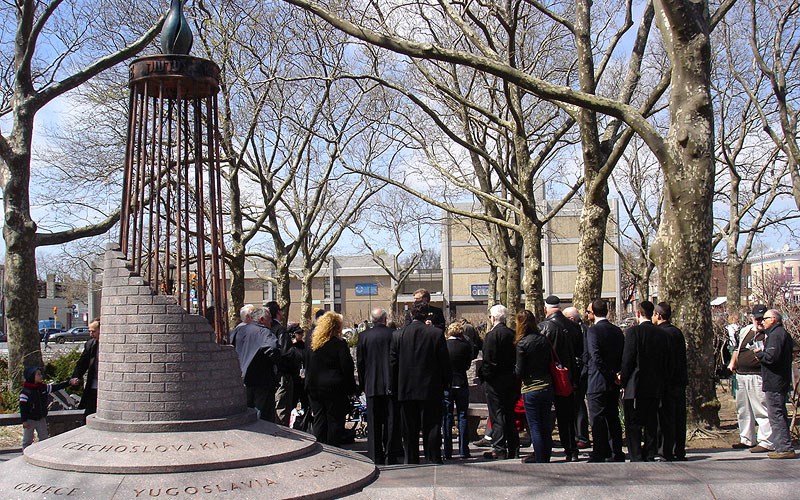 On Sunday, April 19, the Stop Anti-Semitism Foundation (SASF) with Israel's Voice will convene its second annual Holocaust Remembrance event at Holocaust Memorial Park, located at the water's edge of Brooklyn's Sheepshead Bay in Brooklyn.
Beginning at noon, a multi-generational group — including Holocaust survivors, families and schoolchildren, religious, political and community leaders-- will gather to honor the victims of the Holocaust and to provide support for the State of Israel.
The event plans to give special focus to what the organizers have identified as "contemporary anti-Semitism," by underscoring the need for education, vigilance and a clear strategy to combat the growing threat to all people of faith and reason who oppose radical ideologies.
"In Europe, the Middle East and Jewish communities around the world anti-Semitism is on the rise requiring us to act," said Dr. Vladimir Gressel, founder and president of the Stop Anti-Semitism Foundation (SASF).
Scheduled speakers include New York City Councilmembers, Chaim Deutsch (son of Holocaust survivors), Mark Treger, (Grandson of Holocaust survivors), New York State Assemblymember Alec Brook-Krasny, Brooklyn Borough President Eric Adams, Former Congressman Bob Turner, Dr. Ashraf Ramelah, founder and president of Voice of the Copts, Rami Lubranicki, chair of communications and public affairs of Israel's Voice (also the son of Holocaust survivors and first cousin of Tuvia Sokolovsky, the coach of the Israeli Olympic weight-lifting team who survived the 1972 Munich Massacre); poet Shari Fridman (daughter of Maya Fridman, Treasurer of Israel's Voice); and author, lecturer, and spiritual leader Rabbi Dr. Bernhard H. Rosenberg.