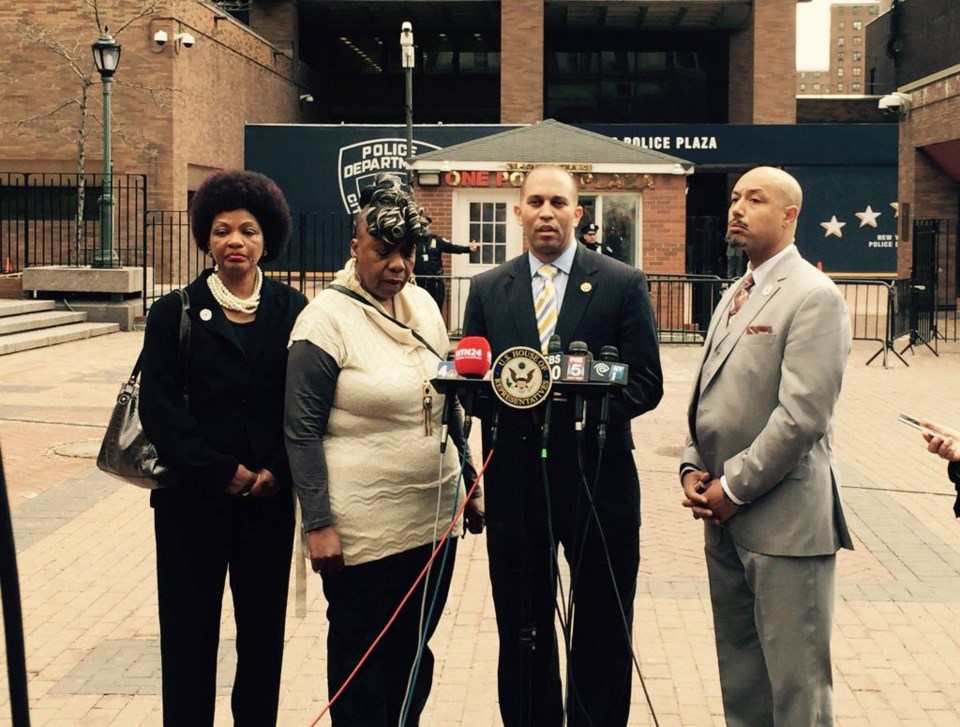 Congressman Hakeem Jeffries, who represents the 8th District of Brooklyn and parts of Queens, on Monday announced the introduction of a bill, The Excessive Use of Force Prevention Act of 2015, that makes the use of chokeholds as a form of restraint by armed officers a civil rights infraction.
Chokeholds have been banned by the New York Police Department for more than twenty years. However, they are still deployed by many officers and without retribution. The Excessive Use of Force Prevention Act, for which Jeffries is sponsor, amends a civil rights statute section entitled "Deprivation of Rights Under Color of Law" to include chokeholds as a "punishment, pain or penalty," defining a chokehold as "the application of any pressure to the throat or windpipe which may prevent or hinder breathing or reduce the intake of air."
Jeffries announced the bill's introduction in front of the NYPD headquarters in Manhattan, along with representatives from the National Action Network and Gwen Carr, the mother of Eric Garner, the Staten Island father of six who died as a result of a chokehold administered by Police Officer Daniel Pantaleo on July 17, 2014.
Jeffries said that although the overwhelming majority of police officers are hardworking and are on the job to protect and serve, the epidemic of police violence in America is undeniable and has badly damaged community-police relations nationwide. The legislation was introduced in Garner's memory.
"His tragic death and the stunning miscarriage of justice that resulted from the failure to indict his killer sparked a national outcry," said Jeffries. "It demands a national response."
"The chokehold is a poster child for violent police tactics. It is an unreasonable measure. It is an unnecessary measure. It is an uncivilized measure. The Excessive Use of Force Prevention Act will make it an unlawful measure."
There are twenty original co­-sponsors of the legislation, including Rep. Charles Rangel, Rep. Jose Serrano, Rep. Gregory Meeks and Rep. Yvette Clarke.