Well, it's official: The beloved Salvation Army thrift store located at 22 Quincy Street (between Classon Avenue and Downing Street) in Clinton Hill has officially closed.
The store joins tens of thousands of property owners in the area that has decided to cash in on the skyrocketing property value in Central Brooklyn and use the money to fund its charitable operations.
And this SA store closing isn't the first: The charity sold off its Williamsburg store in 2012 and then its Greenpoint store in 2015, and then the Fulton store location in 2016... all to make room for -- you guessed it-- new housing.
But, according to a Salvation Army representative, the decision to leave Clinton Hill involved the changing nature of the neighborhood and a desire to respect the neighbors:
"That neighborhood has certainly become much more residential than in years past, so we're trying to be good neighbors and give them their space. When we run a second shift or graveyard shift, we can make some noise," Salvation Army's Maj. Joe Irvine told DNAinfo in 2016.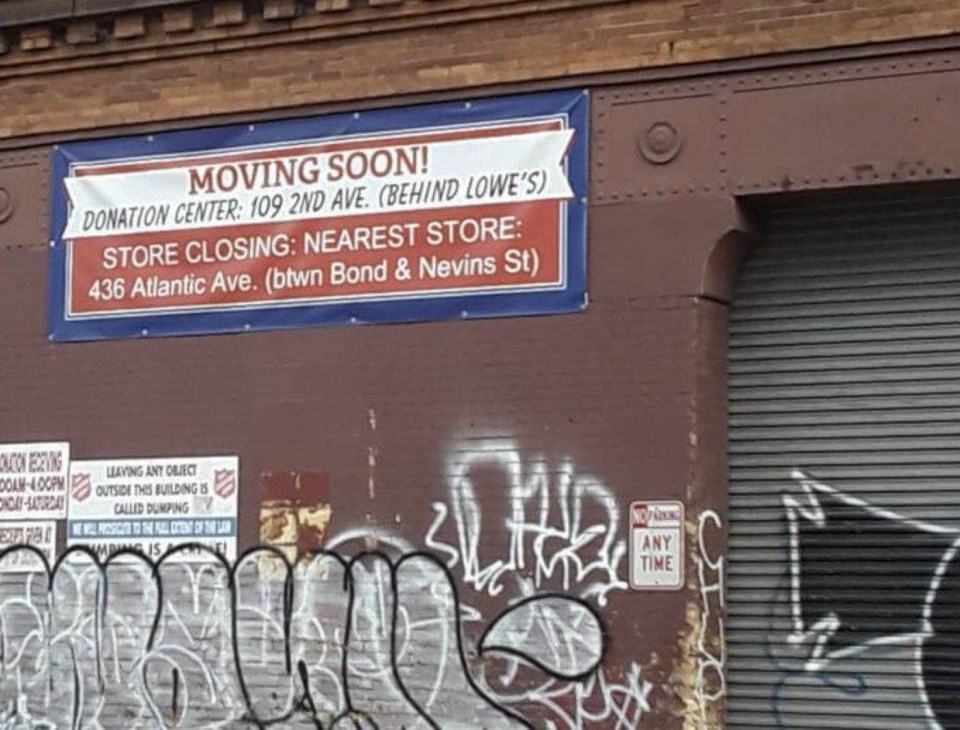 The building, which is not landmarked, is tucked away in an almost obscure corridor of Clinton Hill, across the street from what was once the Broken Angel and the Borden Milk Factory.
For the regulars who shopped there for the 50% off deals every Wednesday, it is a hidden gem, a gold mine for thrift and vintage wares and other serendipitous items. But for the majority who've never shopped at the thrift store, the corridor is most remembered as the location of the Dave Chappelle Block Party.
The property was sold for a reported $30 million, and i's new developer appears to be Slate Property Group, according to Brownstoner. A zoning diagram of the new building shows a fairly traditional and symmetrical looking five-story apartment building with multi-paned windows, a terrace, and a number of openings on the ground floor, including a garage door.