Among all the special graduation celebrations that took place last week in Brooklyn, one ceremony in Boerum Hill was particularly emotional and inspiring.
Last Thursday, the Jeremiah Program held a graduation ceremony at its Boerum Hill location for three local single mothers who recently earned degrees in higher education with support from the program. The ceremony also celebrated the children involved in the program, who will be moving up a grade in the fall.
The Jeremiah Program is a nationwide organization that seeks to break the cycles of poverty that low-income single mothers can face and supports mothers and their children in their academic journeys. The program adopts what they call a "second-generation education" approach, which focuses on supporting children alongside their parents.
As of 2022, the Jeremiah Program has supported more than 1,500 mothers and their children across nine cities, including Austin, Baltimore, Boston and Brooklyn, according to its website.
"The two-generation approach is helping moms to alleviate some of the stress," said Elizabeth Dessources, family services director at the Jeremiah Program's Brooklyn branch.
"It's okay to focus on the mom, but a big part of a single mom's life is their children. If we can pour into that child and then show the mom that they have that support, it's beneficial," Dessources said.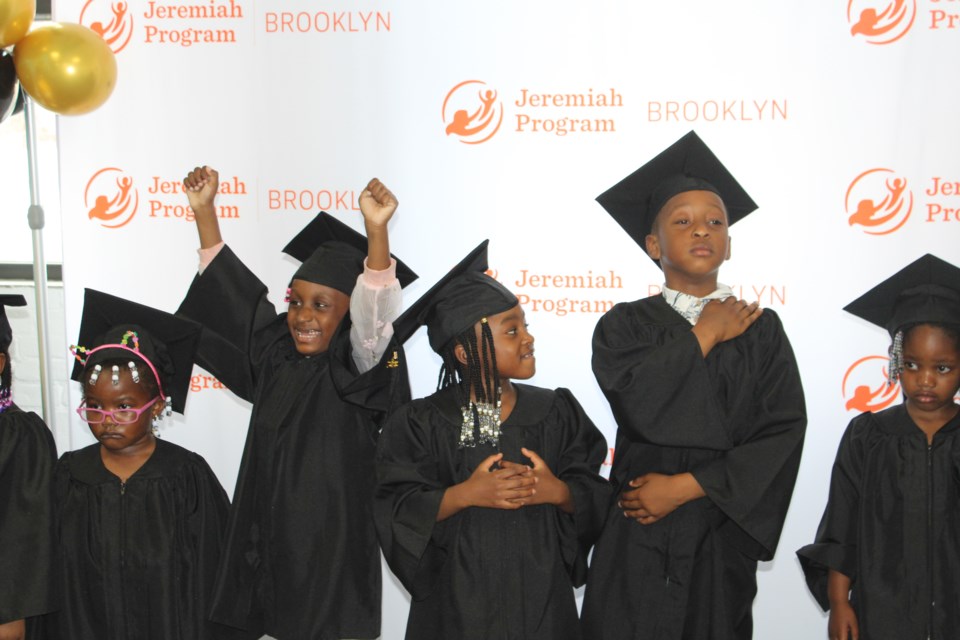 Thursday's graduation celebrated three moms who received degrees in higher education while being coached under the Jeremiah Program. The ceremony also celebrated the graduation of several children from kindergarten and elementary school. It was an emotional day for the moms, the children and their coaches, as they got to celebrate the culmination of their hard work and dedication.
"It's a realization of my goals," said Channa, a mom who graduated with an associate degree in women's studies from Kingsborough Community College. Her son is 4. "I never thought that I would actually be able to finish college, and here I am graduating."
When participants first reach out to the Jeremiah Program for help, they embark on a 12-week empowerment and leadership course.
"For me, that was almost like a form of therapy — it's a little like group therapy," said participant Kasey Hearns about the course. She just graduated from the University of Houston with a bachelor's degree in retailing and consumer sciences, and has a young daughter.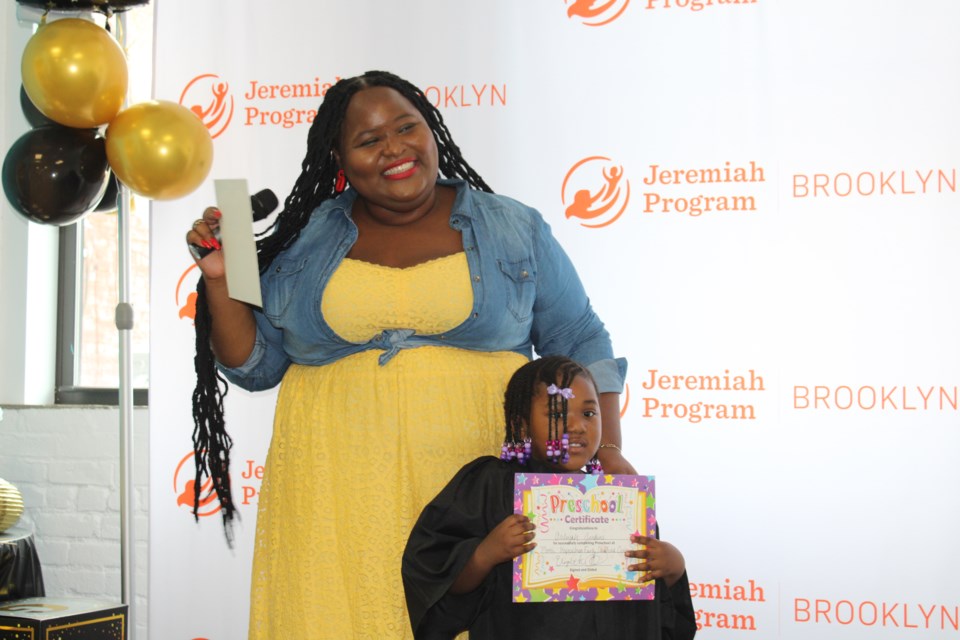 "I really wanted my kids to learn an extra skill or a sport, but without them, I wouldn't be able to afford that," Nailah Abdul-Mubdi, a participant, said about the program. Abdul-Mubdi is a mother of two who just received her bachelor's degree in public administration from John Jay College of Criminal Justice.
After going through the empowerment course, the moms are then matched with a coach and gain access to the program's resources, including affordable housing support, career-track education at a postsecondary level and early education opportunities for their children.
The program also provides 1:1 tutoring for kids, as well as money for parents to pay for their children to participate in extracurricular activities.
"It's a huge deal, as far as laying the foundation for my daughter," said Hearns. "I'm happy that she gets to see that Mommy did something that was really difficult, but we're being celebrated for putting our heads down and getting the job done. I'm really happy that we get to do it together."
To learn more about the Jeremiah Program, click here.