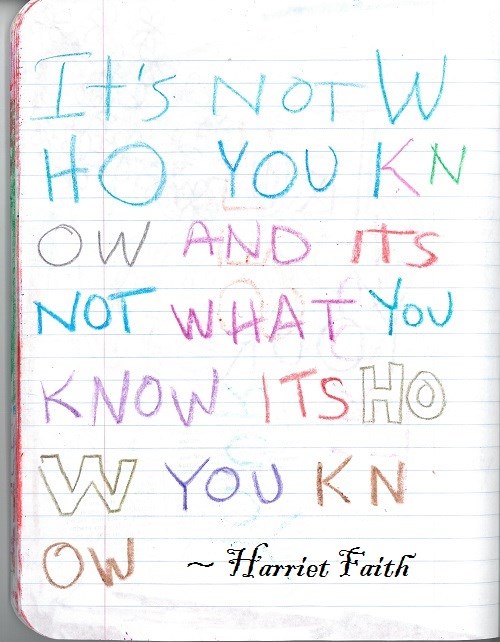 It's Not Who You Know And It's Not What You Know It's How You Know....
A quote from.. .yours truly.
This thought came to me as I was playin' around in my sketchbook with crayons. Yes *crayola crayons.* I use them with my own students for my on-site drawing class - which if you didn't know is for people who think they don't know how to draw... more info about that at a later time.
I am taking a very interesting course through a book called Syllabus by Lynda Barry. Lynda is a brilliant comic artist - she created the "Ernie Pook's Comeek" that used to appear in the Village Voice and still appears in other papers around the country. One of the premises of Syllabus is to use a common composition book to write EVERYTHING in. So that will explain why this week's piece is in crayon on a page of a composition book. I hope you like it, because I love the way it looks.
As for the quote itself, it speaks to letting go of the ways you think you have to go through life. The traditional saying, "It's not what you know, it's who you know" may have some validity, but it leaves something out. What about HOW you know. One's inner guidance is quite important and very valuable. So is thinking critically about information that we hear.
Suppose you have the most knowledge and/or know the most influential people....? It's still your overall internal awareness that can help you the most in assessing incoming information. "How" we know is an important measure in our experience of the world.
I hope you have a glorious week!!!!
Harriet